On Friday 9 October 2009 the Relic of St Therese was taken to Aylesford and Tony Finnegan led a walk to join the Welcome service at Aylesford. He provided the following photographs of what was a joyful and uplifting event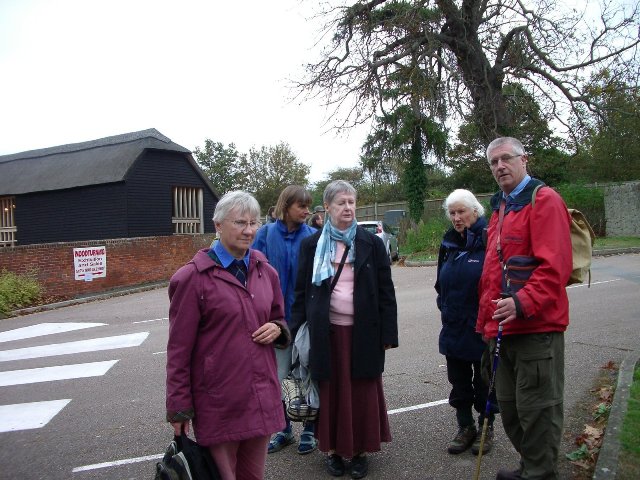 A small group of ramblers met at Maidstone East Station for a leisurely walk along the bank of the Medway to Aylesford.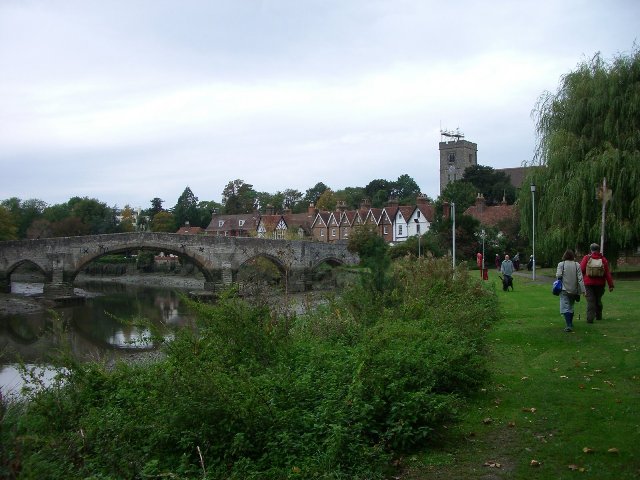 Not very long at all before the picturesque bridge over the Medway at Aylesford came into view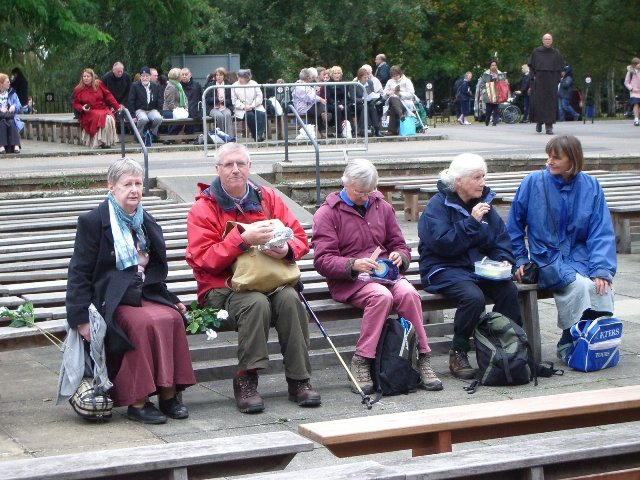 Before the seating area got too crowded we ate some sandwiches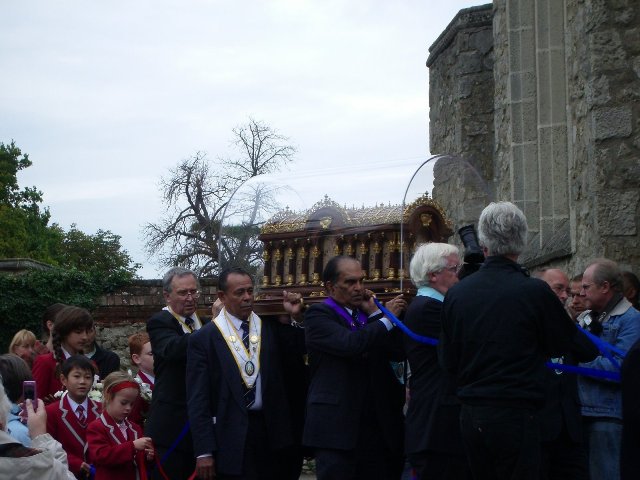 After some devout meditations led by the Carmelite Friars the impressive cask containing the relic came along, borne on the strong sshoulders of the local Knights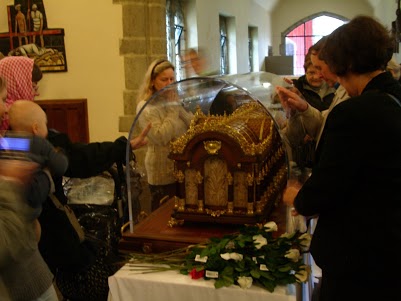 The relic was installed in a chapel where it would be available for veneration until Sunday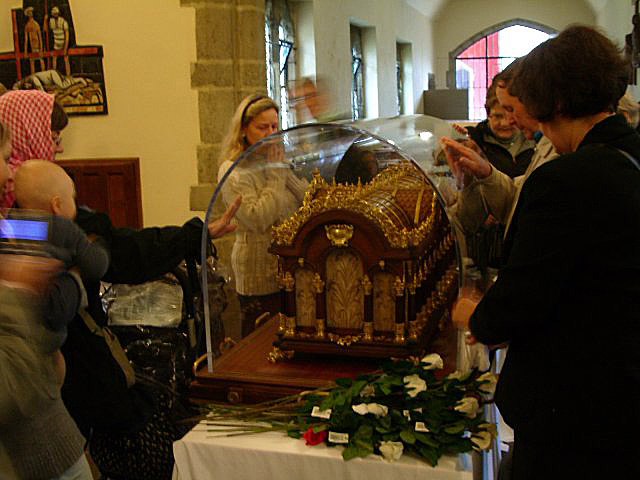 A long queue of pilgrims filed past to touch the cask, urged along by helpful local ushers who did not want any of us the be unduly delayed.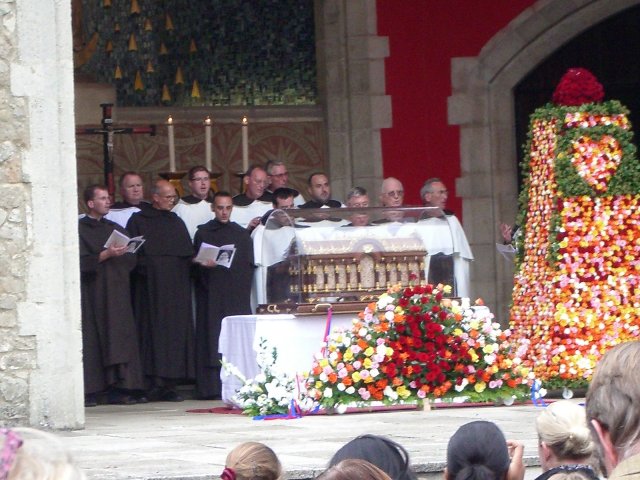 The relic was conveyed to the front of the high open air altar in readiness for the service of welcome.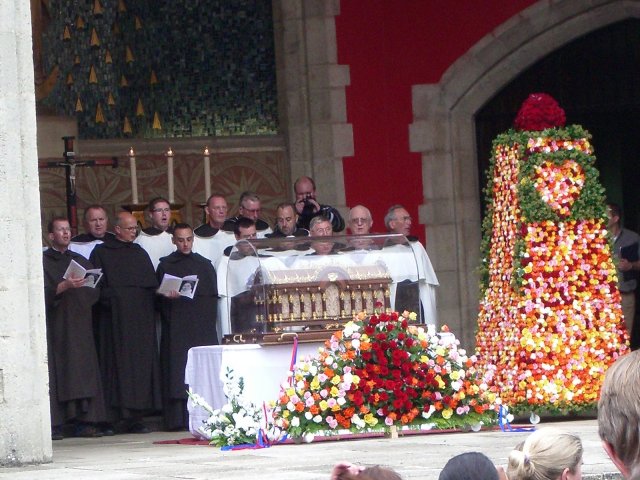 Close to the relic was the magnificant tower of roses, a flower always associated with "St Therese the Little Flower"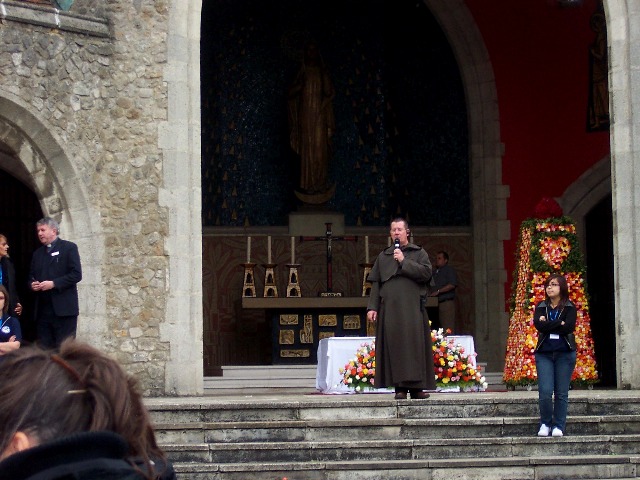 A closer view of the Carmelite who led us in our meditations. The priest to the left of this photograph played a leading part in organising the tour of the relic.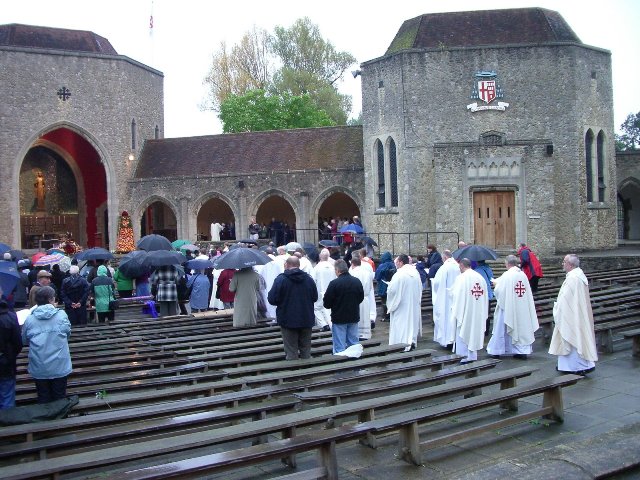 Thge community processed reverently to the altar for concelebrated Mass. At the back here is Fr Wilfred who celebrated the club's 70th anniversary in the chapel behind the High Altar (at that time Fr Wilfred was Prior at Aylesford)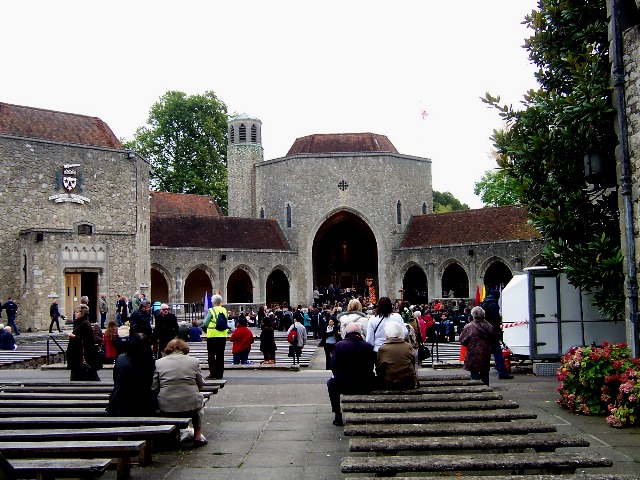 The Piazza gearing up for the arrival of pilgrims and relic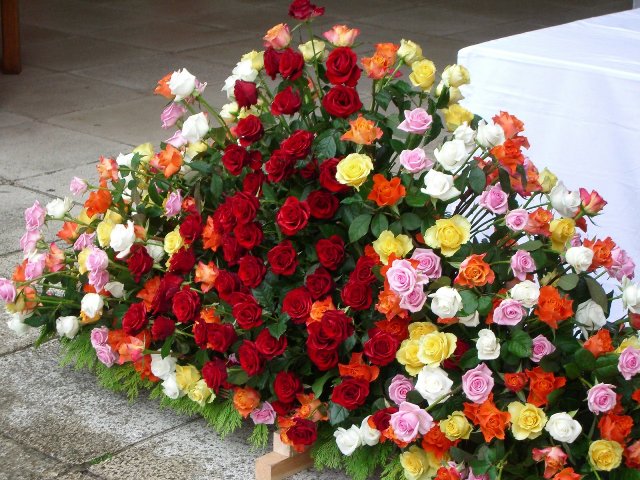 There were also many other roses on display, all of which were made available for people to take away following the departure ceremony on Sunday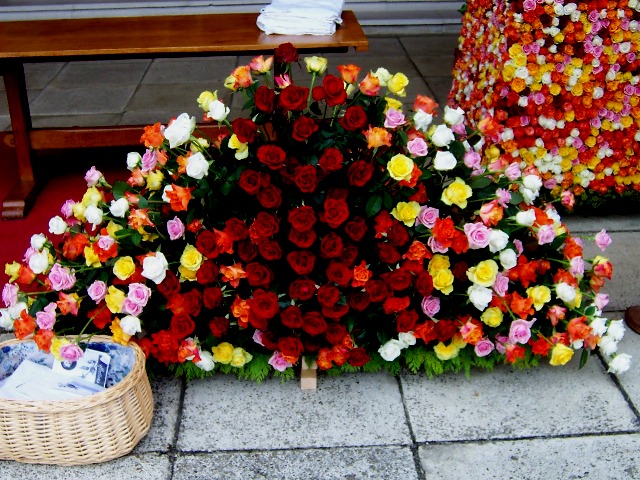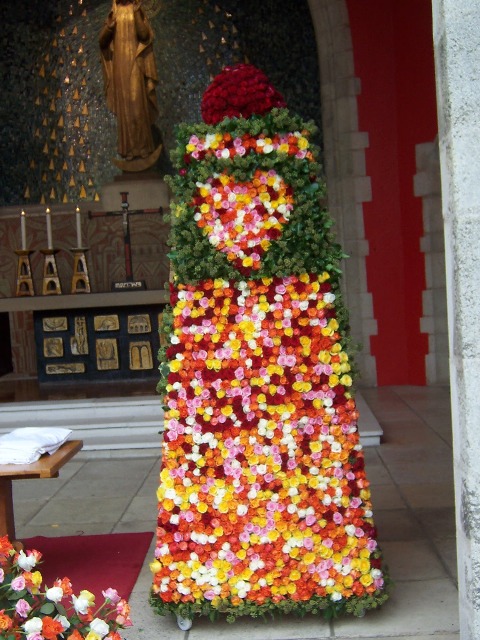 A close up of the tower of roses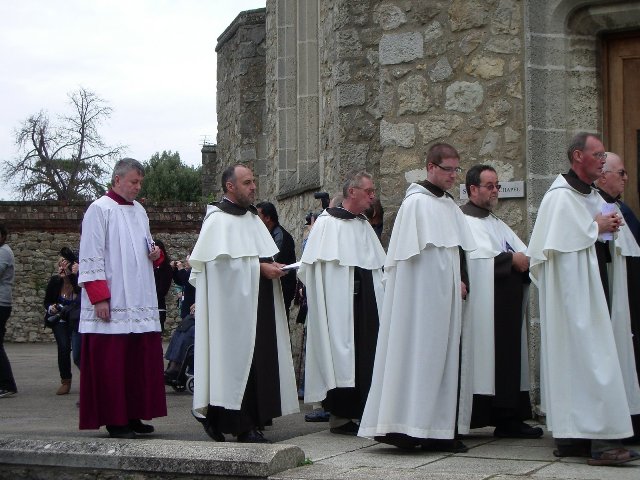 Another shot of the friars in procession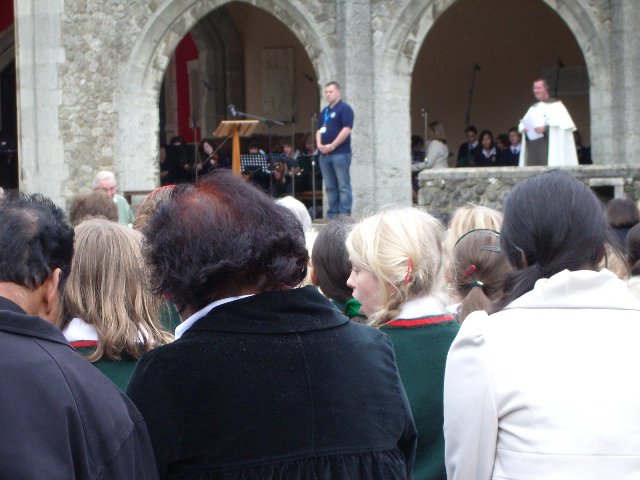 Meditations before Mass were ably led by one of the friars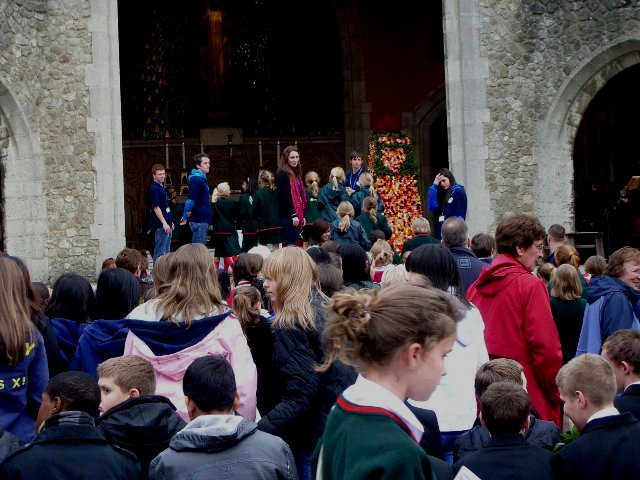 An attentive congregation reverently took part in the proceedings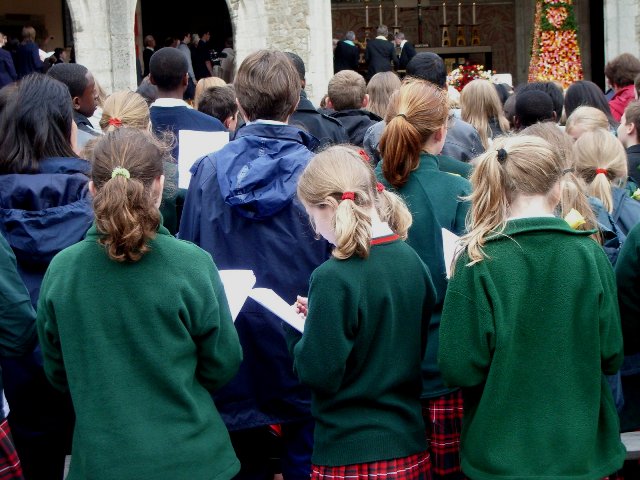 A high proportion of the congregation were pupils from local Catholic schools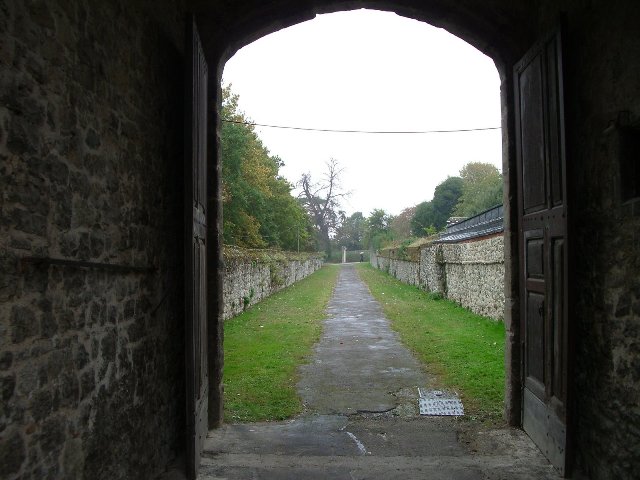 After the service we took the long route via the famous Rosary Way around to the marquees where memorabilia of St Therese were on display and thousands of votive candles were lit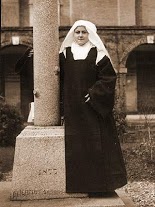 This photograph of the life size photograph of St Therese was taken by Roger Yelland