Preface
Having spent four years working on the Club History we decided in 1999 to produce an interim version to show the work done thus far and still to do. To know if members think it is worthwhile to complete the book. Also to show the Club does have a history. When we started on this project we did not realise there would be so few of us working on it.
Missing are chapters on Club weekends and holidays (in 1938 on the Luxembourg border they kept meeting Nazi troops, in the 1950's Norah Smeaton's rescue after breaking her leg in the Austrian Alps made the national papers, in the 1960's members were rescued by helicopter in the Alps), on vocations (two members became Priests, another member worked in Idi Amin's Uganda as a VMM), on connections with other organisations (such as the Catholic Holiday Guild/Fellowship and the Arundel & Brighton Pilgrimage) and a list of Club Members. The list of club members from 1938 to 2009 was compiled later and can now be seen on the club website http://www.stfrancisramblers.ukwalkers.com.
Caroline Nolan instigated and organised the writing of the Club History before returning to Northern Ireland. Mary Kirby (then Hennessy) wrote the chapters about the early years, the Australian connection and Club marriages (hopefully to be completed one). Tony Finnegan wrote the chapters on St Francis's influence on the Club and on priests associated with the Club, drew up the now finished list of Club members, produced numerous photocopies from the archives for the other writers and put the poems from the Club Magazine into computer readable form. Maurice Hickman wrote the chapter on pubs and Dorothy Hickman did the chapters on social activities, rambles and changing times; Dorothy also put everything into the same format. Maurice Hickman and Barbara Deubzer contributed walk descriptions (Barbara has since sadly died but Maurice is still going strong and in 2011-12 is doing his second consecutive year as club secretary).
As much of the Club archives has been lost our main source of information has been the Club Lists (we don't have a complete set), the Magazine and the memory of members.
Thanks are due for the help received from Jack Smeaton, Winnie Herring, Jean Horan, Fred McAndrew, Mary Walsh, Tony Chainey, Maddy Lawrence and many others.
The Club Magazine contains many articles worth printing; some were printed in a booklet in 1997, some are included in this history. Con Ryan, in the 1950's, composed a wonderful collection of books on Club rambles and Easter weekends which would also be worth printing. In the Chapter on Rambles we have made use of two of his accounts of rambles.
History of the St Francis of Assisi Catholic Ramblers' Club
NB in July 2012 we have added internal hyperlinks by which you can jump from any item in the contents list below and back to the contents and hopefully this will make your viewing of the hiistory easier and more enjoyable.
2. Camping
3. Wartime Wartime Arrangements 1939
6. Message from Founder Margaret Morgan to Golden Jubilee Celebration
7. The Influence of St Francis of Assisi
8. Rambles
9. Special Rambles and Pilgrimages
14. Accidents
16. Circular walk from Redhill Station
17. East Grinstead Circular via Hartfield
18. Pubs
19. Bunhill Row days
20. Square Dancing - The Club's Second Activity
23. The Annual Dinner and Dance
24. The Annual Children's Part
26. The Annual Outing to the Sea
27. All Night Vigil to Lourdes
28. Weekday Evening and Weekend Events
29. Celebrations
31. Club Weddings
32. Priests associated with the Club
33. Changing Times and Attitudes
35. Attitudes to non Catholics joining
36. Behaviour and Dress Standards
37. Rambles
39. Membership
40. Equipment
42.Annexes
46. List of Members Who Joined between 1938 - 2009 and Those Who Die up to the current time
Membership subscriptions over the years
Conversion to today's money is based on Subscriptions:-
until 1944 2/6
1949 3/6
1953 4/
1956 5/
1959 6/
1970 7/6
1973 10/
1974 £1
1978 £1.50
1980 £2
1983 £3
1995 £4
2002 £5
2009 £7
According to Girobank magazine 1950 prices X 18.60 = 1997 prices
Independent 1956 prices X 12 = 1997 prices
THE EARLY YEARS (NB to return to contents click here)
It was in the latter part of the summer of 1930, five years before the formation of the Ramblers' Association, that the rambling Club was formed. About this time Pope Pius XI made an appeal for Catholic Action and Catholics of all social spheres began to take an interest in the future welfare of the Church in England. Non Catholic rambling clubs were becoming numerous, and it was essential to form a club with pure, clear and strict Catholic principles.
After correspondence in one of the Catholic papers on the subject of social intercourse several young people got together and enjoyed a few nice rambles in the countryside. As a result of this a club called St Christopher's Rambling Club was formed. However, during the early days the patron was changed to St Francis. It was thought that St Christopher, being the patron of motoring, was likely to be in opposition to walkers.
The co-founders were Miss Mary Curran (later Mrs Mary Lowe) and Miss Margaret Runacres (later Mrs Margaret Morgan). With Fr Healy's approval and kind permission a ramble list was placed in the church porch at St Mary Moorfields, and the first ramble took place on 24 August 1930 when 13 people attended. It was led by Margaret Runacres from Boxhill via Ranmore Common, Friday Street and Leith Hill to Holmwood. The ramblers set themselves to follow the Church's ideals in the spirit of St Francis. They encouraged individual strength and talent to be used for the benefit of all members.
A committee was set up under the guidance of Fr F D Healy. Rules were drawn up and submitted for the approval of Cardinal Bourne. He also gave his blessing to the members and appointed Fr Healy Ecclesiastical Assistant to the Club. The Annual Club Mass for Members commenced that year - 1930. The Annual Mass for Deceased Members started in 1943 after the death of Kathleen Ames. These Annual Club Masses continue today and are incorporated in the Club Rules. In 1932 a Mass was said for the repose of the soul of the father of Margaret Hull and so the custom of having a Mass said for a member's deceased parent began.
Application for membership could be made after visitors had attended three rambles and this would then be considered by the committee. A charge of 6d per visitor's ramble was made and this was deducted from the membership subscription. The subscription was small at 2/6d (12.5p). The only other requirement was that members should be good living catholics. Club badges, in the papal colours yellow and white, cost 6d each.
This is a copy of the original badge which was in the form of a metal broach:

In the late 1980s a new fabric badge was designed featuring this mystery bird

This badge was made available to members at £1 but the first issue did not sell out and no subsequent badge has since been issued.
Note added by Tony Finnegan on 31 March 2015. I have at last discovered, thanks to a bit of wisdom shared by David Crundall that the bird is actually a male redstart (phoenicurus phoenicurus), a member of the thrush family!
Generally twice a month, sometimes every Sunday, rambles were made to the various Home Counties, but the rule was that the fare should not exceed 3/- (15p) return. When more than 30 people were present they obtained specially reduced fares, being printed with the Club colours -yellow and white, and carriages reserved. Sometimes a short ramble of ten miles and a strenuous one of 16 miles were arranged on the same day to enable members to choose their own pace. The ramblers formed a habit of attending lone country churches for Benediction where possible.
Ladies were recommended to wear thick shoes with low heels, stockings, skirt and blouse with sleeves; and gentlemen to wear shoes, stockings, trousers or shorts and shirts with sleeves, each to carry a rucksack containing lunch, change of stockings and shoes - light ones on the occasions when there was a social evening after tea.
The Club was really established after the first Easter pilgrimage in 1931, when thirty members walked the 80 miles from London to Rochester and back in four days. This Pilgrimage was in honour of St John Fisher and St Thomas More. In those early days a press representative reported most of the Club meetings and activities. As a result of this frequent updates of the Club appeared in print. The pilgrimage was reported in the Universe, as was the first AGM in October 1931. Some activities were reported in the Catholic Times, the Daily Mail, Catholic Herald and Cork Examiner. A good way indeed for keeping catholic awareness to the general public, and at the same time informing catholics about the Club.
The rambling Club met with extraordinary success since its inauguration and the second AGM in 1932 reported 164 members on its books, one of the leading catholic rambling clubs in the country.
This letter was received by the Club in 1932.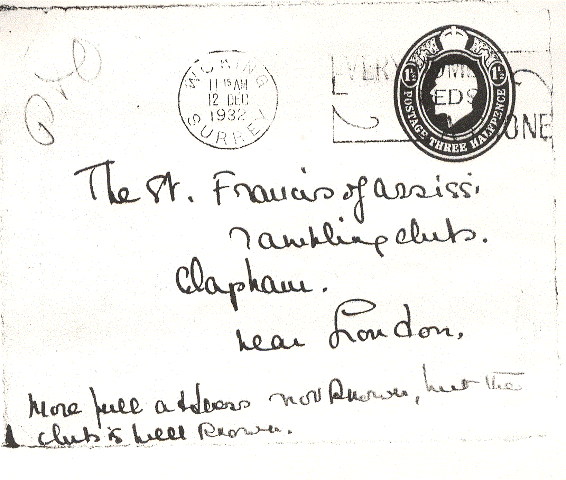 The writing under the address says "More full address not known but the club is well known. A credit to the Royal Mail and the growing size of the Club.
December 1932 saw the formation of a Catholic Holiday Association having for its objective the closer co-operation of the many catholic rambling Clubs up and down the country, with a view to promoting holiday tours, rallies, inter-club rambles etc. Any catholic organisation (rambling or otherwise) could become affiliated. The Association asked if any of the Club members would be interested in leading on their holidays.
Members were encouraged to express and develop their talents. The Club put on a Passion Play at Hampstead, 7 and 8 April 1933. They produced and presented Francis Gonne's play "Unto Us
a Son is given" at the Everyman Theatre, Hampstead. Absolute sincerity characterised the performance of these amateur players and it really gripped the audience. So many children accompanied by nuns and teachers put in an appearance for the afternoon matinee for school children that it was not possible to accommodate more than half of them. To prevent disappointment (some children had travelled long distances) the Players put on an extra performance.
A pilgrimage to Rome for the closing ceremonies of the Holy Year was made at Easter 1934. A party of 40 left London after first attending Mass at Westminster Cathedral. They enjoyed a tour around Rome, attended the canonisation of Blessed John Bosco and had an audience with the Holy Father. It was on this occasion that Fr Flood obtained for the Club the Relic of St Francis and a signed Papal Blessing. They visited the shrine of St Francis of Assisi and spent a few days at leisure in Rome.
For members of the Club who were unable to go to Rome there was a second Pilgrimage organised over the Easter week-end. They walked about 50 miles starting at Stokenchurch and finishing at Henley-on-Thames on Easter Monday.
The Club Annual Retreats date back to the earliest years of the Club. At first they were weekend retreats held in Lent and Advent. Since 1934 they have mainly been held in Lent. From Advent 1934 until the war years the retreats for men and women were held separately the men going to the Jesuit House at Manresa, Roehampton and the women going to either the Cenacle, Hampstead or La Retraite, Clapham Park.
CAMPING (NB to return to contents click here)
The Club at first used the organised Camp Sites at Stagg Farm Holiday Camp, Flaunden, Herts; Old Brown's Farm (South of England Land Colony), Chartridge, Bucks and Boro Farm, Sanderstead. These were so popular that the Club bought a site for a camp in March 1933. The cost was £195/0/8, loaned interest free by Paddy Lowe. The debt was paid by 1942 by means of camp tolls, donations, dances and socials. The secluded site of 7½ acres of land, including a small wood, was on a hillside at Foxendown, Dean Lane, Harvel, near Meopham, Kent. It was 400 - 500 feet above sea level on the upland slopes between Luddesdown and Wrotham. Nearby was a pre-Reformation Catholic Church in excellent repair. It was decided to hold organised camps and holidays. Also it was planned to erect huts, and cultivate a portion of the land.
The first Mass was offered on the Club site on Whit Monday 25 May 1934 by the Club Chaplain Fr C B Flood. It was the Club intention when purchasing the land to try to establish a Mass Centre, and have a regular weekly Mass offered there. The priest from the Southwark Travelling Mission went to a different village every week to say Mass. The Fifth week Mass was on the Club site. Before starting out for Mass (at Snodland, West Malling, Wrotham or Hartley) the sandwiches were made. They were then enjoyed after Mass with tea made in Church Hall, British Legion Hall or Public Library Hall. The camp site was very popular and got regular use. Mary and Paddy Lowe lived nearby and they stowed some of the equipment so that campers did not have to carry everything to the site all the way from home.
A special weekend camp, from 4th to 6th May 1935, was held for the Jubilee of King George Vth. For the coronation of King George VI a day, with Coronation Beacon, was held at the camp on Wednesday 12th May 1937. Members either travelled down the evening before and spent the night at the camp or travelled down on the day. On Sunday 26th June 1938 a party went down in the morning to prepare tea for the members of the Fulham SVP.
Some of the Club rules relating to the camp:-
Rule 24. The authority in the camp. That a man should be in charge of the camp: that he should delegate a man to be responsible in every way for the men and have absolute control of the men's section; that he should delegate a woman to be responsible in every way for the girls and to have absolute control of the girls' section.
Rule 25. The camp site should be divided into three distinct sections:
Y The men's tents;
Z The girls' tents.
| | |
| --- | --- |
| | X The Headquarters which should be the common meeting place for meals etc., where the Crucifix is erected as the camp standard; |
X should be a central position with Y and Z on either side.
Rule 26. The division of time in camp. The day should constitute three total periods of eight hours sleeping, eight hours rambling and eight hours recreation. The recreation should include prayers, Mass, and all activities such as singing, dancing, debates etc. The greatest care should be taken to draw up a programme of activities for each day in order that the rambling and recreation may balance and supplement each other, and in order that the balance between physical and intellectual activities may be maintained.
A notice of Cultivation of Land was served on the Club during the war by the Kent Agriculture Committee. The land was leased to a local farmer for ploughing.
When the war ended the Cultivation of Land Order still had 2 or 3 years to run. As the land was sown for hay no camp could be held from March to the end of June. The tents had perished and the remaining hut needed its door replaced. Cheap fares to Meopham only operated midweek! In 1945 nine members guaranteed £5 each towards the cost of acquiring a Nissen Hut but nothing came of this. A ramble to the camp site was held in May 1946 with tea at Mr and Mrs Lowe's home nearby. An Extraordinary General Meeting was held in August 1946 to decide the future of the Camp Site. As interest in camping apart from Bank Holiday weekends had declined and the Southwark Diocese did not want to establish a Mass Centre in the area it was decided the land should be sold. It was purchased by the Catholic Scout Guild in 1949 for £250. Another Extraordinary General Meeting was held in February 1950 to decide on the disposal of the money. It was decided to use some of the money to advertise in the Catholic papers and to buy a duplicator and to give the rest to the Southwark Travelling Mission for the Meopham Church Building Fund.
WARTIME ARRANGEMENTS 1939 (NB to return to contents click here)
As many members were unable to take part in the Sunday rambles on account of getting back to town before the "black-out" they arranged a meeting on Saturday at 1 30 pm at the Scotch Tea Rooms, Victoria Street.
A shortage of ramble leaders was also experienced due to many of the men being on routine marches. The rambles were kept short so they could get back to town before the blitzkrieg. Also many ramblers' paths were ploughed up and lost to crops.
The Club was involved in knitting and collecting knitted comforts for the boys in the forces. They also asked for money to purchase wool.
In order to keep members together during the war years it was decided to have a ramble on alternate Sundays. These were quite informal. They started after Mass with their maps, and took a train to a station they decided on, and walked from there.
To cater for those living north or south they used St Mary Moorfields as the starting point one Sunday and Westminster Cathedral the following alternate Sunday.
As rationing was in force people were reminded to bring enough food for lunch and tea.
To try and make things run as smoothly as possible members were asked to give their names to the Hon. Secretary so they could be informed in case any drastic alterations had to be made. The secretary also kept in touch with members who had been evacuated.
Due to uncertainty of wartime it was decided to hold an Extraordinary General Meeting. It was held in the crypt of St Mary Moorfields, Eldon Street, London E2 on Saturday 15 June 1940 at 5 30 pm precisely. The agenda was:
1) Minutes of last AGM
2) Notice of motion.
That if St Francis of Assisi Catholic Ramblers Club ceases to function for one year consequent upon present hostilities, the committee and the President shall, after consultation with Southwark Diocesan authorities, have absolute power of disposition over the real and personal estate belonging to the Club, which power shall be exercised at their discretion alone.
Proposed by Miss J Coombes Seconded by Miss Mary McGuinness.
Luckily this never had to be enforced.
Four members were killed in the war; Bill Gould and Jimmy Mason died in a Japanese Prisoner of War Camp; Wilfred Rowe and Bob Smeaton were killed in plane crashes - Wilfred at sea and Bob in the Welsh mountains near Wrexham.
1944 - BEFORE D DAY
At the Christmas Party, during the show produced by Jo Coombes, Vi Eberlein sang a song dedicated to Club members in the fighting forces:
You're in the NAVY, Wilfrid Rowe,
When waves do roll and breezes blow,
When you've scuttled the German fleet
You can come to us all for a treat.
You're in the ARMY, Georgie "D",
You're helping our artillery,
You were the first one to join the ranks
And we send you our love and thanks.
You'll soon have great Victories
Winston Churchill will bring us these.
You're in the WAAFS now, Maisie dear,
We'll win the war now, never fear,
You look so dainty and full of charm
As our girls all salute and say MARM
You're in the RAFS, John Somerville'
You'll beat the Huns, we know you will,
Just swing your kiltie and set your jaw
And we won't have the Huns any more.
You're in the Far East, John Ashbourne
Feeling all lonely and forlorn,
Here we are sending our love to you
And we know you're thinking of us too.
You're in the WRENS now, Eva Norman,
You so smart in Uniform-um
As you pace the deck with a Yo-heave-ho
And the Navy shouts "A jolly good show".
You're in the ARMY, Sexton Fred,
You march for miles and search for bed,
You've liked to ramble with us before
But you won't want to walk any more.
You're in the RAFS now, Sunny Jim,
Monica must miss your cheery grin,
You lend weight to any task you find
And you'll soon see your washing on the line.
You're on a search light, Eileen Pet,
You are the best AT we have met,
No German raiders will dare come nigh
When your light shines up high in the sky.
We wish you all a Happy New Year
Brimful of Happiness and cheer, T
hank you for clapping our little show
So Good-Night and God Bless, Cheerio.
THE CLUB MAGAZINE (NB to return to contents click here)
The first Club magazine appeared in print in December 1948.
To summarise this issue:
The forward:The magazine will express the various aspects of rambling, companionship and achievement, as well as the the distinctive spirit of St Francis' Club.
Club news and views: The cost. Comments, criticisms and suggestions welcomed. An
engagement. Two members emigrated. Birth - a new baby girl. Adventures on a walk to Walsingham. Views from members requested about what should be done with money from sale of Camp site.
Committee Notes: Cost of new Club badges being explored.
From the pen of a roving reporter - Notes on AGM
The Club in the early days.
A Night Out - a dance at St Christopher's Cycling Club.
Walking to Lourdes -the report of a member.
Chucking things - a tongue in cheek article by Nature boy
Club outing to Bognor - October 1948.
Personal Column - Personal worries - answered by Compassionate Sisters
The magazine was issued 3 to 4 times a year. The Club members seemed very keen to write articles, giving the impression of an enthusiastic and active group.
These magazines have been most interesting to read expressing the news, views, aspirations,
achievements, reminiscences, and many laughs of the early ramblers. The cost of this fine venture was an extra 6d on the subscription.
It was discontinued at the 1951 AGM but was revived in February 1953 with an optional subscription of 1/- . Over half the membership subscribed to it. In 1959 the combined subscription was reintroduced.
It was not always easy for the Editor to persuade members to contribute articles and it ceased in Summer 1985.
MESSAGE FROM MARGARET MORGAN (NB to return to contents click here)
on the menu card at the Golden Jubilee Reunion October 1980
I first met Mary Lowe (R.LP.) when I joined the staff of the Commercial Cable Company. We discovered that we shared the same faith, and she introduced me to the church of St Mary Moorfields which we visited in our lunch hours. We became firm and lasting friends and I miss her sadly, and most especially today, when we are celebrating the Golden Jubilee of the Club.
During our years at the Commercial Cable Company we enjoyed many facilities afforded by an excellent social club. One of these was rambling, which everybody enjoyed immensely. In 1930 the Pope's encyclical had an appeal to Catholic youth, and it was suggested that young people should come together socially, with the aim of strengthening their faith and perhaps promoting more Catholic marriages! Mary and I began discussing the possibilities of starting a rambling club for Catholics. We were both very enthusiastic and we decided to approach the parish priest of St Mary Moorfields - the late Rev Fr Healey. He encouraged our idea, and gave us permission to place a notice in the porch of the church (he later told me he expected to see a small postcard and not the large poster we had erected, but he kindly let it stay!) I think I can remember the exact wording. "Will those interested in the formation of a Rambling Club for Catholics meet on Sunday August 24th under the clock on the Brighton section of London Bridge station. The leader, for the ramble from Boxhill, will be wearing a yellow and white rosette". We had decided on the Pope's colours, and I wore the rosette and led the ramble on that day. We were thirteen in all for the first event, but the only males who ventured forth were three from our office who came to give support to our "bright idea". Fortunately all who turned up thoroughly enjoyed their day and shared our enthusiasm promising to bring along their friends (and brothers!) for the next ramble. Gradually our numbers increased and others shared in leading rambles as, at first, Mary and I shared the leading, and we used all the rambles we had enjoyed from the office.
Soon it became necessary to form a committee, decide on a name and make our rules. Mary and I had decided that we would be known as St Christopher's Rambling Club but later, with apologies to St Christopher (we felt he was the patron saint for travellers on wheels rather than on foot) we changed to St Francis of Assisi. I think it was on our third ramble that Paddy Lowe joined us and he became our first and well-loved chairman (in 1934 he also became Mary's husband).
In those early days we kept our maximum fare to 2/6 and the cost of tea 1/- to 1/6 - seems quite unbelievable now! Towards the end of our first year of running the club, John O'Connor, an early member, introduced us to the Stagg Farm Holiday Camps and here we spent many happy weekends. We could go by Green Line to Kings Langley or Boxmoor and walk from there to Flaunden (the fare was 2/6 return from Northumberland Avenue). We would walk the four miles to Flaunden, arriving there in time for a delicious tea, which would be followed by a dance in the hall provided, and then supper at 9pm. After this the more energetic members would go off for another walk. After breakfast on Sunday morning we had the four miles walk for Mass at Boxmoor - then back again to camp for a lovely hot lunch. Usually we stayed around the camp until tea time after which it was time for the walk to Boxmoor again to catch the coach. They were always lovely weekends, all home made and home grown food, and the total cost, with all these wonderful meals plus sleeping accommodation for the night was 7/- (not quite enough to buy a loaf of bread these days!!) It was here that I met my husband - not quite in the tradition of the club for a founder member to became attached to, not only a non-member but also a nonCatholic! However Len became a Catholic in 1932 and, thank God, has been strong in his faith ever since (we will soon have another Golden Jubilee to celebrate!)
Our first Easter Pilgrimage was from the church of the English Martyrs, at Chelsea, to Rochester on the Pilgrim's Way, and the following year we completed this by starting at Rochester and going on to Canterbury. These were quite strenuous weekends as we started on Good Friday and returned on the Monday. Gradually our pilgrimages became more ambitious and holidays were arranged for visits to Lourdes and Assisi. Another big project was the production of a Passion Play, involving a lot of hard work for the producers Faith and Marcia Ivens-Ferraz - you will see my somewhat faded programme on the notice board.
I cannot take any credit for the running of the rambling club after the early years, but Mary continued to do a lot of organising. Paddy had bought a piece of ground at Meopham and many happy weekend camps were enjoyed there.
The continued success of the club was due to the hard work of the secretaries, treasurers and committees who followed us, and particularly to the committees who functioned during the war years, and still offered rambles on Sundays!
When we all met for the Silver Jubilee dinner, Mary was unable to be with us, and I was called upon to make a speech. Being a co-founder of the club was comparatively easy and certainly enjoyable, but speech-making for me is a real penance and I'm no good at it!
I hope you will accept this brief account of the early days of the Club in lieu of a speech. My sincere thanks to all who have worked so hard to make this such a great and memorable day and I pray that our Club, with the help of St Francis, will continue to grow and flourish, and bring as much happiness and pleasure to all as it brought to us in the early days.
OUR AUSTRALIAN CONNECTIONS (NB to return to contents click here)
In 1929 a Sydney schoolgirl went to England with her parents when her father's Australian company required his services in the Old Country.
That schoolgirl was Dorothy Clayton. Dot completed her education in the Bar convent in York and later entered the London workforce. One of her fellow workers here was Marjorie Kennedy (nee Finch), also a Catholic and a member of St Francis Of Assisi Catholic Ramblers' Club. Dot walked with the Ramblers for some years until her family returned to Australia in 1939.
Her love of walking and an idea that was born here in England came to fruition in Australia.
The love of walking and the bush prompted Dot (who admits to knowing nothing at all about the local bush walking confraternity at the time) to pursue her idea of interesting Catholic youth in what she termed "hiking club". She wrote an article in "The Fireside" asking if anyone would be interested in joining her to promote such a club. A reply came from Paul Barnes. From these very humble beginnings the embryo of the Catholic Bushwalking Club came into existence.
The first walk of the CBC was taken on 14 February 1943 with four participants. This group expanded and organised regular walks. Within six months an effort was made to have the Club recognised as a Catholic organisation and an approach was made to Fr A. R. E. Thomas which resulted in the appointment of Fr Richard Coughlan as chaplain and the rest is history.
The club has continued to expand and has been responsible for bringing so much pleasure to so many over so many years in so many ways.
In 1993 "The Catholic Bushwalker" was published to mark the celebrations of the fifty years milestone of the club.
Over the years the St Francis of Assisi Catholic Ramblers' Club and The Catholic Bushwalking Club corresponded and maintained a friendly connection. Anyone venturing across the world would be sure of a friendly welcome from the other.
In the early days the programmes were very simple, one walk per Sunday. The absence of reliable maps restricted the areas visited.
In 1944 the Business and Social Programme was incorporated on the rear of the Walks programme, and included General Meeting, Free Nights, Harbour Cruise, Skating, Theatre Parties, Moonlight Walk and a cycling afternoon.
Walks proceeded further afield as better maps became available, leaders became more experienced, and recce trips were undertaken into unknown areas.
June 1944 saw the introduction of two walks per Sunday as the increasing number of walkers warranted this. August and October 1944 saw the introduction of walk numbers and also the introduction of the 24 hour clock.
Late in 1946 because of severe train restrictions members were advised to meet in Central Station "should any train listed in the programme be cancelled". The notice continued until 1951, by which time the coal shortage had improved and the railway timetables appeared more reliable. They learned by experience the necessary skills required to cover distances in difficult going in the shortest possible time - map reading, rock hopping, scrambling and climbing. A proper log was kept on each walk. These walks paved the way for some of the heroic exploits of the `fifties'.
Travelling to and from walks the girls always wore skirts and boys long trousers. Slacks and shorts were never worn.
Most of the camping trips made provision for the overnight stops at accommodation houses. The choice of pack lay between knapsack, rucksack and swag.
In every generation there is a shift in what is regarded by society as acceptable or unacceptable conduct. Fr Thomas, director of the lay apostolate, who had spiritual oversight over the Club in this formative stage put forward the view that it would be against Catholic ethics to have mixed camping trips. Camping activities were temporarily suspended. Many foremost members later resigned over the ban on mixed camping. The committee was advised that, as the club could not conduct mixed weekend trips, it should provide weekend walks for boys and girls separately. As time went on mixed groups did take part in overnight trips, but the men and ladies were required to set up separate camps out of sight of each other. Sometime later FRC announced at a general meeting that the restrictions on mixed camping were suspended for a period of 12 months, when the matter would be reviewed. No further pronouncement was ever made on the subject.
"The Catholic Bushwalker" contains a tale about when Ted Heslin and Hannah Plowman went down to Upper Breakfast Creek in January 1955 to do an exploration. Hannah took just a sleeping bag as she intended to take Mrs Carlon at her word to "just turn up". On arrival the house was already full of sleeping bodies so she had to share Ted's tent. They packed up and moved off quickly early next morning promising each other that they would never reveal this episode - such was the stigma that would attach to it. Hannah told FRC this story in 1974 and he threw back his head and laughed and laughed.
The idea of the club badge was mentioned at the first general meeting in August 1943. The Flame Robin surmounting the letters "CBC" was adopted in May 1950.
In 1954 voices were heard about choosing a more fitting design for walking organisations. The new design for the club badge was adopted - that of a silver - triple hob. After the adoption of the new badge Fr Coughlan obtained 100 Flame Robin badges and within the next few years members bought 64 of these.
In the 1970s Fr Bendeich moved that the club take as its emblem the Red Robin, thus replacing the triple hop. It had gone full circle.'
In the 1950s when a closer link between CBC and the club existed, it was the medallion badge of Our Lady of the Way, usually affixed on the back of rucksacks which identified members of the Catholic Bushwalking Club to their peers in other clubs.
The CBC has developed in a different way to the Ramblers both because of the terrain of the countryside and the many skills of its members. They do walking, camping and holidays. Songs and music writing are part of their life.
In the 1950s with the association of Monsignor Favier, an amateur explorer and speleologist of some repute, caving expeditions began. He passed on to the Club information he had concerning caving. An enthusiastic response followed.
Frank Cooper had a real interest for rock climbing and later mountain climbing in the early fifties. With input from other like minded people members were trained to make assaults on the major peaks in the Alps. Abseiling skills were taught at the Club's practice days. Some of their members have sadly been killed in accidents. Frank himself emigrated to New Zealand and became quite an accomplished mountain guide, only to be killed in an accident in 1955. He and Jack Murphy had just climbed the three peaks of Mt Cook. They started down the rock below Low Peak. The wind was strong, cloud rushed across from the Hooker Glacier and it began to rain. In the poor visibility they entered the wrong gully and then could not determine which route was correct. With only 500' to go they slipped on snow covered ice. The snow avalanched and they were partially buried. Frank was killed in the fall and Jack was badly injured. Jack reached the Empress Hut and collapsed. Two days later he came to. He managed somehow to send a short message using the hut's emergency radio which had to be powered by a hand cranked generator. It usually takes two people to use the transmitter, one gives the message while the handcranks the generator. Hamish MacInnes, an international climber, who was in the Haast Hut on the other side of the mountain tells in his book "High Drama - Mountain Rescues From Four Continents" how for an unknown reason he got out of his sleeping bag, switched on the radio and heard faintly "Accident - Empress Hut, urgent!" Although fit he found it difficult enough on his own to handcrank the generator and operate his radio to get help to Jack.
Frank sleeps on the white slopes of Cook, but to those who walked with him he lives again in many a mountain walk, and strides beside us along the tracks of memory.
In the early 70s cross country skiing was introduced to the CBC. Laurie Bell's great enthusiasm for the sport had great impact. Peter Harrington became so enthused that he called a public meeting in 1975. The result of this was the formation of the New South Wales Nordic Ski club. Over the years the challenge of cross country skiing has been taken up by many club members both young and old.
The CBC has kept good records over the years and the club is a good source of reference for the bushwalkers today. It has been said that nobody in Australia would write a serious piece about bushwalking without checking with the CBC for some of their technical and historical information.
THE INFLUENCE OF ST FRANCIS OF ASSISI (NB to return to contents click here)
What influence has St Francis of Assisi had on the life of the Club?
Certainly in the early years he was there or there abouts. The name alone is significant. Elsewhere in this history it is revealed that the original name was St Christopher's. The reason for the change can be seen positively or negatively. We have tended to regard it as an indication of a conflict between St Christopher's patronage of motorists and St Francis' love of walking. But that does violence to the memory of both saints - St Christopher gained his reputation (in legend), not for supporting mechanical methods of transport but for CARRYING the child Jesus on his back across a stream. On the other hand the preference for walking in the Franciscan rule was more a measure of the wish of the lawyers of St Francis' time to have a rule than of St Francis' interests.
So let us consider the mind of St Francis, in so far as anything is known about it and see if it has had any influence on the life of the club.
The essence of the Rule of St Francis was detachment from material things. In the thirteenth century a major manifestation of that detachment was the formation of the little brothers (known as the "poverelli") processing into towns in gear which was not acceptable in polite Italian circles. Is there a parallel here with the early post war years when members of the St Francis of Assisi Catholic Ramblers Club (SFA CRC) recognised one another at stations by the fact that their wear was not quite up to scratch. SFA CRC members were to be seen at Kings Cross, Euston, Waterloo etc on Sunday wearing sports jackets and trousers, and no doubt a smattering of smooth soled leather shoes. Other rambling groups were identified by their well waxed leather boots, correct outdoor jackets and plus fours. Does it take much imagining which group St Francis would have joined?
But the detachment from material things does not manifest itself exclusively in lack of possessions. Franciscan communities around the world have collective possessions, even if they are shared rather than belonging to individuals in the community. Perhaps a perverse manifestation of some kind of Franciscan spirit lies in the tendency of club members to commandeer items of luxury (or sometimes of necessity) during walks. On one walkout a milk float was standing idle outside a farm house as the walkers passed by. One of the ramblers said "lucky for the driver that XXXX XXXXXX was not present". If he had been, on past form, he would have been gone with the float or some of the milk or both!!
The simplicity of St Francis was always obvious in the approach of the members to enjoying the zest for life. So in the years when a newsletter was published separately from the programme the publication was distinguished by the simple covers, some of which have been used for the frontispiece of some of the sections of this history, and the ancient typewriters which tried the patience of at least one volunteer who tried to use one of them. The essential activity of the club, rambling, has also always been pursued by train journeys and the membership of the club must have one of the lowest proportion of car owners of any club in England.
But there are also contrasts with the Franciscan spirit. One wonders, for example, what St Francis would have made of the debates over the years about restrictive clauses in the Club Rules, or the AGM which was held up by points of order for over half an hour. Hardly the preference of the Saint who rejected all forms of pomp and regulation. And what of the recurring debate about the admission of non catholics? Would the Saint who had such love for the universe and everyone and everything in it condone such exclusiveness?
Rambles (NB to return to contents click here)
From its start the Club has rambled almost every Sunday. It is its proud boast that it has never cancelled a ramble. If the published ramble could not take place the Committee always arranged an alternative. Travel is by train or tube from a London terminus, or very occasionally by bus or until the seventies by coach. To allow time for members to attend Mass they used to catch a train leaving London between 10.15 and 11. 15, a much later start than other rambling Clubs. Even later still if there was a Club Mass at St Mary Moorfields, when the ramble would usually leave from nearby Liverpool Street station. The bulk of the walking was done after lunch, broken by an afternoon `rest' and a tea stop. Today because of the Saturday Vigil Mass rambles can start an hour or two earlier and about half the walk is now done before lunch. A stop is always made for lunch at a pub (although many members are teetotal) and until recent years for tea in the afternoon. In the past members brought a packed lunch but tea was booked. Today as pubs usually provide food on Sundays most members have the pub lunch, sandwiches have to be eaten out of view of the Landlord and tea depends on the whim of the leader.
A Committee member - the Duty Member was designated to come on each ramble. They brought up the rear of the ramble, prevented stragglers getting lost, and ensured the ramble proceeded at a reasonable pace. They kept an eye on new comers, introducing them to existing members and ensuring that they had company during the ramble. They also collected any money. This practice was discontinued in 1990 and leaders today appoint a backstop.
LAMENT OF A DUTY MEMBER
I'm the one with the heaviest rucksack of all,
The one who must answer the first-aid call
To plaster up blisters on heels and on toes,
I'm the one who has difficult gates to close
I have to sort out the `old' from the `new'
I'm the one who is usually last in the queue
The one who is lost when the front parts from the rear
Who must stay at the back when mealtime is near
I'm the one who rambles from Jan. to December
Oh, please spare a thought for your poor Duty Member!
D. Jected
Autumn 1960 Magazine
At first members were expected to notify the Secretary by the preceding Wednesday or Thursday (better post in those days?) if they wished to come on the ramble. Postcards were provided for the purpose. This was so that the special party ticket could be arranged and tea booked.
I
n prewar days further details and changes to the program were put in the Hiker and Camper, Rac-Sac, Catholic Herald and the Westminster Diocesan column of the Catholic Times. About 15 - 30 came on rambles, sometimes more, rarely less. Distances ranged from 10 to 16 miles occasionally longer but most frequently were 14 or 15 miles. When there was a social evening after tea distances were shorter but there could be a long walk to the station afterwards. Sometimes the Club stopped for Benediction in the afternoon or evening for they wished to support the country parishes.
Fares had to be kept to 3/- (equivalent to about £6 in today's money) or below; but with the special party ticket places about 25 miles from London such as Windsor, Maidenhead, Great Missenden, Tring, Welwyn North, Meopham, Shoreham, East Grinstead or Dorking could be reached for this fare.
The special ticket also allowed return on another line. Coaches being cheaper (particularly in the winter) allowed them to go much further out or to areas not served by train. To qualify for the party ticket or to fill a coach required thirty or more to come on a ramble. Sometimes there was a choice of ramble.
Frequently (in 1933/34 every two or three weeks) the Sunday ramble finished at the Club's camping ground for tea and a social evening, especially when there was a weekend at the camp as well. The camp was well placed, near Meopham in the Kent North Downs, for rambles from Sevenoaks, Shoreham, Farningham Road, Fawkham, Gravesend stations. The Boxing Day ramble finished at the camp with a festive tea and a sing song round the camp fire. Nearly as many rambles went to the Catholic Land Colony near Chartridge, again for a social or sing song but also to play cricket or football. It could be reached by rambles from Great Missenden, Chesham, Latimer, Tring, Amersham, Berkhampstead stations. Rambles also finished at Flouden and Sanderstead camps for tea and a social.
I
n March 1934 members not going on the Club's Holy year pilgrimage to Rome attended the Pilgrimage Mass at Westminster Cathedral and saw the pilgrims off at Victoria station before catching their train for a ramble from Leatherhead. This was also done for the Luxemburg holiday in 1938.
Several times between 1937 and 1941 rambles were led in the Bletchingley area finishing with Benediction, tea and a social at Underhills Training Farm (St Mary's), Bletchingley. This farm, in a beautiful valley near South Park was a popular venue with many Catholic organisations. It was run by the Southwark Catholic Rescue Society (later the Catholic Children's Society) to train young men from their schools in Orpington, Gravesend etc, in farm work. Many emigrated to Canada where they did quite well. During the war the Canadian army took the farm over. After the war few wanted to be trained in farm work and because of mechanisation there were few vacancies. The farm was sold and now belongs to the Anglican diocese of Southwark.
Leaders who could be relied on to contribute a ramble on most lists included: Mary Lowe, Frank Austin, Anne O'Brien who was on the first Club ramble and her brother Dennis who led the 25th anniversary ramble on 9/10/55, J C Davis who also led on some of the Easter Pilgrimages and was one of the two club members who were Westminster cross bearers on the 1948 Walsingham pilgrimage, Leon Thomson, Joe Sudbery, Ernest Atkinson, the Tracy brothers, Gerald Hettich, Helene Merresy, Jack and Desmond McGuiness.
When the second world war started arrangements were made to meet on alternate Sundays at Westminster Cathedral and St Mary Moorfields and to `start off after Mass with our maps and take a train to a station that we shall decide upon and walk from there'. Fortunately this arrangement was not needed and the Club was able to draw up a definite programme of rambles which was kept to quite well. Distances were now a bit shorter, ranging from 12 to 15 miles. Most rambles were 12 miles but in April 1943 a 20 mile ramble was led. Trains were usually reliable. If the listed station was out of action because of an enemy raid Committee Members would meet members and take them to a station still functioning. Numbers coming out could be as few as 6 or 30 or more. Being required by the war effort to work 60 or more hours a week they were glad to be able to get out on the rambles and made every effort to come. They were supposed to carry gas masks but as fortunately they weren't needed they didn't. The Club Programme now contained fuller details of rambles. Members were advised to check the Catholic Herald for last minute changes. The Catholic Herald, in spite of the paper shortage, continued to print details of Club events until paper rationing was introduced in 1943. Leaders were then asked not to make last minute changes to the lunch and tea places after details had been circulated.
The blitz which lasted from the end of August 1940 to May 1941 would have made arrangements very difficult. They would not know if the London terminus was still running trains. Having left London they would not know how or if they would get back. Sign posts and place names had been removed so leaders had to be good map readers or know the route well. Common land and public paths across arable land were now cultivated. Some areas were forbidden and once the Club strayed into one but fortunately no one found out. Tea was difficult to arrange but it was so popular that the leader usually managed it.
By 1941 notification had to be made by the preceding Wednesday as post was uncertain. Members were reminded that it was unfair in these difficult days of rationing not to notify and that in future those not notifying should make their own arrangements for tea - a warning repeated quite frequently.
By 1941 most of the prewar leaders had been called up. Wilfred Rowe who led in 1937, 1940 and 1941 was killed in a plane crash over the sea in 1944. Bill Gould who led in 1936 died in a Japanese Prisoner of War camp. Gerald Hattech, Desmond McGuiness, Marjorie Finch, Florence McNeil, Anne O'Brien were able to continue and new names appear as leaders - Margaret Branney (secretary of the Study Circle), Louis Dubbery, Paddy Sanders, Herbert Campbell, Philip Durrant, Frank Ellingham, Monica Grant (Club Secretary from 1939 - 1943), Irene Elkins, Eileen Green, Winnie Herring (Club Secretary from 1943 to 1945), Mary Keet, Winnie Lacey, Irene Ley, Patricia and Maisie McGuiness, Winnie Parker. Most leading several rambles on each list.
In July 1940 members were asked to lead rambles and not leave it to the few. A map reading ramble was held in January 1942 and a Sunday left free so prospective leaders could plan a future ramble.
On 17/10/43 the ramble was cancelled so that the women members could join the Pilgrimage of Catholic Women to invoke the English Martyrs to save our schools.
In October 1944 the Annual outing, a ramble to a place further out than usual, restarted. Going in 1944 to Chilworth Friary and St Johns Seminary, Wonersh; in 1945 to Great Missenden.
After the war the familiar names of John Ashbourne, Norah Smeaton (who continued leading until 1980), Leon Thompson (a leader until 1966), Fred Wood reappear as leaders. More and younger members join and new names appear as leaders including - Bill and Tony ( a leader until about 1985) Chainey, Archie Collins, Peter Culba (leading until about 1985), Eric Colegate (an unofficial B party leader), Kath and Eileen O' Sullivan, Maggie Hadfield, Alf Miller, Phyllis Barker, Stella Cooney, Walter Crossland, Tom Cummings, Kath Gallaher, Terry Hickey, John and Terry Hogan, John Hopkins, Margaret O'Connor.
In 1948 the practice of saying the Angelus at noon on rambles began. This practice declined and in 1978 was replaced by the prayer of St Francis said at a convenient time on the ramble.
On 1 st October 1950 no ramble was held as members would be attending the Restoration of the Hierarchy Centenary Rally at Wembley Stadium.
In the 1950's a B party ramble was occasionally led; one hot summer's day they they finished off the tea before those doing the full walk arrived.
Gradually the public paths and common land which were ploughed over during the war were reinstated and overgrown paths were cleared. But some rural areas, especially nearer London, become more urban as new housing estates were built. Country lanes became more traffic ridden and unpleasant; members were reminded to keep to the righthand side of the road and to walk in single file.
Letter to the Editor (from the Christmas 1956 Magazine)
Sir,
I was appalled at the A.G.M. to hear a male member of our Club suggesting that we should stop walking after tea on winter rambles. How much softer can our generation of ramblers get? I was speaking at the 25th Dinner & Dance to some of the early Club members. They told me of marathon walks - summer and winter. In summer they often walked until 9 or 9.30 in the evening. In winter they had long evening walks too, but sometimes they danced for an hour or two after tea and then continued their ramble. They thought nothing of getting back to town at 10.30 or later, and one member was apparently howled down at an A.G.M. for suggesting they should make an effort to be back in town by 10 o'clock!!!
What has happened to us? Many of our evening rambles are already too short and now someone suggests cutting them out altogether. We may laugh at the ramblers of 25 years ago, but apparently they could walk, and they knew how to enjoy the winter rambles. If they thought the suggestion of being back in town by 10 o'clock amusing, what would they have thought of the suggestion at this year's A.G.M. ?
I say, let those who want to finish at tea-time (either for domestic reasons or because they are frightened of the perils of walking in the dark) do so, but please, please let those who want to, have their evening walks.
Yours faithfully,
YOUNG, ENERGETIC AND SINGLE!
(We heartily agree with this suggestion. Don't lets allow the Club to get any softer and for goodness sake don't lets cut down the enjoyment of our young (and even some of our not so young) and energetic members. They don't all want to be safely home by 7 o'clock, unless, o course, they have got televisionitis! Editor.)
In the 1960's Dr Beeching closed a number of rural lines. Rambles could no longer start from Baynards or Westerham. The useful link between Three Bridges and East Grinstead was closed.
On a Robertsbridge ramble, in August 1969, we were surprised and delighted to meet Malcolm Muggridge on a footpath near Salehurst.
On 23 August 1971 John Lawrence lead the Sunday ramble in the Boulogne area. Members crossed the channel by hovercraft on Saturday so that they could make a pilgrimage to Our Lady of Boulogne and the British Isles. This shrine commemorates the event in 635 AD when a small boat moved slowly into Boulogne harbour carrying just a wooden statue of Our Lady holding the Child Jesus. The boat had no oars, sails or crew. All but one hand of this statue was destroyed in the French Revolution when the Cathedral was destroyed. Later a new statue was made showing Our Lady in a boat as she had arrived in 635. On August 21st each year the statue is carried in solemn procession from the Basilica of Notre Dame through crowds of sailors, miners, fishermen and pilgrims. The Club missed this procession by a day but John had told the Abbe they were coming and he celebrated a special Mass in the Lady Chapel where the statue is kept. Next day they went to the bus station to catch the bus to the Forest of Boulogne but as it did not run on Sunday they went by three taxis. They stopped for lunch at an inn run by the mother of the Bishop of Arras where they enjoyed a huge meal of her homemade pate, local cheese, ham and crusty bread. The ramble finished back in Boulogne from where the party caught the hovercraft back to Dover and thence to London.
I
n the 1970's and early 1980's the numbers coming on rambles fell to about 11-15 due to the decline in Club membership at that time. Club membership has since increased and with a younger more active membership the numbers on rambles are again about thirty.
On a Hindhead ramble in 1972 the leader inadvertently missed the path and the Club walked through the grounds of the Central Deaconess House. They asked if we would like some tea - the offer was gratefully accepted. For the next few years until they moved we booked tea with them on rambles in the area.
From 1975 rambles with no or bring-your-own picnic teas began to be led.
On the 27th September 1981, when there was a special excursion ticket, Ossie Barrett led a ramble on the Isle of Wight. Members left Waterloo at 10.50, had lunch on the boat, did a circular walk from Ryde and returned on the 18.08 boat reaching Waterloo at 20.30.
In the early 1970's pram rambles were led through local parks finishing at the Horniman Museum and in May 1983 a children's ramble was led in lieu of a children's party for which they were too old.
In 1981 some stations closed and some Sunday services were cut down. This affected particularly Leith Hill rambles as both Holmwood and Ockley stations closed on Sundays. Also rambles south of Redhill as Earlswood and Salfords stations are now closed on Sundays in case engineering works are required on one or other of the lines between Purley and Gatwick. Buses were tried but their times were difficult to find and they did not always turn up.
From 1983 the program stated if food was available at the Pub, if so members bringing their own had to eat it elsewhere. The Pub stop was extended to an hour and a half to allow time for meals to be served and eaten; this also allowed the drinkers more time to indulge. It also adds to the Leaders worries as the Publican has to be warned that thirty or more ramblers may turn up.
18 October 1987 was the Sunday after the `Big Storm'. The ramble was in the Sevenoaks area there was utter devastation everywhere. It was thought we would never walk these or other woodland paths again; but of course we have.
In 1990 the Committee decided not to assign Duty Members. This has caused debate at every AGM since. Leaders now appoint a backstop to look after those at the back of the ramble and see they don't get lost.
Since the mid 1990s good use has been made of the `Oxford Tube' a frequent scheduled coach service from Victoria to Oxford. At least one ramble a year is led by Francis O' Sullivan and invariably enjoyed by over twenty ramblers.
Since 1993 we have joined the Mid Herts Catholic Rambles Club for some of their rambles.
In 1997 a leaflet was produced to guide new members. The contents of this leaflet became the kernel of the Club's website (http://indigo.ie/-Iouisfin/openramb.htm) when it was launched in 1998.
STILL ACTIVE AFTER 47 YEARS (from the Christmas 1977 Magazine)
Among the all too few members who were present at the Annual Mass for deceased members was Mary Lowe, one of the founders of the Club in 1930.
When members assembled afterwards for the ramble Mary was among them. The morning walk was exceptionally muddy following torrential rain the day before, but Mary plodded on gamely despite several slips which besplattered her with mud from head to toe. Much of the worst mud was avoided by the leader diverting into a field, but this was missed by Mary who was following someone else who chose to keep to the muddy route. After cleaning up at the pub and enjoying her lunch with the rest of the party Mary decided she had done enough for one day and returned to the station with another member by the short road route.
The rest of the ramble was pleasant but uneventful but further frustration was coming in the evening when the train back to Moorgate was delayed for almost two hours due to engineering works and then diverted from Moorgate to King's Cross.
Well done Mary. We look forward to seeing you out more often when the better weather comes -and, perhaps, on the St Phillip Howard Pilgrimage in 1978.
John and Sheila White, when only recently married, led a ramble to Abbey Wood. A small boy, passing the crocodile of ramblers, looked up at his father and said, "Daddy, I've never seen such a long family as this one" (from the May 1967 Magazine).
Following are two of the ramble descriptions carefully produced by Con Ryan.
FEB 12th 1950 - Meet Kings Cross 10. 40 for 10.55 train to Hatfield
Lunch: Lemsford Tea: Brockett Arms, Ayott St Lawrence
Distance: 14 miles Leader: Eric Colegate
Fare: 3/7 CDR Duty: Tom Cummings
The pointing finger of Eric counted the group carefully as we stood in the deserted square outside Hatfield Station - One! Two!! Three!!! and soon we were passing the main gates of the Park on the right, and turning quickly off the main road towards the Mill following the. path over the stile and across the soft meadowland dropping easily on to the road junction below Bush Hall - the clear blue sky and light breeze made easy walking as we crossed the stone bridge over the shallow River Lea and turned past the small Inn at Mill Green - the gates of Woodhall Farm stood open and we strode easily over the shingled path bypassing the many pot holes and turning away from the house to the arch of the narrow Railway Bridge away on the right - the path led us on easily towards the sight of the empty swimming pool down in the valley, and turning uphill we were soon moving towards the quiet village streets of the Lemsford area with its pretty little houses the comfort of the Rising Sun' was something to enjoy, and finding Mac waiting for us we were soon chatting merrily and eating our sandwiches in between.
As we gathered our forces for the afternoon the first spots of rain fell from the heavy skies overhead - it was a different group billowed by oilskins and shadowed by hats that passed the Old Mill as the rising winds flecked us with foam from the sluice gates, and climbed the huge ladder stile which leads into Brocket Park - uproar broke out for a moment as Freddie Wood entrenched on the top of the wall began a fist thumping electioneering address despite heavy barracking from' the many back benchers - a sudden onslaught forced him on, and we plodded on over the smooth spongy turf following Eric's steady steps towards Water End - the rain in driving force made our footholds uncertain as slipping and sliding we went down the sodden paths, the sloping lawns and huge cedars stretching from the house made a grand view as we passed over a stile and crossed a field towards Bluebell Woods - the quietness and delight of this spot beat off the thoughts of rain - Chestnut, Oak and Walnut grew among the overshadowing trees and seemed surrounded by rain spattered masses of bracken moss and fern - below us the deep densely wooded gully was lined thousands and thousands of growing fir trees - crossing another stile and continuing along the rough track we reached the splendid old stone built Elizabethan House above the shallow ford at Water End.
Alongside the river our track followed the hill to the right and suddenly dipped again towards the river continuing along the bottom of the valley - just as the roofs of Marsford came into sight Eric struck up towards the lane leading into the village, but instead of turning left, he went towards the right following the desolate woodland paths of Lamer Park beyond the Railway Level Crossing - from the debris laying around it looked like an Ex Army Haven - an odd tyre started a sudden rush along the road, Norah in merry mood, tried to lasso Tony with it and found the tables turned quickly as he wrapped it over her own and Kathleen's heads and rushed them helplessly along the track as they called in vain for help!
Open waterlogged and tractor marked paths led unerringly towards Ayott StLawrence as the steady drizzle soaked us - the quiet roads of the village took us past Shaws Corner - the home of George Bernard Shaw - on past the old village church now in ruins, and our tea at Brockett Arms. Damp clothing littered the walls and steam rose steadily from gloves, scarves, and coats laid in front of the fire as we settled down to eat - a sudden gust of wind - cold and biting -announced the arrival of John Ashbourne who had been waiting on the open ridge at the far side of the village hoping to meet us
The roaring wind and beating rain waited to welcome us as we started along the road again and turned through the field gate to follow the long open track across the muddy fields to the road beyond. Ayotbury church loomed in the gathering darkness, and as we reached the remotest point of the field the rain whipped across the open hedges, and we ploughed through puddles of wet oozing mud and undergrowth blinded by driving rain.
Everyone was thoroughly sodden by the time we reached the main road, and saw the welcome sight of bus lights - everyone by now was squeezing water from all types of clothing, and even the bus waited while one or two - managed to get rid of an extra handful of water before we started on the last few miles to the station - it had been a dreadful day, but we were still happy!
Con Ryan
31st DEC. 1950. - Meet 10.15 Victoria for 10.28 train to Reigate
Lunch: Leigh Tea: Boxhill
Distance: 14 miles Leader: Tony Chainey
Fare: 4/10 Duty: Eileen Green
Within a few minutes of leaving the station we were in the pleasure gardens of the old Castle grounds, and sliding down the winding paths towards the ice-covered lakes - the snow gave everything a tinsel effect, and as we eased through the iron gates leading to the High Street the clock tower and cottages under the morning frost.
The battered stile and toll post gave us our track into Reigate Priory after a short road trek -the ridge earth cracked and splintered under our feet, but as we forced our way along the narrow track, and climbed the snowy slopes the tall slender pines sloping away with the ridges gave us a grand view of hillside country. The open land stretching ahead was a completely untouched blanket of white snow - through the gaps below us on the right the swaying branches sent a film of soft flakes into the air, but a few flying saucers propelled by hand caused us to concentrate on our safety and deal with the invaders. For a few minutes the snowballs caused everyone to duck and wave, and then with a last sight of the lake, we slid down the hillside and reached the road.
Turning left we followed Tony past the trees lining the edge of the fields and over the stile among the bushes on the right - away to the left the roof-tops of South Park showed among the tree-tops and took our interest for a moment, but the field tracks coming rough underfoot made our pace slacken down.
Beyond the crossroads our paths turned to Flanchford Farm, and passing the brief colour of the mill pond quickly crossed the road bridge over the Mole. We were quickly among the icy earth again, and within sight of the river moved towards the heavy woodlands of Bury's Court. The walls of this estate, and the width of the river, caused us to go on to the road for a few steps and then regain the footpath towards Leigh.
The mud that clung to our boots made the going hard, but all this seemed to be part of the day - hedge hopping, ridge climbing, an occasional slide or splash made everything more interesting, but when we heard that our cider had been banned at "The Plough Inn" even Tony took a dim view!
The four-fingered signpost on the cross- roads sent us off along the Newdigate Road, and reinforced by Alf - a late arrival on an early bus - we sped away. At Clayhill Farm the track on the fi-inge of the woodlands gave us our route for Dawesgreen, and taking a great deal of the farmer's ploughed land with us, we turned left along the road. Our Leader never believes in easy progress, and soon we were floundering over a mass of sodden grassland towards the edge of Brockham Park. The small church at the turn of the road hid from view the swing gate, and within a few moments we were streaming across the open lands and stepping easily on to Gadbrook Farm - tracks and tree strewn paths took us into the village of Brockham, and as the tower of the village church peeped through its heavy guard of trees, we turned into the side streets - a lone figure leaning on the stone bridge started into life - it was Norah waiting for us. A few minutes were spent watching the fascinating sight of Budgerigars flitting around the cages within the rippling sound of falling water - and then, onwards again along the old coach road stretching away into the distance, covered on both sides by the quietness of Betchworth Golf Course. Passing the old Lodge gate the only sign of ancient life was the Castle away on our right.
Continuing along the track on the far side of the road we were quickly passing under the old railway bridge, and suddenly the path appeared to open into mountainous country - hills towered above us, and the icy track had our feet sliding - we were trying to attack Box Hill from the back door. The heavy going pulled us back as we pushed across the plateau. Tony was ahead, and suddenly he turned uphill, digging his feet into a mass of frozen ice - we attempted to follow - hands, feet, arms, elbows were employed, and as we sighted the track at the top, and the look-out erected to the memory of Leopold Salomon - the man who gave Boxhill to the nation a fusillade of snowballs scattered us.
Time was forgotten as a terrific battle broke out - Tony tried to restore order, but flying shots sent him to cover, and even when we moved along the Silver Birch avenue towards our tea at Boxhill Farm no one walked in the open.
The night sky turned everything into a glittering white mass, and a stray step promised an avalanche of snow, but our downhill path went steadily on through the tree-lined avenue - at times we stopped to pick up the late ones, and soon the noise and steam of cars and trains reached us a short distance along the road, a right turn past the Railway Inn, and just ahead was Boxhill Station.
Con Ryan
WHY GO RAMBLING AT THIS TIME OF THE YEAR? (from the Autumn 1957 magazine)
I can understand it in the Springtime when the sleeping earth stretches and yawns awake; when the bare woods are tinted with the first delicate green of the tiny buds; when fresh-ploughed fields are brown blankets on the pulsing earth and the sower goes forth to sow his seed; when bird-song is everywhere, and nests, and primroses among last years leaves, and bluebells; when lambs leap and hearts are light and all that was old is renewed.
Ah yes! I can understand it in the Springtime, but why go rambling at this time of year?
I can understand it in the Summer when fruit and harvest are rich and heavy; when the hot sun beats down from the copper-bowl of the shimmering sky on the crests and troughs of the ocean-swelling corn; when all farm creatures bask in the happy sun and shining piglets enjoy a snuffling snooze on earthy beds, laid out like sausages or rashers of bacon (a foretaste of their future); when the bees `Skiflle' among the nodding flowers on lazy afternoons; when bare legs flash and splash in the sparkling pools; when afternoons are for resting and evenings for walking; and there are coach-trips, and shorts and seaside outings and ice lollies and sunglasses and summer dresses and cucumber sandwiches and Colne Springs in the cool of the night ...
Ah yes! I can understand it in the Summer time, but why go rambling at this time of year?
I
can understand it in the Autumn when Nature draws breath after the great maternity of the harvest; when rich green becomes yellow, red, and brown, and tall trees in Buckinghamshire valleys stand like liveried flunkies in their mufti-coloured ranks; when farm gates stand open, leaning and drowsing over the empty fields and the only fruits are nuts and berries; when cottage fire smoke hovers out on to the misty evening; when gay woollen caps and gloves and conkers can be seen and there are scufllings through the rustling leaves, and harvest moons, and apples and cider, and press-ganging for the Committee ...
Ah yes! I can understand it in the Autumn, but why go rambling at this time of year?
I can understand it in the Winter when the hard, solid, sleeping earth rings and crispcrackles under the iron-shod heel; when snow-flakes flitter from an all-enveloping grey blanket of the sky and great winds sigh in the naked trees; when the pale sun sparkles on a frost-rimmed gate and robin-redbreasts peck trees and pattern the white of the snow; when ramblers venture the night by hedge and dyke and cow-field to the warm welcome of the fire-flickering inns, and carol the Birth of the Saviour in enthusiastic discord; when there are Christmas rambles and holly and ginger wine and toasted tea-cakes and chicken sandwiches on Boxing Day; and wet feet and dry throats; and gloves and scarves and mufflers and sweaters and wind-cheaters and hats with tassels and caps with pom-poms ...
Ah, yes! I can understand it in the Winter, but why go rambling at this time of year?
Why go rambling at this time of the year?
ODE TO AN OLD ANORAK from the Summer 1960 Magazine
Oh anorak thou didst come to me as one of many gifts.
Now, as I sadly gaze on thee and see thy many rifts
I think of dear departed days when thou wert in thy prime
And the stories couldst thou tell them of thy rents and holes and grime.
It seemth but some weeks ago that thou wert spruce and new
Protecting me from icy winds and rain and foggy dew.
Ah then I wore thee proudly, as a solder on parade
But I joined St Francis Rambling Club and soon my pride did fade.
When first they rolled thee in the dust "Desist!" - in vain I cried
I wouldn't have been quite so concerned had I not still been inside!
They also spilt strong mead on thee, till thou didst foully reek
So I scrubbed thee and next time it rained I found that thou didst leak.
Who was it pulled thy sleeve nigh out and didst so cruelly laugh?
Then called on one as wild as he to take thy photograph.
Tho' twas not through joyous laughter that thy side seam didst split
Ah no, some happy rambler put his great big foot in it.
Yet I patched thee and thou still couldst brave most any kind of weather
Tho' now red ragged remnant, but thy badge holds thee together.
And when unhappily I look on thee oh reeking rusty ruin
I know that very soon I must needs go out and buy a new `un.
Jack Eted
Some sayings of Maurice!!!
Maurice Hickman on entering a tea place called Imp Inn: "No gobbling allowed"
Maurice Hickman when ramble was asked to wait until the farmer had rounded up his straying cattle: "We will be here till the cows come home"
SUNDAY MORNING (from the Spring 1968 Magazine)
You listen to the pitter patter of the summer rain
You lie in bed and hear it splatter on the window pane
And, snuggling down a little lower underneath the sheet
Are soon lulled back to dreamland by the rain's hypnotic beat.
You cannot hear the rain still splatter on the window pane
The room is bathed in sunlight as you waken up again
You push the blankets off you now and struggle to your feet
While far away at Waterloo the other ramblers meet!
To get to Mass this morning you will have to step it out
The last one starts in half an hour, no time to hang about
A rapid lick and promise and then rustle up some grub
You've still a chance to join the other members at the pub.
You'll have to wear your rambling gear to church without a doubt
There'll be no time to come back home, you'll have to go straight out
You're dressed and off, but wait now, where's your programme? That's the rub
You need to know the lunch point if you mean to join the club.
You've got it, and your missal, and something for the plate
Your rucsac, cape and food for lunch, you surely will be late
You'd better take a pound or so for fares and drink and tea
Then put your best foot forward or you'll miss the homily.
Because you've got to rush now you omit to close the gate
And sprint towards the bus stop, hope there's not long to wait
A diesel roars behind you and you look back hopefully
And run on even faster now to catch the bus you see.
Almost before you've paid your fare the Church comes into view
You hear the priest's confession as you hurry to your pew
Thank God you're not so very late, although it was a race
Then open up your missal and turn quickly to the place.
The sacred liturgy restores a sense of peace to you
The homily inspires you to a resolution new
The Body of the Lord endows you with the needed grace
To overcome the obstacles you'll surely have to face.
Too soon the Mass is ended and you set off again
To hurry to the station and find out if there's a train
There's one in fifteen minutes, just time to have a snack
But get your ticket first, a queue might form e'er you get back
The coffee tastes delicious, but your joy must surely wane
When you bite the ancient sausage roll, and spit it out again
But don't complain, you haven't time, so just pick up your pack
You'll have to wait a while to make up for the food you lack.
The train gets in at five past one, ten minutes overdue
The one four bus is on the hill, just going out of view
The table at the bus stop shows the next one is at three
"It's two miles to the pub at least" you mutter gloomily
You've brought no map, so take the road is all that you can do
You see the others leave the pub just as it comes in view
You wave and shout and pray that someone in the group will see
You running up the hill towards them puffing breathlessly.
The leader spots you and they wait until you reach the door
"We'll let you stop for half a pint, you won't have time for more,
We've been here now since five past twelve, there's still eight miles to tea
And I've booked us in for five o'clock, so we can't wait you see
No use to be protesting that hungry and footsore
Just eat your lunch along the way, you'll get no break that's sure
The lesson to be learned from this is plain as words can say
So remember if it's raining when you wake up next Sunday.
John Lawrence
AN OCTOBER RAMBLE (and extract from the New Year 1964 issue of the magazine Magazine which is also fitting tribute to the late Norah Smeaton)
It was going to be an unusual day. I realised that when I arrived fifteen minutes early for the train. Overcome with shock and exhaustion, threatened by the tougher standards demanded by the (non?) ramblers at the A.G.M., ardour damped by teeming rain, - I must have been mad to think that I needed fresh air!
I needn't have worried, as Norah Smeaton's ramble was a model for all prospective leaders. She kindly arranged for the rain to stop before we reached Great Missenden and, except for a few minutes drizzle, macs were not needed again all day. Trees, that had seemed disappointingly dull near London, now put on a brilliant show for us, continually changing hue as the sky gradually brightened.
Lunch was at Dunsmore, where a seafaring landlord showed an interesting display of models! Refreshed, we set off at the same comfortable brisk pace through field and wood in everchanging variety. Occasional pauses allowed us to admire views, chat and re-group as stragglers caught up -even the duty member met everyone before tea! There was mud, of course, to entice wayward feet on the slippery path to final downfall, but it did not stick, clinging, unwanted, like that of E---- (which shall be nameless!).
After an excellent tea, the sun, fleetingly glimpsed during the afternoon, shone forth boldly, scattering the clouds beyond the horizon and bathing the whole countryside in brilliant golden light. So far from London, with its dirt and noise, there was a magical quality in the peace and stillness of the evening. Our last sight was of stark trees, outlined on a hill against the glow of the setting sun.
Darkness fell, and with it the temperature. By a masterpiece of timing, we returned to Great Missenden as a train left and the pubs opened. For a while hour we could relax in a cosy inn by a roaring fire and reflect on the delights of a memorable day.
Shan
And a slightly tongue in cheek extract from the Christmas 1956 issue of the Magazine
Letter to the Editor
Dear Editor
I would like to lodge a strong complaint against certain leaders who insist on leading us poor ramblers through water - which is frequently wet - and thick forests - which block out all the sun. This is the reason why our members are looking so pale (except for red, wet noses). I suggest the leaders take us on dry land (if we must walk through water, please make sure its dry) and in the open countryside so that we may recapture our beautiful tan which we lost some months (or ... years) ago.
Yours sincerely,
Your health and beauty expert,
MONSIEUR VIGOURBOY
THE RAMBLERS' LAMENT (from the Spring 1963 Magazine
(To be sung to the tune of the Eton Boating Song
We are hardy ramblers, tough as tough can be,
We walk for miles on Sundays counting the hours to tea
Hobbling along together we try not to wander too far
We're all of the same opinion - it's better to go by car.
Beautiful rambling weather, grey skies overhead
It's going to rain forever - better to stay in bed
Struggling along together in the wind and the driving rain,
We're all of the some opinion, we'd rather be home again.
Whenever we go out rambling the leader sets quite a pace,
At the back there's the Duty member trying to stay in the race!
We go in and out and under thru' woodland and country lane
Till suddenly there's an outcry, "Duty member is lost again".
So if you take up rambling he careful how you go,
You'll find yourself walking on Sunday in rain and sleet and snow;
If you want to live in comfort, then take some advice from us
Don't ever be a rambler - it's better to go by bus.
Overheard on a ramble: "Mummy are they Gnomes?"
New member approaching group at London terminus: "St Francis of Assisi?" Duty member: "No Peter Fraser actually"
Len Bulaitis (who's brother is a tailor) when asked his name by duty member: "I've got it here somewhere" and showed him his coat label.
Near High Beech, Epping the Ramble was asked by a family with buckets & spades "where's the beach".
SPECIAL RAMBLES AND PILGRIMAGES (NB to return to contents click here)
In May 1932 Fr Flanagan invited the Club ramble to join the Ballenger Pilgrimage to Little Missenden in honour of Our Lady of Missenden and the English Martyrs and he also arranged tea for them. They joined this pilgrimage again in 1934. In August 1937 the ramble joined the annual procession in honour of St Philomena at her National Shine at St Lukes Pinner.
After the war pilgrimage rambles were led to the Carmelite Shrine of Our Lady of Hartley. In the 1960's, after the Carmelite Friars had returned to Aylesford and rebuilt the Friary, Fred McAndrew lead rambles to Aylesford stopping for Mass at Hartley or Dode.
AYLESFORD (from the Summer 1961 Magazine)
Present, Founder, and pre-war members of the Club converged by train, coach, car and on foot to a quiet corner of the Kent countryside on a warm sunny Sunday of May 7th. Their destination was the 12th century Church of Dode which was the centre of a thriving parish up to the black death of 1356. It was opened for Mass again in 1954 when the Bishop of Southwark offered Pontifical High Mass there and is one of the few pre-reformation churches in England that has not been used for non-Catholic services.
About 150 people packed the tiny church when Father Cassidy began Mass and reminded us the Mass was the same now as it was in 1346 though our own English language had changed much. After Mass and refreshments the ramblers moved off like a long caterpillar; crossing the River Medway, after lunch, in a ferry operated by a bearded Castro-like figure. They then walked along the pilgrims way to Aylesford. Tea was served by the charming young ladies of the Club and all heard Benediction in the recently completed attractive open air church. A memorable day for all who took part and thanks to the Committee and a special thank you to Fred.
E.H.
In June 1960 Peter Culba led an afternoon and overnight ramble from Blackfriars to Aylesford stopping for tea and a film show at a members home. Seven started from Blackfriars, two joined in the late evening at Swanley and eight at Eynsford at midnight. To keep the spirit of a pilgrimage, five minutes in every hour was set aside for silent prayer or meditation. Most areas of London had some rain and thunder but the pilgrims had a dry walk. Aylesford was reached at 9.15am, where after a quick wash they had breakfast in the Pilgrims Hall. Then they did the Rosary Way before going into Mass at 11 am, the two members who did not breakfast received Holy Communion. After Mass most went home but some stayed till about 4pm.
In August 1976 the Sunday ramble met the annual Arundel & Brighton Ecumenical Walking Pilgrimage and walked with them in the afternoon. Tom Gallagher, a Club Member, did the whole pilgrimage, other members joined for the August Bank Holiday. Next year Mary Lowe represented the Club on it and since then many Club members have taken part and often a Club ramble has joined them for a day.
In 1981 John Lawrence led a ramble finishing at St Edmunds Old Hall, Fr Tom Gardner's Parish for Mass, tea and a tour of the Museum housing documents and relics from the Penal Days.
In the late 1990's Tony Finnegan began the walks, in imitation of the pilgrimages of the `old days', to Worth Abbey for the Good Friday services.
A VISIT TO WONERSH Sunday after Corpus Christi from the July 1949 Magazine
During our ramble to Guildford on Sunday, June 19th, a visit was made to the well-known Seminary, St John's, situated half a mile from the old world village of Wonersh. It is half way up on a hill, and is a striking and impressive structure, Dutch Renaissance built in 1895.
On our arrival we were welcomed by two of the students who conducted us through the building. The interior of the Seminary is very reminiscent of boarding school, long corridors with class rooms, recreation rooms, etc. Passing into the Vestry we were surprised to learn that many of the vestments and altar pieces were made by the students, and were later shown their loom.
The Chapel was not outstanding in design or architecture, decorations were carried out in a blue and white colour scheme, whilst blue and gold predominated in the Reredos and Altar Canopy. We were struck by the unusual arrangement of the pews, on either side of the centre aisle were double rows facing inwards towards one another. Our group then visited the library where we were shown shelves of rare and previous manuscripts. and they also posses a very fine printing press.
From the roof we had a good view of the surrounding countryside and of the spacious and well laid out garden stretching below us around the Seminary.
At the conclusion of this tour we reassembled in the Chapel for Vespers and Benediction. Looking down from the Organ loft gave us an impressive view of the procession as it entered, with all its pomp and dignity. Students filed into their pews, the Priests assembled on the Sanctuary where the servers had already taken their place - the organ hushed its note, and Vespers began.
Towards the conclusion of this service candles were lighted and held by each student, illuminating the Chapel by double rows of lights. A brief Benediction took place, after which the students again formed their procession, each carrying a candle, and moved towards the door of the Chapel, where they were met by six little girls holding baskets of flowers, six small boys, including a very tiny one, also carrying candles and six students with large candles in gilt candlesticks, followed by visitors and ourselves, likewise supplied with candles.
As the procession wound its way to the first outside altar gay colours of flower petals covered our path, and once more those familiar hymns were taken up by each one. Benediction over, the procession reformed and proceeded to the second altar, after which we returned to the Chapel for the closing ceremony.
Leaving the Chapel one felt conscious of the privilege we had shared with the other visitors. Our humble worship had mingled with that of future disciples, nay apostles of Christ - namely rows of earnest and devout young students kneeling below us. We left strengthened in our resolve that like those chosen few we should do all in our power to carry the Faith by our word and example amongst our fellow workers in our own walk of life.
E.M.M. -
THE CHRISTMAS RAMBLE (abbreviated from the

Spring

1973

Magazine

)
A special ramble has always been led just before Christmas, usually with a social in the evening and, when trains run that day, on Boxing Day.
The Christmas Ramble started from Betchworh Station. During the morning we noticed old railway sleepers strewn around beneath the trees in a coppice. Then we came to an old shed with railway lines laid through it. On the other side men were hard at work on an old engine. We realised the footpath was taking us through a museum for old trains in a disused overgrown quarry.
After lunch at Brockham Green, the walk continued through the rolling countryside of Surrey. A windmill stood out black and white at the top of a hill. As you can guess we had to climb that hill! The last lap of the climb was across part of Reigate Heath Golf course and a bench had been placed just at the top. Here some of us sat to recover and enjoy the view.
We diverted to look at the windmill. Music welcomed us. An old man was playing an ancient harmonium and an even older man was playing a violin he had made himself. It was in fact a very small church, beautifully decorated and at one time for the use of pilgrims to Canterbury. After the Reformation it fell into disuse and was made into a windmill and is now a church again.
The musicians were playing Christmas carols and invited us to request our favourites. We made ourselves comfortable on the benches and altar steps, picked up typed sheets of carols and sang with pleasure. The miniature church rang with sound. Oddly enough the two musicians had difficulty finding the music for some of the carols we chose from the typed sheets. When it was time to leave, the harmoniumist asked who we were and where we came from, On being told, he said our being Catholics explained the fervour with which we sang and went on to say that he was C. of E. and that they had had a Carol Service there the night before. As it was such a lovely day the two musicians went up again hoping that some people might pass that way and the Good Lord had sent us to sing for them. We put the sheets of carols back in a neat pile and filed out, then found they had come from John's rucksack, and were for the evening party.
The walk continued down a pleasant lane winding between high hedges, over a secondary road and up a steep footpath. We turned to see how far back the tail of the ramble was and saw we were being followed by a girl leading two goats and two smaller girls pulling a bale of hay on a tiny cart, while the goats made sure the hay was close behind. When the back had caught up we continued through Priory Park and were soon dropping down again into Redhill as the sun was setting.
After tea in Forte's, we went a few yards up the main road to St Joseph's Church Hall which the Hickman's had decorated the day before. There was a bit of difficulty with the plugs so Ellen obliged on the piano for the first few square dances. When Maurice returned with more equipment the tape recorder got going and Ellen was able to join in the dancing. We all had a very good evening with mince pies, homemade wine and more carols.
In the summer, from 1965 to 1975, a ramble was held finishing at Croxley Green for tea, Mass and a square Dance.
HARVEST MOON BARBECUE RAMBLE (abbreviated from the August 1970 Magazine)
Very occasionally a midnight ramble has been led.
We left Gomshall Station about 10.30pm. It was a fairly cold evening but dry and clear and the moon was very bright. There were 11 ramblers, including one new member. John Lawrence led the way with his ingenious little `golfing trolley' on which he carried the heavier luggage.
Having found the barn where we hoped to have a short rest after the barbecue before proceeding to Broadmoor for breakfast, some of us gathered wood to light a fire while others made preparations for cooking, under the direction of John. We had potatoes in their jackets, pork chops, fried eggs, bread, butter and tea. We finished off with Hickman home-made blackberry wine and birthday cake - it was Maurice Hickman's birthday! We put the fire out, cleaned up and retired to the barn about 2am.
It was very cold because one side of the barn was open. Three people had sleeping bags. One person looked particularly comfortable in a hole in the hay about 6ft deep with several bales on top of him. Someone lost his boots under the hay but they were dug out in the morning. We couldn't help but laugh thinking of our nice warm beds at home.
At 4am we got up and lit the fire to get warm. We left for Broadmoor about 5.30am. While passing a house in a quiet lane, our voices and the clattering of John's trolley on the cobbles woke an old gentleman who put his head out of the bedroom window and shouted to John to
"pick that blooming thing up !"
We continued on tiptoe and arrived an hour early for breakfast so took a short walk to Friday Street. It looked very pretty with a mist hanging over the lake and anglers were already arriving. At Broadmoor, we had an excellent breakfast of stewed fruit, cereals, egg, sausage, bacon, toast and coffee. We then set off for the 11 am Mass at Dorking.
Christopher Jones
PRODUCING THE RAMBLE LIST (NB to return to contents click here)
Until the late 1950's the job of producing the ramble list fell on the Secretary. After this time a Committee member was appointed Ramble List Compiler.
Every so often the committee has become concerned that few members are willing to lead rambles thus putting an unfair burden on those who do, usually the committee members. Requests for more leaders appear in the Club List from time to time and things improve for a bit. In January 1942 and again in October 1946 the Committee gave up and left a Sunday blank expressing the hope that new leaders would use that day to plan a future ramble. Map reading evenings have been held and a series of articles on map reading appeared in the Club Magazine. Perhaps the early years of the Club and 1960's were the only times leaders did not have to do more than one ramble per List. Inevitably rambles are repeated to fill the gaps in the List. In the 90's the Club held formal training and map reading rambles in the hope of encouraging more leaders.
In most years about 22 members lead a ramble, some lead only once a year, some lead two or more rambles on each list.
INSTRUCTIONS ON HOW TO PLAN RAMBLES (another tongue in cheek item from the Summer 1955 Magazine) (NB to return to contents click here)
Only people who have planned more than ten rambles need these instructions. They are essentially for beginners. Those people who have never planned rambles must do so immediately acting upon these hints.
Gentlemen, I exhort you, never plan a ramble in the dark unless you have a lady for protection. Ladies, I exhort you, never plan a ramble in the dark with a gentleman, it will do you no good, and they always find the way out of woods.
Ladies and gentlemen, always take a map with you as well, when using the daylight. In order to read maps properly, first learn to speak English, and always use a foreign accent when telling other people where to go to. They will then always follow your directions without suspicion, and you will never see them again. If you do, put your hat on upside down and speak Russian. This is not a very difficult language to learn if you already know Swahili, or else are very well red. I always find on going along footpaths that it is best to use both feet. This enables you to avoid bumping into trees, and if a farmer ever shouts at you across a field, speedily move away on all fours, using one limb at a time. He will then think you are a horse, but if he tries to ride you tell him you are some other farmer's horse, and he will know this is true since his own cannot speak. On coming to the pub, revert to normal posture (to avoid being given hay by kindly yokels), put grass in your hair and squint, and you will find that the beer will be cheaper. By using words of less than one syllable, you may get it for nothing, and always touch your forelock to the squire, and you may get a tanner. When trespassing always carry a mills bomb. Pull out the pin and throw it away immediately. Give the mills bomb to the owner of the field, and whilst he is examining it closely, make your way to the nearest air raid shelter or deep trench.
There are many books on Rambling, but few of them contain these hints
PLANNING A RAMBLE? (abbreviated from Spring 1963 Magazine (NB to return to contents click here)
The area of the Chilterns south of West Wycombe was selected as having possibilities to keep the ramblers happy, off the roads and over the green countryside.
The first step was to get an idea of the fares and train times. Not being a railway addict, I am not used to time-tables, so prefer to contact the railway enquiry offices. This I did by phone on Monday. At 4.50 the voice at Waterloo 5100 said "Enquiries here" and put me through into the middle of a conversation between a clerk and a fellow enquirer. I waited about five minutes, hoping the line might clear. It did - the chap at the other end put the receiver down. 4d wasted. 5 o'clock I asked the operator to help me. 5.15 I gave up, as despite many very polite "I'm trying to connect you"s, "I'll try another line"s, no one replied from Waterloo 5100. Maybe all the lines had crossed by then.
Still, one is not defeated by such aggravations. No! Next day, during my lunch hour, I visited Pickford's and obtained the details I required. The lady there is very helpful, even though I never buy tickets - just make constant and, to her, inane questions about train times and fares. Upon my return home I looked up some old ramble details and noticed that the fare to West Wycombe was 9/10, whereas Pickford's told me 5/7 return from Charing Cross.
Wednesday - To be on the safe side I thought I'd look at an up-to-date time-table that my sister has at the office for the use of our `travelling' staff. This confirmed the fare to be 9/10, but no trains from Charing Cross, only from Marylebone and, of course, at quite different times of departure! As I said before, I'm no good at reading time-tables.
Being afraid to visit Pickford's twice in one week, I had the bright idea of calling at Charing Cross station itself and there I met a charming fair haired gentleman; he was most helpful and confirmed 5/7 Cheap Day Return from Charing Cross. I suppose 9/10 was the normal fare, i.e. not `Cheap' and Charmg Cross is so much more convenient than Marylebone for us Southerners, so that clinched the matter.
The first step, having taken nearly a week to complete led to the second item - to fmd a willing, patient and kindly disposed companion for the walk-out.
Third item - lunch and tea places. I was pleased to receive an address from one of our members, but the Hotel had shut down. Not daunted, I posted off a letter to The Publicity Officer, High Wycombe (West Wycombe is too small to have one of these). By devious routes, through the Town Clerk to the Clerk of the Council, the reply came back to me and lunch and tea are now facts of certainty.
Right, the day of the `try out' has come and off I go to meet my escort who is looking forward to this day, as she has not yet led a ramble and is not too good at reading maps, so this is to be an `education day' for her.
We arrived at Charing Cross and I asked for "Two cheap day returns to High Wycombe, please". (The Clerk of the Council told me West Wycombe Station had closed down). The ticket fellow said, quite nicely, "We don't go there, madam!" "I know you don't go to West Wycombe, I want High Wycombe". "Oh, but we do go to West Wickham, but not High Wycombe! You had better go to the Enquiry Office, madam". So, once more I tripped into the Enquiry Office and the nice fair haired gentleman was there again. I explained the difficulty and he said "West Wycombe, Bucks, or West Wickham, Kent?" "Bucks". "Ali, then you want Marylebone and if you're lucky you will just catch the 10.30". We were not, and so just caught the 11.20. "One blessing", says I, "we will not have to trapse all the folk on the ramble from Charing Cross to Marylebone.
Whisht and, to cut a very long story short, on with the ramble. Three times we had to ask directions from residents. Footpaths on the map were not on the earth and vice versa, pylons were going in the wrong directions, main roads turning sharp left instead of right. At the last port of call a lady asked her husband's help. Upon looking at my Ordnance map purchased a few weeks ago from a shop that sells naught else but Ordnance maps, he said "How old is this map?" For the first time I too looked - 1950 with major roads revised in 1961.
However, I still do not trust the trains, so have decided to go by coach and keep in touch with it by wireless whilst we play follow the leader!
Meg Walsh
IF (A parody from the Autumn 1969 Magazine)
IF you can find your way when all around you
Believe they're lost and blame it all on you
If you can trust your map when others doubt you
Know where you are or where you're going to
If you can wait and not be tired of waiting
For couples that for ever lag behind
And say, with tact, when farmers start creating
They've made the path a little hard to find.
If you arrange to walk out all your rambles
Alone, through blizzard, fog or driving rain
Then find the weather on the day is such a shambles
You walk it almost all alone again
And when you mention this to the Committee
To tell them of the scrumptious tea they've missed
Agree it really would be such a pity
Not to put it down again upon the list.
If you can lead the way through swamp and quagmire
And urge the least intrepid of your flock
To follow you through thorns or under barbed wire
And still get to the pub by one o'clock.
And if that pub has got a friendly landlord
Who lets you stay till drink-up time is through
Has food for those that want it and a dartboard
And for the thirsty ones a drink or two.
If you can bear with never-ending grumbles
Arrange a rest with viewpoint every mile
Avoid all roads where heavy traffic rumbles
And help the girls across each broken stile.
If you can find a tea place near the station
Where pretty girls serve cheap and ample grub
Cast out all doubts and thoughts of hesitation
We'll let you lead a ramble for the club.
| | | |
| --- | --- | --- |
| | V J Lawrence (with apologies to R K) | |
OH! TO BE A LEADER (from the New Year 1958 Magazine)
When first I went rambling with the Club, I was filled with admiration for the various leaders who seemed so at home in the middle of no-where, and who regularly produced a lunch or tea place -from the back of their hands, as it seemed. I have now led some half-dozen rambles and still don't know how they did it. What I would most like to know, is the secret of their calmness in the face of the ravening multitude.
Some weeks ago in the `fall' I led about twenty people from a well-known station on a walk through some of the finest scenery in Southern England, clothed in all the majestic and decaying splendour of Autumn. Lunch was a fair step - so after waiting some precious hours while one gentleman changed into more suitable rambling attire we set off at a brisk pace. At noon when the Angelus was said, I was rudely asked "Where is the fire!" Some hour later I was more rudely asked where the pub was! All this mark you in such picturesque surroundings as would gladden the heart of any true country lover.
Soon after arriving at a vantage point where you could see a glorious sweep of countryside spread out below, a new member was enlivened with the statement "Lunch is down there!" So popular was I, that on crossing a railway line at a level crossing, enquiries were made as to the time of the next train. Lunch was somewhat shorter than usual - the `wisest' member of the party having arrived by bus - and eaten her sandwiches some time previously, and forgotten about them.
In the afternoon I determined to make for some well-known land-mark - a hill from which the view is superb. On the way we passed a small cafe - open! In a weak moment I agreed to an afternoon cup of tea. The avalanche poured into the cafe, and the proprietor soon made enough to retire on! Only with the aid of the Duty Member's walking stick did I `persuade' the party to continue. We climbed steadily to the summit of the hill - which rapidly became a mountain as we went further. "Where's the snow?" one young lady asked me while we were resting at the top. As darkness fell and we strode towards civilisation and refreshment, the pack behind me became quieter, the baying died down, the hunt flagged. In fact the only noise I heard was the 20th letter of the alphabet repeated insistently and at length and a few pious exclamations as we walked along a slightly muddy lane and past a farm. Somewhat after the appointed time we reached a delightful cottage where tea was served. The young waitress greeted me with an attractive smile, but the proprietress grated out "The custom I have turned away keeping this room for you!" I pacified her while the healthy and energetic ramblers surged in, disappearing from view in arm-chairs and sofas - in the end I swallowed my tea on the corner of some chest in the hallway!
After the expected desertions when tea (for which we paid through the nose) was over, those tied to me by the Party Ticket regrouped and restarted. That velvet black panther - night - was all about us (someone elses poetic imagery). However, night was turned to day by the synthetic light we carried with us. Thus armed we drove the night life of the country before us, and tripping over sleeping cows reached the summit of a small hill made holy by the presence of pilgrims centuries ago. In this sacred spot, upon a church wall, these 20th Century pilgrims behaved like no other pilgrims. Perched like crows along the wall, they reviled me in no uncertain terms besides embarking upon complicated mathematical calculations as to the distance we had walked.
Shutting my ears to the exhortations I led them to the county town of that fair county, high upon another hill, with myriads of lights twinkling below us. At 9pm we boarded a crowed express to London, where they were only prevented from falling upon me and rending me limb from limb by the presence of a few other people at the station. My ill-fated ramble had ended!
FOOT AND MOUTH DISEASE (Editorial, Shrovetide 1968 Magazine)
(NB to return to contents click here)
In December 1967 until the following March the Club cancelled all rambles because of the foot and mouth disease affecting cattle. Mini rambles round London's Open Spaces were led instead. The Secretary, Kath Holland (nee Marney), kept in touch with the Ministry of agriculture to know when restrictions would be lifted. Most of the cancelled rambles were led on the following list.
I think everybody will be glad when the foot-and-mouth epidemic is well and truly over. Most members will have been chafing at the enforced lay-off and will be grateful to get back into the swing of regular rambling. There is no doubt, however, that by voluntarily curtailing its rambling 1, activities the Club has contributed to some extent in the decline of the disease. It was pretty harrowing, while it lasted, to read or see the never-ending bulletins about so many thousand more j animals slaughtered; while the losses some farmers have sustained must be astronomical. It is an'', ironic thought that farmers, so often the enemies of our Club, now have cause to be grateful to it: but it is unlikely that many of them realise it. Charity and fair play often go unrecognised but that does not lessen their value.
TRAVELLING BY TRAIN (from the Summer 1955 Magazine) (NB to return to contents click here)
HEILIGE WADERMANN (rev)
I love to go a-rambling,
Along the railway track.
But as I go a-rambling,
I wonder if I'll get back
I raise my hat to all I meet,
They might give me a lift.
And on the way I rest my feet,
To pay no fare's a gift.
Long may I go a-rambling,
Beneath the deep blue sky
O yes, I'll still go rambling,
If there isn't a train I'll fly.
TRAVELLING BY TRAIN
In 1955 the rail strike caused the late May and early June rambles to be cancelled; ramblers met at the time and place on the list for an alternative ramble. For the 1973, 1974 and early eighties rail strikes emergency lists of alternative rambles were prepared using the Greenline buses and starting an hour earlier. In 1984 some rambles were moved to the Saturday.
Engineering works from about the 1970's became a problem. Previously they had been carried out at night. They cause uncertainty as to whether the listed ramble can take place. The replacement bus might not hold all the ramblers. The leader may be prevented from getting to the start of the ramble. Once the ramble had to wait several hours at the end of a ramble as the replacement bus had stopped running although the engineering works were not yet finished.
The Club has naturally been concerned to reduce the cost of travel. In the prewar days ramble fares had to be kept to 3/- (about £6 in today's money) or below. During the war fares gradually increased and seem to have been monthly returns. By about 1943 few rambles had fares less than 3/- and these were close to London - Claygate, Banstead, Uxbridge, Rickmansworth, Loughton, Orpington. The ramble now rarely went as far as 20 miles from London.
In 1948 Cheap Party tickets were introduced by British Rail for eight or more people - they reduced fares considerably but it meant travelling out and back together. The Club began to go to areas further out again, such as Great Missenden or Guildford. In 1949 Southern Region started running the Ramblers excursion trains again. These were often used but as details were not known when the ramble list was prepared members were advised to read the Evening Papers of the preceding Wednesday. In 1958/59 good use was made of the Cheap Walking ticket and Day in the Country tickets from Euston. In 1959 leaders were asked not to exceed 8/6 in fares. In 1962 when half day tickets were introduced many rambles left London after 12 noon to get 25% off the fare.
Cheap Off Peak, later called Awayday, fares appeared about 1965. From 1978 - 1985 maximum Sunday fares on the tube were introduced. These were useful but could be difficult to buy at local stations as the staff did not always know the correct fare. For `further out' tickets members were advised to ask for a return to Heathrow than, say, Amersham. In winter 1981 these fares were reduced to half price and half the rambles used them. In the following summer BR halved the Awaydays fares, then in the Autumn introduced `party' Awaydays, one person paid the full fare and up to four others paid £l. In the autumn of 1983 free rail tickets could be obtained by collecting Persil tokens. Then All zone capitalcards, later called travelcards, appeared offering cheap travel in Greater London. Then came Network South East Cards offering the owner and up to three others a third off the fare. For rambles from Baker Street such tickets had to be purchased from Marylebone station about half a mile away.
In August 1953 Tom Buggy pulled the communication cord when the train failed to stop at Earlswood station. Tom was due to lead the ramble from Earlswood. Tom, Pauline Ventress (nee Doran) and Elsie Atkins met up at Thornton Heath Station where it was necessary to change trains at East Croydon to get to Earlswood. It was the practice during the summer months at the time for excursions to the coast to run from intervening stations down the line direct to the resorts so Tom checked that the train would stop at East Croydon. He was told "yes". The train stopped at Selhurst but whizzed through East Croydon. Understandably Tom became concerned and said he would have to pull the communication cord as he was due to lead the ramble. Pauline and Elsie tried to dissuade him in case it caused an accident and said the train was bound to stop at Redhill. Meantime, the train seemed to be going at a rate of knots and the situation began to turn into an "appointment with fear". The worst happened; the train by-passed Redhill on the Quarry line and Earlswood was the next station. Without more ado Tom got up and pulled the communication cord. The train pulled up in a matter of seconds right at Earlswood station. As, the driver and guard can tell in which carriage this takes place, they were quickly confronted. Fortunately several other people got out who had also been wrongly advised about the stop at East Croydon. A few were quite distressed as they were being met at places like Eastbourne and Worthing. The guard eventually said to Tom, Pauline and Elsie "and where did you wish to go?" to which they replied "here". "How convenient" was the response. It transpired that the train we were on was fast to Brighton from Selhurst. Tom had to make out a report at the Station Master's Office at Earlswood and the ramble eventually took off according to plan. In due course the Railway Police visited Tom at home but there was no fine as we and the others had been mislead.
Once Tony Chainey removed the carriage light bulb, then replaced it. The lights did not go on again. At the next station the guard came along with his lamp in his hand `I Can't understand it. Are you alright in there?'
Once Michael O' Meara nearly missed the train. A helpful member of the station staff opened the
door for him. Michael leapt in, the door was closed and the train picked up speed. Michael, aware of glares from fellow passengers, wondered what was wrong then saw the Ladies Only sign.
Frank Preston used to put all new members on the luggage rack.
We used to make toast sometimes using the station waiting room coal or gas fires. We used to square dance on the platform while waiting for the train. Peter Allen played the mouth organ.
SOME MEMORIES OF RAMBLES (NB to return to contents click here)
Once the ramble was following the line of the path through crops to the road. A passing driver stopped and told us we should have gone round the edge of the field instead of damaging the crops and he demanded the name and address of the club secretary. We argued that would have been trespassing and that the farmer should have kept the path clear as it is part of Queen's highway. Secretary (Mary Hickman) was part of the group but we did not reveal this.
Maddie Lawrence (nee Webster) and Maire Huth were leading a ramble in the Ongar area. Tony Chainey said his map showed a quicker route to the pub and persuaded everyone to take it but the path had been extinguished. At the end of the path there was a policeman, called by the farmer, waiting for them. The policeman asked "who is in charge". No one spoke. Then Tony said his map showed there was a path. Policeman took their names and addresses and said "you will be hearing from us". When they reached Ongar at the end of the ramble the same policeman was on point duty. He told them "we will forget it but don't do it again".
Spinny (Vincent Bulaitis) led a ramble where they came to a gate covered with barbed wire. They had to get down on their hands and knees and crawl through the barbed wire. The farmer came up and said "You can go back the way you came. This is not a right of way". So they had to crawl back again through the wire.
At a teaplace the tea pots came without any tea cosies. Tony Chainey took a tea cosy from the window sill and everyone else did the same. The proprietor came in "these tea cosies are for sale", and they had to go back.
The Stepping Stones at Boxhill was a popular pub with the Club until it changed hands. The Landlord turned nasty as soon as one of us took a paper bag out of the rucksack. We were thrown out and carried our drinks down to a grassy area near the Mole some distance away. He did not seem to mind us walking out with his glasses. He also told some to leave the garden when they had only gone to find a place to sit before buying a drink.
Once Tony Chainey chose a pub without a Sunday licence and someone else chose a pub which had become a private house.
During a YHA weekend at East Marden the Club was chased by a bull. They were walking across a field on the side of a hill, starting at one marshy corner and going diagonally up the hill to the gate at the top corner. A large herd of cattle were standing in the marshy area about half way along the lower side of the field, when most of them were past the middle a large bull decided to detach himself from the herd and came towards them. Warnings were called and some found their way under wires into the copse running alongside the upper side of the field, others increased their speed but the ground was not easy. The last rambler was deaf so could not hear the calls or the bull behind her. Maurice O' Brien was holding the gate and grabbed her shoulder as she got in range and pulled her through the gate just as the bull pounded up not more than two yards behind her.
ACCIDENTS (NB to return to contents click here)
Peter Sturridge broke his right leg, tripping over a root in the harsh winter of 1974, immediately opposite Amersham Hospital. Joan Colthup was duty member. He had to be taken down a steep bank and carried to some bungalows nearby. Steve, a nurse at Stoke Manderville, diagnosed he had broken his leg near the ankle and it was no sprain. Someone ran to the hospital for help but as they hadn't a casualty Department an ambulance was called which took Peter and Joan to Wycombe General (High Wycombe). Joan spent much of the day in the hospital with Peter while he went through Casualty and was admitted to a ward where he spent two days. He took some months to recover and did not resume rambling till about a year later.
Maurice, then Philip nearly drowned on a flooded Medway path. The ramble started off from Tonbridge station and the leader, Mary McNabb, led them along a path which followed the bank of the River Medway in an easterly direction. The river was flooding at the time and it was wet underfoot. When Maurice approached a stile at one point he put his right foot down on to what he thought was firm ground. However, it was not firm at all and he sank right down in the water right up to the middle of his chest. Fortunately help was at hand and several Club members helped him back on to terra firma. A few minutes later Philip Evans came along and went down at exactly the same spot. Unfortunately he had a heavy load of ballast strapped to him in the guise of camera equipment and consequently he went down even further; up to his neck in fact. He was also pulled out but with a little more difficulty. Needless to say they had quite a long lunch stop at the Bell pub in Golden Green; the sodden members needed it to dry out! If Maurice or Philip had been on their own the consequences could well have been very different.
Ron Scott walked across a very soggy field. Everyone else went round the edge. Suddenly he was up to his neck in water. Elizabeth Taylor, who worked as a Life Guard at a swimming pool pulled him out; single handed! But he lost his boots.
THE ACTS OF THE RAMBLERS (a parody from the Summer 1957 Magazine)
Chapter xxvii Verses i to xxii
i. And it came to pass that about the eleventh hour the multitude assembled about the Leader who was to take them to the promised land. And they were full of hope, and so was the Leader, for he had naught but faith to guide him.
ii. And leaving the city the path grew rough and they called out to him saying "Master, can we not take an easier path". But he bade them follow, for he was a man used to authority, who saith to one man "Come" and he cometh not, and to another "Walk" and he he not.
iii. And the crowd began to murmur against the Leader.
iv. And behold he had pity on them and suffered them to sit upon the ground, and they drank strong liqueur and ate and were filled.
v. And of the fragments that remained they gathered up two baskets who remained with them till nightfall.
vi. Now the ringing of bells warned that Time was nigh so the crowd assembled once more to be counted.
vii. But some were missing, all damsels, who could not be found. And in the fullness of time they rejoined the fold, one by one, till all were there.
viii. Now as the path grew worse and the heat intense the weak and feeble could go no further. And a woman sent by the throng went up to the Leader to whisper in his ear, but turning he saith in a loud voice "Get thee behind me woman, tempt me not, for in the woods lies the path of danger and we have far to go before nightfall".
ix. And the crowd began to murmur against the Leader.
x. And behold there was among them a woman troubled with an issue of words, who pleaded "Master, let us rest awhile, for we can go no further". And relenting he bade his servant, one of the ancients, to put up her whip and let them rest.
xi. Now a certain young man whose garments were rent above the knee became possessed
by a devil, and running hither and thither caused much alarm, but being caught by the fur
of his legs was held until the devil left.
xii. And the Leader, rising, saith, "It is not good for us to be here." And to atone for their
sins he led them on the penitential path, in a sacred square, until they were on their knees.
xiii. But one young woman afflicted with a jerking thumb fell by the wayside saying "Leave
me here to die, or until the next chariot cometh past."
xiv. Now the end of the path was in sight and there was one way to the left and another to the
right. And the Leader, pausing for a moment of prayer, called for a coin of the tribute
which he tossed in the air and let fall to earth.
xv. "Whose image do you see" he demanded, and they answered him "Caesar's".
xvi.Whereupon he strode forth ahead, making a path where none was before, and they were amazed, and asked themselves "What manner of man is this that he prefers rocks and briars and scorns the paths?"
xvii. And the crowd began to murmur against the Leader.
xviii.But he,discerning their thoughts turned and saith "Fear not, for your salvation is at hand" and behold very soon they came across a house. And even as they entered, boiling water was poured over the scented herb.
xix. And exhausted they fell upon the ground and offering thanks, partook of the sacred brew.
xx. And when they were rested and fed the dutiful ancient went among them and those that
were strangers gave her a silver piece.
xxi. Now when the people were counted some were missing, all damsels, who could not be
found. And in the fullness of time they rejoined the fold, one by one, till all were there.
xxii. And now the way was easy and all followed the downward path. And as they came before
the city gates they could hear bells and they knew they would soon be open now.
TEN IMPORTANT RULES FOR GIRLS ON RAMBLES
I . The first rule is a basic, down-to-earth necessity - that is, never get your feet muddy. Mud tends to make the shoe look unsightly, makes one's slacks dirty and often makes the shoe too slippery to balance on. Think how unsightly you would look if you fell!
2. Never wear great big heavy boots; they are cumbersome and unsightly. A pretty pair of flatties look far better and make walking less tiring as they are lighter.If it is too muddyto walk through, remember, the boys are only too willingto carry a girl over!
3. Wear light stockings instead of those thick ugly socks so many people wear. They areonly bulky and spoil the line of tight trews.
4. It is advisable to wear a scarf over a beehive "hair-do"', as it is liable to catch on twigs, and once spiders fall inside it they have great difficulty
in coming out. Wear the hair loose and flowing, if you dislike a scarf, as it looks very pretty when blown, giving you a natural"wind-swept" look.
5. Avoid walking through fields of cows, as it looks so undignified if you have to run to avoid one of the "friendly" types.
6. Do not take too many things, so that you have to take a heavy rucsac. Put on at least three layers of make-up, so that it will stand up to the elements, but avoid scratching your face on this occasion, as it will leave grooves. Never carry a plastic mac, they only take up space, and, anyway, someone is sure to lend you something if it rains.
7. Even in the coldest weather, a thin sweater and slacks are sufficient. Thick woollies only make one look bulky and shapeless; above all never wear pyjama trousers under slacks.
8. Do not ramble in wet, windy weather or in too hot a sun; these elements do not help with keeping yourself pretty and attractive.
9. Never climb over gates and stiles if you can possibly avoid it by going round. It can causedisaster to skin-tight jeans.
10 Above all, never ramble in the dark, it is dangerous* with the boys in this Club and one never knows!!!
* Look what happened to Me
M.A.M-W. New Year 1964

Magazine
COMMENTS ON LAST ISSUE'S ARTICLE. "RULES FOR GIRLS ON RAMBLES"
The rules for girls on rambles are full of common sense. From many mad Club scrambles, I offer those comments.
Got mud on my boots so neat
And four kind men washed it off
I was simply swept off me feet
And dumped in an old horse trough.
Rambling in flatties near Dode
From each hidden hole I was hauled
By a fellow who wrote me an ode
"I can do without you" it was called.
Where are the men who are willing
To carry the girls when it's wet?
They must stay at home when rain's spilling,
Because I've never met one as yet.
I used to wear thick light grey socks
And whenever they needed a darn,
I searched in the old sewing box
And used up some bright turquoise yarn.
Scarves for a hairdo's protection
Will be pinched and, if you are wise,
You will not raise any objection,
Or they'll feed your spiders with flies!
Frank Preston will chase cows away
He'll do it most gladly for you.
If your rucsac's too heavy one day,
John White has been known to take two.
Thin clothes in the winter will do,
Tho' the weather may make you a hag,
While you are in bed with the 'flu,
You can think up a tale for the Mag. (hear, hear - Ed.)
Dangers of gates and stiles
Will be evident when I tell
Of photographers full of smiles
Who snapped girls as they fell.
Night rambling risky? It's grand,
The' once when the night was dim,
A young man did hold my hand.
Well! - I was married to him.
M.M.
(7he original article was by 'An Occasional Rambler". The above comments are by an ex-Rambler. How about having a true rambler's views? - Ed.)
Dear Editor,
Last time I wrote a poem for you You added below a comment or two. Written by an ex-rambler you said. I must protest and do Mister Ed. ! I'd join your rambles, but haven't the fare Or, for the journey, two days to spare. Anyway, you would not let me bring My two delightful, but heavy, offspring. But even if I don't ramble with you I've explored Cornwall from Lands End to Looe. Me, not a walker? Of course I am Tho' I've swopped my rucsac for a pram. I think I'll tell a few lies about you And convince everybody they are true. I'll circulate stories of your life (e.g. "Did you know old Geoff has a wife?") Not a rambler indeed - how dare you! Jolly well watch it, mate or I'll sue!
Your loving sister-in-law
Mary.
SO THERE!
Dear Sister-in-law,
Please allow Me to say a few words to you now. I regret that unfortunate phrase. And uphold the objection you raised. But as for your further comments Some of these just don't make sense. Not want your offspring on a hike? You know there is nothing more we would like. They could carry my rucsac - yes, and me too. But, seriously, what is this story from you? I've got a wife? Are you sure that's right? I didn't know I got that drunk that night?
Ed. (Now very sober)
Circular Walk of 11'l miles from Redhill Station
(OS Map 187) (NB to return to contents click here)
This walk has been led for the Club over a period of many years by a Club member who has also lived in the Redhill area for many years. It is a favourite local walk of his. The lunch stop for this walk is at the Plough, Leigh. A stop for tea can be had at Redhill at the end of the walk.
From Redhill Station bear L to the end of the metal railing. Turn R and go between railings to the pelican crossing. Cross over (Princess Way) towards the bus station. Pass to L of bus station and continue ahead through the pedestrian area between shops (Station Road). Pass through the centre and between the Wheatsheaf and Lloyds Bank. Continue to the end of the building line of shop on the R. At the last shop (at present a supermarket) turn R and cross Queensway at the pelican lights. Turn R and then immediately L and go a short way along Warwick Road. Take path on L immediately before side road. Proceed up path with fence on L. This path continues as an alleyway and then an unmetalled road (Furze Hill). On reaching road (Linkfield Lane) cross over towards school and then turn L. Proceed towards Donyings Sports Centre. Go up road towards the entrance to Sports Centre and then cross road and then turn L and follow path which goes by edge of car park. This path soon goes by the edge of some allotments. Continue ahead along path and then alongside railway cutting. At bridge turn L and go over railway and through metal kissing gate. Turn R and go along long straight alleyway with wall on L and hedge on R for about 200 yds to road. Cross over road (Wray Common Road) towards road called the Cedars. Turn R for a few yards and then L along path. Go through 3 further alleyways to main road (A25). Cross A25 turn R and then L down road which goes by Quaker meeting house on R and war memorial and Merrick House on L towards churchyard. On reaching lampost take R fork and proceed with fence on R towards church (St Mary's Reigate). After passing church go down steps to road. Cross and pass through wooden gate. Go along broad tarmaced path with brick wall on R. After about 30yds, turn L down narrow path which passes by playing fields to bus garage and road (Lesbourne Road). Turn R and walk to main road (A217). Cross road with care and pass through metal barrier into park. Once through, turn L and go up path parallel to road for about 300 yds to cross paths. Turn R here and continue up and then along straight path. This soon descends towards a road. Do not follow but continue up along sandy path which curves round towards the top. At the top, turn L and follow broad stretch of grass on ridge for '/4 mile to far end. At far end, ignore paths to R and L and continue ahead and then down steep narrow path to path at bottom. Turn L and proceed for about 30 yds with wire on R. Where fence ends, turn R and go down wooden steps to road. Turn L and follow road up for about 50 yds to metal barrier on R. Go through gate on R into small field. Follow path across field to far end. Follow track which passes by houses and then between hedges to field. Continue ahead along narrow path across field to far end. Continue ahead into next field passing to R of lone power line pole to wooden barrier at far end and road. Turn R and follow road up for about 200 yds to road junction. Turn L here into Slipshatch Road. Continue ahead for 200 yds and then take path on R which goes by house to field. Continue ahead across field with hedge on R to far end. Follow farm track for about 15 yds. When it bends round to R, continue ahead along grassy path by small conifer plantations to small open field. Take path diagonally L across field towards brick gun post at other end near house. Turn R and walk along driveway to road. Turn L and continue up, passing over narrow bridge. About 100 yds after entrance to Bury's Court (just past house on R), turn L and walk along narrow path alongside field. At end of wire fence, go diagonally R across field to far corner. Cross bridge to next field. Turn R and go over further bridge. Cross into field and keep ahead with hedge on R to stile. Cross into next field and proceed to further stile and field. Continue to large trees at far end. Go diagonally L acoss field to church with spire in distance. Pass through wooden gate to road. Turn L and proceed along road to Plough pub on R.
After lunch cross road and pass through gate into churchyard. Continue round to R of church to kissing gate at end of churchyard. Continue with wooden fence on R to stile and field. Bear slightly R across field along feint path. At far end of field cross wooden bridge to next field. Turn L and then proceed for about 20 yds with hedge on L. Go over stile to field on L. After crossing stile, turn R and continue ahead with hedge on R. Pass through gap in wire fence and then bear slightly L across field to stile. Cross into next field, turn L and continue with hedge on L along bridleway. Field soon narrows. At end of field pass through small wooden swing gate into large field. Go diagonally R across field towards wood at far left-hand corner. Cross stile into field and go up with wood and then hedge on L to stile at top. Cross stile into field on L. Continue diagonally L across field to stile and gate. Pass into next field. Continue with hedge on R to stile and gate. Pass into square field and continue ahead to stile at far end. Cross stile, track and further stile. Go along concrete path by barn, then go over stile into field. Follow across f ield with hedge on R to stile at far right-hand corner. Cross into large field and go diagonally L across field to stile at far left-hand corner. Cross into small field and follow feint path ahead to narrow road. Turn R here and continue along road and over bridge for about '/4 mile to road (Ironsbottom Lane). Turn L here and follow for about 3/4 mile to main road (A217). Turn L here. Just after garage and bridge, cross road and go over stile into field. Follow between power lines to far end of field. Cross stile or gate into further field and bear L to bridge. Cross and then immediately turn L and go over stile into field on L. Continue ahead with stream on L to further stile. Cross into larger field. Follow stream and then bear L across field to gate. Continue ahead across field towards houses. Cross stile and road. Continue ahead along path between houses and then to L of greyhound run to wood. Continue ahead along main path near edge of wood, ignoring path skirting to the R. At other end of wood path bears L to metal bridge and field. Go ahead across field with fence and trees on L. Cross stile to R of house and then cross main road. Turn R here and then, after about 20 yds, turn L along track to car park. Take track at far end to lakes. Pass over bridge between lakes, and to R of boathouse. At cross paths keep ahead passing toilets on L. Keep ahead across field to gap ahead. Keep on to L of golf links to further field. Continue with trees on R and links on L and R to wide green path ahead. Keep on to road. Cross road towards wooden bus shelter on far side of road. Continue ahead along narrow path with trees on L to white house. Pass along by front of house to road. Turn L and then shortly R up narrow path. Continue up with fence and wall on L. After about 300 yds, you will come to a clearing near the top. Turn R here and follow path which goes to R of copse. Continue to L of concrete plinth with directions to places of interest on top. Shortly after passing plinth, turn L and take path ahead which leads down through trees to road. Cross and then go along Linkfield Street for about 10 yds. Turn R and then immediately L down Upper Bridge Road. At cross road keep ahead along Lower Bridge Road. Road soon bears R. Keep ahead, ignoring turning to Chapel Road on R. At Sincots Road turn L and pass between flats towards pub ahead. At main road turn L and continue up to lights. Turn R here and cross road. Continue ahead to and through pedestrian area and back towards Redhill Station.
Abbreviations used: L = left, R = right Maurice Hickman
East Grinstead Circular via Hartfield (NB to return to contents click here)
Out of station cross road on left of roundabout; cross "Railway Approach" and turn left to walk up it leaving Mid sussex Timber on L; turn R at T junction at the top of road and immediately cross road at pelican lights; continue down London Road to roundabout; turn L (ie first exit for drivers); walk between Crown pub and Midland Bank, pass Sackville college on L, cross to R of road at bollard; at large complex roundabout turn R onto FP just at top of slope down to underpass GR400 380. This is a disused railway line but is not obviously so at this point. Extra care required as it is also a very popular cycle way.
After 400 yards FP crosses road with street name plate "Balmoral" to R; cross road and continue on FP (now recognisably a disused railway line); follow path under road at GR 401 377; immediately on other side of bridge ascend steps to R; through gate at top and turn L onto narrow metalled road; view of Weir Reservoir ahead as you walk down hill; walk all the way down to iron gates of Horseshoe Farm ignoring a FP sign to the Sussex Border Path on R; on L of gates is a narrow entrance to a FP at stile where FP ahead is closed follow established FP round a right angle bend, over a stile to cross a field. Ignore another PF sign to R. The FP straight on passes through a thicket and under power lines the pylons of which are marked on the map (GR 410 356). Behind you there is a nice view of East Grinstead Church.
After 150 metres follow barbed wire fence on R, ignoring FP sign to R; after another 100 metres FP becomes enclosed by tree hedge on L and a barbed wire fence on R; at a large wooden house follow waymark which takes you on an unmade road round the R side of the house GR (416 354). NB the FP goes to the south of the house following a diversion in 1989 so ignore older maps which show it on the north side.
At bridleway sign turn L onto minor road; follow road as it sweeps round to L; at wooden gates on either side of road half way up hill go though gates on R to rejoin disused railway line. Take extra care as the FP crosses the A22; walk up road by notice for "Tablehurst Farm"; pass Forest Row Pumping station on L; turn R onto FP at sign for "Forest Way Country Park"; this leads back down onto the disused railway line by what used to be Forest Row station; follow the Forest Way Country Park sign; there is now a long walk on the disused railway line; FP passes under two road bridges; 200 metres before third road bridge over the FP turn R over style (GR 477 362) and follow FP to the Anchor Pub in the shadow of Hartfield Church.
Enjoy Lunch.
After lunch retrace steps to style, cross disused railway line over style, cross wooden footbridge, diagonal L across field to style by gate; cross field; gate and style together; cross field with hedge on R to gate with waymark; cross field with fence on R to style at beginning of wood; through wood to style with half gate on top; diagonally R across field; through gate in corner and carry on across next field to another style with half gate on top; cross minor road; diagonally L across field under wires with farm buildings to L; walk round to R of man made lake GR 462 367.
Up hill with trees on R, pass through fence, through gap in trees, through another field with hedge on R; walk under power lines, through gap and walk on keeping power lines on L and trees on R; cross track and walk through woods; ignore crossing woodland track to FP sign; turn R and then L to style at end of wood. Walk diagonally R up hill walking west. At top of hill look back for a nice view of Hartfield. Through gate, walk straight across field to another style by an aluminium gate; cross track and over another style; straight on down hill over style by gate at bottom, on through field with fence on R. Walk through gap under telegraph wire; through field to style; down hill through gap; keep fence/hedge on R; over style in R corner of field onto road (GR 432 367) turn R follow road round to L ignoring R junction; walk on to fork road, pass Ashurst Wood Abbey building on L; turn R into School Lane; follow road round to L ignoring a FP sign straight on at bend of road, pass Ashurstwood CP School on R; cross road by SPAR shop; L at T junction; first turn R at bottom of hill (Beeches Lane). Take FP to L at FP sign; FP is initially enclosed by holly hedges; turn R onto road at top and almost immediately turn L onto FP; at house at top follow "alternative footpath" sign to R GR 415 370.
Walk along by barbed wire fence on R; notice distinctive shaped rock on L; turn R at T junction; over style, straight on at double style at bottom of hill; on through woods, ignore unmarked path to L; at T junction turn L across driveway and continue on FP through gap, R and immediately L. the path now takes you back onto the road. Walk straight down into East Grinstead, passing the roundabout where you first entered the disused railway at GR 400 3 80.
Notes by Tony Finnegan from a walk originally planned by Barbara Deubzer. Since publishing the history the above walk has become less enjoyable because of the conversion of the footpath to Hartfield into a cycle way. Tony has discovered an equally enjoyable walk with much less of the cycle way being used and with the lunch stop at Forest Row. This walk also lends itself to having a longer walk and a short (six mile)walk with both groups meeting at the same pub in Forest Row.
(NB to return to contents click here)
One of the most enjoyable parts of the ramble is the midday stop which is invariably taken at a pub. At one time the lunch time hours on a Sunday were limited to the period from 12 noon to 2 pm. This usually meant that the morning walk had to be limited to 5 miles or less. When the lunch hours were extended from 12 till 3 this was a considerable bonus as it meant we could arrive at a pub just before 2 o'clock and stay till closing time. However, if you required pub food this usually means that you have to arrive before 2 o'clock. At present some pubs can be open from 12 till 10.30 on Sunday. This is useful if you require a drink at the end of a walk. However, this facility can be abused by people drinking too much. It's all right for those who can afford it!
There have been many memorable incidents connected with pubs. On one occasion a pub had run out of beer when the ramblers arrived. It was a small pub and the leader should have warned the publican beforehand about the impending invasion of thirsty drinkers. It did not do much for the leader's reputation at the time! On a Club hostel weekend on the Long Mynd in Shropshire we arrived after closing time for our lunch at a pub but the publican, apparently sensing the extra custom, stayed open for us. Obviously he could not have been worried about the local bobbies calling in!
Some pubs have got on the Club's unofficial black list through the way that they have treated ramblers. Many pubs which serve food do not allow one's own food to be eaten in their garden. This is perhaps understandable in a way. On one occasion when we were sitting at a table outside one of these blacklisted pubs, we were lectured to by a man who came out to serve us. He noticed that some of us were eating our own sandwiches at the table and he said that none of us would like it if he came into any of their front gardens and sat down to eat his sandwiches. One lady replied that she would not mind if he did so. He did not know quite what to say to that!
One pub landlady, however, permitted Club members to eat their own sandwiches inside her pub. However, she was not quite so fiiendly when one member took this liberty too far and opened up his thermos flask as well! Usually nowadays if one has sandwiches one tries to eat them discreetly somewhere outside the pub where there is a seat well away from the pub. A bus shelter is a good place.
Ramblers have to be careful to remove their muddy boots before entering a pub especially if, as usual, there is a posh carpet on the floor. If they are not removed, ramblers usually try to get all the mud off them before entering. One novel idea is to put one's boots into plastic bags and tie them up round one's ankles. One pub which was popular with the Club members for its beer had a nasty landlord at one time. He was even unpopular with many of his locals. On one occasion when a party of blind people came to have a drink at his pub he turfed them out when he discovered that they only wished to order half pints. On another occasion at this same pub on a Club ramble, he would not allow the ladies in our rambling party to use the inside ladies' loo. Maybe this was because of their muddy boots. Some men in the party had to stand guard outside the gent's exterior loo to prevent any men from going into it while the ladies went inside.
One cannot mention pubs without talking about beer. At one time, most beer was poured out by gravity dispense, i.e. straight out of the barrel. At one time this was 71/Zp a pint (Is 6d in old money). This was about 35 yrs ago. Today beer costs twenty to thirty times as much for a pint. In the 1960's to 1970's before CAMRA (Campaign for Real Ale) was born, most of the beer sold was drawn up by Carbon Dioxide pressure and was extremely fizzy; so called Keg beer. This had the effect of taking much of the flavour away and making the drinker burp violently. CAMRA was able to create quite a revival in non- pressurised beer; real ale as it is called. Today there is a new threat to real ale called Nitroken. Hopefully, real ale will come out again bruised but not battered from this latest onslaught and will live on.
Perhaps the greatest threat to rambling, as we know it, is the future of the pub itself. Many pubs are suffering from the home consumption of cheap beer bought from the supermarket and also from the bootleggers who bring in cheap beer from France. One unfortunate experience of one ramble leader when he was walking out a ramble near Wadhurst was to find that the pub on the map had been converted into a cottage and he had to make do with an orange! However, no matter what happens to the pub rambling will live on even if members have to carry their own drinks with them.
THE SKIMMINGTON CASTLE, REIGATE HEATH
Club members may be interested in the following letter which appeared recently in The Independent, a local Surrey newspaper.
"There is no particular mystery about the name of this pub. For long years it was Skimmington Down Farm, farmed by my family.
It was a small farm. From brewing the `small beer' for the farm workers one of my family, Elizabeth, gained a reputation as a `brewster', i.e. a female brewer, and farming was gradually dropped in favour of brewing. Just when the name got changed I am not sure, somewhere around the middle 1800s I think".
Frederick Legg, Warren Road, Reigate. Summer 1982 Magazine
ON AN EASTER YHA WEEKEND AT CANTERBURY
Maurice O'Brien had read about an interesting old pub called the Pillars that he wanted to find so some of us went with him for our evening drink. We walked round and round with no luck so talked Maurice into going into an old looking pub to get a drink and ask the landlord where the Pillars was, he agreed and the landlord did know the Pillars but it had changed its name. The landlord invited us to the back of his serving bar to see the main upright of the building which was the trunk of a tree. The pub had been built round a tree using the trunk and lower branch as a frame. We then had a long history of brewer, pub and Canterbury people, we were in there for ages
Mary Walsh
SOCIAL ACTIVITIES (NB to return to contents click here)
In its early days the Club held frequent social events. Members were encouraged to bring their music and musical instruments to the socials and to do a musical item or offer a recitation. In 1933 English, Irish and Scottish set dances were introduced at Club socials as, in the words of the Club list of the time, "they are considered to be in keeping with the vigorousness of Club activities".
At first the Club program consisted mainly of fund raising dances and other events put on by churches, convents, Knights of St Columba and other Catholic charities. One of the first such dances was in aid of the Distributists (who supported small freeholders, monetary reform and self sufficiency). In November 1933 the Wimbledon Catholic Club's dance was commended to members "Surrey cricketer Sandham will be there". Andy Sandham was one of the greatest opening batsmen and the first player ever to make 300 in a test match. Club events were most often held at Coleman Street Ward School, Copthall Avenue, near London Wall. These would include socials, dancing especially folk dancing and whist drives. It was at the Coleman Street School that the Wedding Reception of Mr and Mrs Paddy Lowe was held on 3rd June 1934. Dances, especially the Annual St Patrick's Day Dance, were also held in Westminster Cathedral Hall. It was necessary in those days to engage a band for dances as amplified record players did not yet exist. Club dances were often in aid of the South of England Land Colony (the Catholic Land Association's Training Farm) at Chartridge, where the Club camped as well as for other charities and to pay off the camp debt. An Annual Re-union dinner was held in November.
The ramble sometimes finished with a social evening after tea. Members used their musical talents to provide entertainment and background music for dancing. When the ramble went to a camp site for tea there was usually a sing-song or social especially when there was also a camping weekend. Sometimes a football or cricket match was played against the South of England Land Colonists at Chartridge. From 1937 until 1941 several rambles finished with Benediction, tea and social at Underhills Training Farm (St Mary's), Bletchingley. This farm, run by the Southwark Catholic Resue Society (now the Catholic Children's Society), trained young men, from their schools in Orpington, Gravesend etc, in farm work. These young men, although enjoying the socials, being shy and not used to female company tended to hug the walls rather than join in the dances.
Saturday activities had to start in the afternoon as it was then normal to work on Saturday morning. Rambles round the city to places of Catholic interest would be followed by tea and a social or perhaps a visit to the theatre. The Club made several visits to Croydon Aerodrome, where 5 minute flights could be enjoyed for 4/6 (about £8 today) and half hour flights for 6/6 (about £12 today). These flights were in Gipsy Moth type planes and carried only two or three passengers for a circuit of the aerodrome and surrounding countryside.
Visits were frequently made to Opera and ballet, especially at Sadlers' Wells, meeting for a meal after work at the Angel Lyon's Corner House. The cost of tickets at 1/6 (about £3 today) was less than the Club Subscription or ramble fare, perhaps in those days there was much less indirect taxation.
About 1935 the Annual outings to the sea and to a place of Catholic interest began. In 1938 this was to Brighton to take part in the National C. T. S. Congress. In 1939 the outing was to Oxford where they were shown round the Colleges by Fr O'Hea of the Catholic Workers' College.
In 1933 the Club Players was formed. On Friday April 7 and Saturday April 8 they put on a three act Passion Play "Unto us a son is given" by Mgr F Gonne (who gave the Club retreat the previous December) at the Everyman Theatre. The producer was Norma Ivens-Ferray. In preparation for their performance they attended a retreat, arranged by the Club especially for them, at the Cenacle Convent. In May 1937 they put on "Caecilia" at the Millicent Fawcett Hall, Tufton Street. Both these plays were in aid of the Sisters of Mercy Providence Row Night Refuge. They put on "Dick Whittington", in aid of the Sisters of Charity Orphanage, at Westminster Sports Club in February 1939 and "Bluebeard" a mime at the Clubs New Year Party on 31st December 1939. After the Extraordinary General Meeting of 15/6/40 (to dispose of Club property if the Club ceased to exist because of the war) the Club players did a cabaret show which was followed by a shared supper.
In April 1933 the Club undertook to do one hours watching each Thursday evening at the Perpetual Adoration of the Blessed Sacrament in the Sacred Heart Church, Horseferry Road. A committee member attended each week and all members were asked to come and to stay if possible for the full hour. In 1934 the A.G.M. asked the Committee to find accommodation for informal gatherings after the Holy Hour. But the Committee decided it would be unwise to do this because of the expense when the socials and dances were making a loss. Also members might neglect their own Parish activities, bearing in mind, that rambles prevent them attending Benediction in their own Churches. From 1936 a Study Circle was formed which met in Lower Belgrave Street after the Holy Hour.
During the war years few social events were organised. Rationing and food shortages must have made it difficult for the Committee to organise events. There were fewer members in London as some were evacuated and the younger ones were called up. As people wanted to get home before the "black out" most meetings and events were held on Saturday afternoon or sometimes on Sunday taking the place of the Sunday ramble. Some afternoon socials and dances were held at the Interval Club and a few afternoon concerts were attended but these petered out after 1942. The formal Annual Dinner and Dance in November ceased and the main annual Club event was now the Christmas Party.
The Holy Hour ceased when the Church was bombed in 1940 but the Study Circle continued on Thursday evenings at the Interval Club and other locations.
In 1943 the Club cancelled the Sunday ramble on 17th October so that the women members could go on the Pilgrimage of Catholic Women to invoke the English martyrs to save our schools. Those not walking with their own Parish joined St Mary Moorfields Parish. The forthcoming Education Bill offered only 50% maintenance grants to denominational schools which retained their religious autonomy.
Members were invited to watch the Victory Day Parade on 8th June 1946 from Paddy Saunder's flat in Knightsbridge, bringing sandwiches, cakes etc for a shared lunch and tea.
After the war the number of members increased substantially and the average age decreased. The Christmas party continued and the Annual Dinner and Dance was revived. The number of social events slowly increased. The Study Circle continued until 1947. In 1948 the Club Magazine started and from its pages can be seen how much fun was had from the social events and how useful they were for keeping contact in between rambles. The Club attended Benediction at St Patrick's Soho Square fortnightly from 1948 until 1950. The Annual outing to places of Catholic interest was revised as a Summer outing to the sea and an Autumn Coach outing. Rationing continued until about 1953.
Saturday activities were held about once or twice a month. At first they were usually held in the afternoon as some members still worked on Saturday morning. St Joseph's School Bunhill Row was now the main location for the weekly socials and meetings, apart from 1949 when the Knights of St Columba's Club was used. Occasionally meetings and events were held on other evenings or in the crypt of St Mary Moorfields. Square dancing became the Club's second activity and took place fortnightly at Bunhill Row. The weekly socials enabled the committee to inform the active members of last minute changes or additions to the program, and members to recruit participants to the activities they were organising. They also in most years made a good profit. An annual party for the children of members was held in late April or May. From the sixties the Club began to share some activities (and members) with the Little Club.
Sunday 1 st October 1950 was the Centenary of the Restoration of the Hierarchy. No ramble was held that day so that members could attend the rally at Wembley Stadium.
In 1954 a choir was formed by Peter Engel which met fortnightly at Bunhill Row alternately on Wednesday and Thursday, later on Thursday only. Their musical activities included folk songs (in unison and harmony), rounds, easy classical songs, two and four part songs and motets. The choir continued until July 1958 when it closed because of lack of support.
In 1957 a Social Subcommittee was formed to organise and help at all the social events; its members were co-opted by the Main Committee.
When the annual retreat was held at La Retrait Convent members went on afterwards to spend a social evening at the home of Meg and Mary Walsh or with others who lived nearby.
By the sixties there were often several events each week. Some people joined the Club mainly for the social activities and were not interested in rambling but they contributed to the success of these events and were the organisers of many of them.
From 1971 fewer were coming on Tuesday evenings and so to save costs events were not held every Tuesday and fewer square dances were held. In 1973 a draw of paid up members was tried for a few months, the winning member if present won a prize. In 1974 events were cut down further and attendance improved. Few were willing to go on the social subcommittee and in 1975 it was discontinued.
In 1976 St Joseph's School was closed down. A Farewell to Bunhill Row party was held and fifty came. Meetings in 1976 were held at Providence Row. Informal parties were tried at members homes and proved very popular, they continued well into the eighties. St Christophers Cycling Club invited us to share their facilities at Brompton Oratory but the hall was not suitable as it was used by others for playing pinball etc. In March 1977 the Leysian Mission in City Road was tried. The price although reasonable was dearer than Bunhill Row so a good attendance was needed but only twelve came to each square dance. When part of St Joseph's School was converted to a Parish Hall in 1977 a square dance and beetle drive were tried but attendance was again poor and no more events were held there. The school building was sold to the Catholic Herald. In 1980 a monthly Friday square dance at St Anselm and St Cecilia's hall was tried but attendance was not encouraging. Theatre and other events continued but again attendance was poor, only the same small group come.
In 1982 the Little Club invited the Club to their fortnightly Friday events at St Anselm and St Cecilia's hall. Occasional visits to the theatre or to a concert or for a meal were held on weekday evenings in the eighties but these have now petered out. Saturday visits to places of interest, conceits, boat trips etc are still popular. Since 1992 members meet once a month after the Saturday vigil Mass for a meal, not too expensive, at a central London Restaurant. From 1993 a Club Christmas Dinner has been arranged in early December to which about thirty come.
BUNHILL ROW DAYS (NB to return to contents click here)
St Joseph's School, Lamb's Passage, Bunhill Row was the Club's home for about thirty years; from the end of the war to the seventies. A large part of this area had been flattened during the blitz when, on 29 December 1940, the Luftwaffe dropped hundreds of incendiary bombs on the City. Gradually over the years new buildings arose. The Parish was served from St Mary Moorfields until 1958 when it became a separate Parish. Fr Murrey, the new Parish Priest, made the Club very welcome. A year later, because of ill health, he was replaced by Fr Higgs who became a good friend and a vice President of the Club. When the Club President was absent Fr Higgs usually chaired the Annual General Meeting.
The Tuesday evening socials, committee meetings and the Annual General Meeting were held here. Club equipment was kept here. Many Club Masses were said in the Church. At first socials were usually held on Thursday evening. Doors opened at 6.30 for a chat or to play records. Catholic friends of members were welcome. Tea was provided but members brought food to share. In 1949 the Knights of St Columba's Club was the venue for socials, now held on Tuesday evening, perhaps because refreshments could be bought there. In 1950 when the Club returned to Bunhill Row the socials continued to be held on Tuesday.
Strange things were going on at the back of the room during the course of the gramophone recital. Molly's ball of knitting wool found it's way round the room, entangling itself amongst the audience, finally coming to rest in the wastepaper basket on top of the cupboard by the door ...and those muffled cries of help as the evening was coming to a close.
Mary Crone Summer 1960 Magazine
In 1959 a Bring and Buy and Grand Social was held in aid of the priests at St Mary Moorfields and St Joseph's. Fifty came and it made £24 (about £300 in today's money).
In 1963 and 1964 New Year Celebrations started at a social in Bunhill Row and finished up at Trafalgar square.
"It is whispered .....
That an unofficial `jam' session was held for an hour before Archie's last operatic gramophone recital.
That a certain distinguished Club highbrow, through misreading the time of commencement on his List, arrived in the middle of the `jam' session and had to be forcibly restrained from going home!
August 1950 Magazine
From the Autumn of 1951 square dances were held fortnightly on Tuesday evenings. Socials, slide shows, talks, gramophone recitals (usually classical ones given by Archie Collins) etc. were held in the intervening weeks. These events initially started at 7pm but this drifted over the years to 7.30 or 8pm. Those coming from work would meet at the Lyons teashop in Moorgate. When this closed down in the early sixties they met at the Copper Kettle or Terroni's.
Rock'n Roll Evening
A member who turned up at Bunhill Row on a June evening expecting a Square Dance was horror stricken to find a Skiffle Group in action and the Club indulging in a mild form of Rock `n Roll, but even he admitted it `got him' (or should it be `sent him') in the end. Certainly this function (and particularly the `hot dogs') was enjoyed by most people.
Summer 1957 Magazine
SOCIAL ACTIVITIES
To show the Club's appreciation for the hospitality they enjoyed at St Joseph's Norah Smeaton and Jean Horan run an "All Sorts" stall and sometimes a bottle stall on behalf of the Club at St Joseph's Parish Annual Bazaar. Articles and donations were collected and raffle tickets sold on the Tuesday evenings before the Bazaar. This started in 1964 and continued until the School closed in 1976. They usually made the equivalent of £300 to £400 in today's money which was a substantial part (a third to a half) of the money raised at the Bazaar.
Meg Walsh painted the Stations of the Cross in the Church.
ST JOSEPH'S BAZAAR- 1974
The Club's contribution to Father Higgs' Bazaar last November beat all records with a grand total of £80. This sum was raised by a tombola, an "allsorts" stall, two raffles, the sale of duty free cigarettes, the generous contributions of some members, and the sale of Birthday and Christmas cards in the Ministry of Defence!
It was as usual a very hectic three hours at St Joseph's School. The tombola was manned by Jean Horan, Leslie Goreham, Peter Frazer, Michael McKeown and Norah Smeaton, who dealt with a clamorous (but slightly more orderly than usual) crowd of customers.
Renee Goreham coped with the "allsorts" stall which ranged from bottles of smarties to a beautiful table lamp, and managed to make a good contribution to the total.
Madeleine Lawrence worked hard selling raffle tickets for the lovely doll that she had made and dressed herself, and John worked in opposition selling tickets for a bottle of Tia Maria - which incidentally Fred McAndrew won. The two raffles produced between £14 and £15.
Altogether it was a very exhausting but rewarding three hours.
Thanks are due to the generous people who gave gifts, donations, etc., and of course, to those who worked so hard on the day to make the Club's stalls and raffles such a success.
We have now a very high total to keep up to this year - the Bazaar is usually in late October or early November - but if members respond with the same generosity as last year we may equal if not pass last year's record. At the moment we have £7 in hand from the sale of Birthday Cards, so we have started already!
Gifts can be given at any time of the year, so if you had any White Elephant Christmas presents just pass them on to me. I shall be at as many of the Tuesday functions as possible to collect gifts or donations, but in my absence I am sure that any Committee member would oblige by receiving goods and passing them on to me.
Norah Smeaton
May 1974 Magazine
Among those who gave talks were Vic Morecroft secretory of the Ramblers' Association (Southern Region) on National Parks, E G Smith the Ramblers' Association Publicity secretary on the work of the Ramblers' Association, Austin Winkley an Architect and brother of a member on unusual churches and Fr Dillon on the English Martyrs. In 1965 Mr Cohen gave several talks on the Jewish Faith and customs and arranged a visit to the Central Synagogue for a Jewish Festival and party. In 1969 Fr Andrew McMahon OFM gave a talk on the Mass accompanied by a guitar and Franciscan minstrels. He gave the Club retreat in the following year.
In the late sixties and seventies Mick McKeown (Press Photographer at the Daily Express), aided by Norah Smeaton, organised an annual photo competition and a wine and cheese party.
A dramatic event is remembered by Sheila White (nee Cracknell). Her skirt caught alight as she was helping make the tea. Her shouts of `Help I'm on fire' were ignored by the others who were engrossed in conversation and she had to put the fire out as best she could. She had made the skirt herself and it had taken some time and effort getting the pieces to match.
In Spring 1972 because of the power cuts caused by the Miner's strike Bunhill Row could not be used and so members met outside St Anselm and St Cecilia at 6pm on Tuesday evenings and decided where to go and what to do.
St Joseph's School was closed in 1977 and eventually sold to the Catholic Herald. The last event held at Bunhill Row was the 1982 AGM. The Club now has no permanent home. Committee meetings are usually held in the home of one of the Committee members. The AGM is held at the Holy Apostles Hall in Pimlico.
BUNHILL ROW - A TOUCH OF THE OLD NOSTALGIA (NB to return to contents click here)
The closure of St Joseph's School in 1976 stirred quite a few memories for me, because it was here that I first made contact with the Club. The word `contact' has been used purposely because initially I used to go along as the guest of a very good friend (still happily, a member) but I `guested' for so long that I cannot for the life of me remember when I officially joined the Club! Anyway, these early contacts must have taken place in the early 1950's when square dancing was all the rage. This could have been at least partly due to its popularity with what was then known as the `Princess Margaret Set' and square dancing was destined to last much longer than anybody could have anticipated in those days.
At that time post-war building of commercial properties had not commenced because of restrictions in building and hence the city was still covered with its war scars. It was indeed a fascinating place because nature was gradually reclaiming the bombed sites and all sorts of interesting flora and fauna were reappearing. In the area around Bunhill Row there were very few buildings left standing and St Joseph's School stood almost like a gaunt sentinel against the' backcloth of Whitbread's brewery. Looking at the present concrete jungle it seems hard to believe that in those days St Joseph's would come into sight after only a few paces from Moorgate Station and on a warm summer evening one didn't have to walk many more paces before the stillness was broken by the distant jingle of a reel, or a jig, floating across the wide open spaces!
The ground floor of St Joseph's with classroom partition folded back gave quite a sizeable dancing area. It seems almost unbelievable (by todays attendance standards) that it was quite common to have five square sets plus a few sitting out, i.e. probably up to forty-five people turning up on a Tuesday. As ladies always seemed to outnumber the gents the latter had their work (albeit very pleasant work) cut out. Able and willing callers always seemed to be in good supply and there was a nucleus of really first-class dancers who were very skilled at gently pushing people (like the writer) into their correct geographical location! The repertoire of square dances tended of course to expand with the advent of L.P. records but some of the old 78s were really good for dancing to and a number of them lingered on, albeit in a rather scratched condition, to the very end.
Alas, all good things come to an end and the decline in attendances (as in so many other clubs) seemed to coincide with the advent of the 1970s. It was heartbreaking for the willing organisers when latterly it was becoming difficult on some evenings to make up even a single square set.
Recently and out of sheer curiosity, I made a detour to `inspect' St Joseph's. It was standing dark and derelict and completely dwarfed by the large glass and concrete buildings around. However it took surprisingly little imagination to recall those happy dancing evenings and to hear again the strains of `La Russe' and `Dip and Dive' floating out over the scarred City/Finsbury boundaries.
The dance is over but the memory lingers on.
OSWALD BARRETT
Autumn 1977 Magazine
INVITATION TO THE DANCE
If you've never been to a square dance
At Bunhill row.
What happens through the evening
You may like to know.
With couples on the floor you see
A dance progress
Some sets are perfect,
There's others in a mess.
The caller is at the mike,
The music is gay and loud,
You'll hear a lot of laughter,
They're quite a friendly crowd.
The wallflowers sitting nattering
Are looking happy too,
It's sometimes fun to sit and watch
What other dancers do.
A "Dashing White Sergeant" has
The girls all on the floor,
And every man has two girls,
who could ask for more?
Ah! There is the interval
For biscuits and for tea,
Now every one pays one and six,
Though if you're new it's free.
The conversation buzzes
And the biscuits pass around,
But - someone's at the microphone
Suddenly there's no sound.
A familiar announcement
Is clearly made by Joe:
"Volunteers for washing up
You're needed down below."
Collecting up the crockery,
Having left their chairs,
The "washing up brigade" go
Trooping down the stairs.
Then cups, plates and saucers
Pile up in the sink,
Soapsuds and hot water
Fill it to the brink.
They all work with a will,
And soon the lot is done,
Tea pots emptied, cloths away,
It's really rather fun.
Back upstairs there's music,
With dancing in full swing,
Watch them promenading
all around the ring.
An "Eightsome Reel" is
the next dance on the floor,
We see a "reel of three" danced
As a "reel of four".
The evening's nearly over,
Soon we'll say "Good-bye"
"Partners for the last dance"
We hear the caller cry.
When the dance has ended,
a little prayer we say,
Then calling our "Good-bye's",
We homeward make our way.
If you've never seen a Square Dance,
See now what you've missed?
Do come along and join us Unless you'd rather Twist!
Christine Murray - Summer 1963 Magazine
It is commonly said by the man in the street, That except for the cop on his regular beat, Or the occasional rat on an old bomb site, The city goes dead after six of a night.
On six nights a week this is probably true, And even at Lyons there isn't a queue, But on Tuesday nights who doesn't know, Of the racket that goes on down Bunhill Row.
The clans start to gather about seven fifteen, A more assorted mixture you never have seen. Some wearing jeans and long "sloppy Joes", Some of which almost reach down to their toes.
On the other hand some come a long to the hall, As though they were going to a grand State Ball; And girls in tight skirts and stiletto-type heels, Soon discover it's awkward to do the Scots reel.
The dancing very soon gets underway, With a Dashing White Sergeant or maybe Strathspey; And even the new-comers soon take the floor Dancing quite merrily and begging for more.
Every so often a new dance is tried, And all but the brave ones stay by the side. For however many times we may walk it through It always ends up in a hullabaloo.
There are some club members who are always there, Like Maurice who dances like a grizzly bear, Or Fred who sets all the girls hearts a-throbbing, With his dipping and diving, twisting and bobbing.
Then there's Pat, the liveliest dancer of all, Who when doing the Gay Gordons takes up all the hall. No, there's never a dull moment the whole evening through, So why don't come and join In them too?
G. W. M. - Autumn 1962 Magazine
SQUARE DANCING - THE CLUB'S SECOND ACTIVITY (NB to return to contents click here)
As well as the fortnightly Square Dances at Bunhill Row, square dancing was the main feature of the Christmas Party and most socials.
From 1953 until it was replaced by the Social Sub Committee a Square Dance Subcommittee organised the fortnightly square dances at Bunhill Row and the Grand Annual Square Dance. In 1955 they considered holding the square dances at St Mary Moorfields but this would have been dearer and would have had to be on Mondays. Members were invited to vote on this, thirteen chose St Mary Moorfields, twenty chose Bunhill Row.
Square dances were mainly of the English regional type ( La Russe, Cumberland square), American (All the Way to Galway, Virginian Reel), Scottish and Irish. Usually about forty members came. Practice evenings to learn new dances were occasionally held.
In 1959 the Club went to see the International Folk Dance Festival at the Royal Festival Hall where Mary Gilby was taking part in a German dance with the Harrow Green Folk Dance Club.
In the Summer visits were made to the open air folk dances at Parliament Hill Fields, Wood Green, Orpington Priory and Tonbridge Castle. In 1973, after a ramble, they went on to a display of Polish and Yugoslavian dances at the Harlow Playhouse in which Leo Coshan was taking part.
The enthusiasts also frequently went to the square dances and folk evenings held at Cecil Sharpe House (The English Folk Dance and Song Society's Head
Quarters), often after an earlier event. After Frank and Ann Keating's wedding the guests went on to Cecil Sharpe House.
A Grand Coronation Square and Old Tyme Dance with a Caller and Band from the English Folk Dance Society was held at Buckingham Gate School near Victoria on 6th June 1953. This was so popular that it was repeated in subsequent years as the Annual Square Dance, usually at Buckingham Gate School, again with a Caller and Band from the English Folk Dance Society. Around sixty came. It ceased in the early sixties but restarted in 1967 at the French Church, Leicester Square. A hundred came including eighteen from the Little and Challoner Clubs. In 1968 it made a large loss. At the following AGM it was suggested that the main committee should organise it because of the large cost and the need to liaise with the Treasurer. It made another loss in 1969 (the loss on the Dinner and Dance was far greater!) and no more were held.
Last Tuesday, 1st March, the present Committee held their first social, by way of a change at the K.S.C. Club, Lansdowne Road, Holland Park. This is a really lovely place, with quite a good dance floor, and it was a super evening. Terry was the M.C. and I've never seen him work so hard, as he dashed in and out of the dancers in the Siege of Ennis, shoving people into their right places, which they immediately forgot as soon as his back was turned and ended up in the middle of the floor, and as nobody complained of broken toes, they must have been O.K. During the interval we were treated to a display of jive and be-hop by those two well-known experts, Nora Fowler and Silvia, assisted by Eileen Greene and to a recital of Ted Heath swing, which was much appreciated by our classical music lovers! I noticed that one of our more profound members of this section appeared to find the rhythm very catching, and I was expecting him to break into jive at any moment. The Irish dances and Strip the Willow were performed in their usual hit and miss spirit - as long as someone danced with somebody, nobody seemed to mind, and if you went left instead of right, or even backward well, who cared! A few bumps here or there, or an arm nearly torn out of its socket - what was that, just part of the fun! There did not appear to have been any serious casualties, altho' the Hon. Sec. on his Maiden Voyage through Strip the Willow, in the course of which he was twirled like a human top, first to the arms of one eager female then grabbed by another, staggered slightly and sagged at the knees. Still he bore up bravely and even managed a weak smile.
The evening passed all too swiftly though, and we were all very sorry when 10.30 came - now we look forward to the next one.
March 1949 Magazine
THE ANNUAL SQUARE DANCE
The Club held its Annual Square Dance at the hall of the French Church in Leicester Square on Tuesday, 28th March. This revival of an event not held for the previous four years or so was a magnificent success; nearly a hundred people attended. In addition, an invitation was issued to the Little and Challoner Clubs and between them they sent along about 18 guests, who took a full part in the dancing, and I hope enjoyed the evening.
We were lucky to have a splendid caller in Francis Hawkins. He was obviously very experienced at this kind of job and he seemed to find no difficulty in putting us at our ease, even those of us whose knowledge of square dancing was pretty sketchy. He and his band (or backing group for the more complicated dances), made a great contribution to the success of the evening.
The girls of the social committee, as usual, supplied us with plenty of much-needed tea and cakes at the interval, with the exception of those who were so fagged they couldn't raise the energy to stagger up to the tea bar! When the evening ended with one of those huge circular dances (still classified, for some reason, as a square dance), I think everyone felt they had enjoyed themselves.
Our thanks once again to Mr. Hawkins and the Kent Cobs, and in particular thanks to Fred McAndrew and his Social Committee. It is hoped to make this, once again, an annual event; on this showing it is certainly worth it.
Adrian Kell y - May 1967 Magazine
Round Squares
Why is the dancing called a Square
When in a circle we fly through the air?
If you have a partner, you'd better hold on
Because in one minute, he will be gone
The music's inviting, the dance is exciting
After two minutes you'll finish up fighting
The "Little Club" People we wore out fast I
f they'd grow a bit bigger they'd longer last!
H. P.
-New Year 1961 Magazine
PRACTICE NIGHT
Tony glares across at a group of people who are deep in some conversation "Can I have a set to practice the next dance, please?" No one moves - he repeats it again, but the discussion goes on. Not until he makes a very irritating noise on the `mike' does he attract attention. Before they can lynch him, he reminds them that they are there to work etc. etc.
A subdued set is formed and the dance begins, but interest wanes. One or two try to carry on some discussion while Tony explains a difficult part, or perhaps try a new step of their own. Once again Tony has to reprimand the team and to increase the tension there are many arguments over new steps and the dance is finally sorted out.
The M. C. of the next square dance `brushes up' his programme - he too has to shout and clamour for attention. The team goes through the paces, doing the same dance time and again until perfect. Tired and weary they go home, having learnt new dances and knowing that the next square dance will go over well.
So remember when at the next square dance the M.C. says "The team will now demonstrate please pay attention, they have worked hard for your pleasure.
Christmas 1953 Magazine
SQUARE DANCER'S LAMENT
We stood in a square like he told us to
Then waited to hear what next we should do,
He explained the dance till he thought we knew
Then called it slow and walked us through.
"This is all very easy" the caller said,.
"If you listen and just use your head'It must be easy'
was our only thought,
We'd watched folks dance who had been well taught.
"Just one more thing" he hastened to say
As he got the music all ready to play,
"If you get lost in the middle of the square
Just go back home and stand right there".
I wanted to laugh but didn't dare
For who could get lost in a ten foot square?
C.M. - Spring 1963 Magazine
The Gentle Art of Dancing
The girls all gasp and turn quite pale
When I come in, in my armoured mail,
But I've been here before, you see,
And that was nearly the end of me.
The M.C. tells us what to do,
He knows we haven't got a clue,
The dance starts off with a circle right,
I go left - I'm not very bright.
I swing my partner round and round,
Now she is nowhere to be found,
Alas! the door is open wide
My poor partner is now outside.
Undaunted, I take another girl,
And proceed to go into a whirl,
This time I hold her extra tight,
I wonder why she's gone so white!
I promenade and dozey-do,
And hop on someone else's toe,
I do a right and left-hand star,
And so get scratched, another scar!
Tea is over, the last dance is nigh
I change my boots with a sigh,
One day, perhaps, the steps I'll know,
And now it's time for me to go.
A Worser Verser - Autumn 1959 Magazine
SOCIAL ACTIVITIES (NB to return to contents click here)
From 1965 to 1975 an annual ramble was held in June finishing at Croxley Green, Fr Clayton's Parish, for a salad tea. Followed, after the 6pm Parish Mass, by a Square Dance which was held outdoors when the weather was fine. About forty would come. Lady members of the main and social committees and other helpers forewent the ramble and spent the day preparing the tea.
CROXLEY GREEN 1970
On June 7, many members of the Club left Baker Street Station for their annual ramble to Croxley Green. A few of us continued to the Church Hall to prepare tea.
Father Clayton at St Bede's always makes us welcome at Croxley Green. He is not only a very good friend but whenever we visit him he is exceptionally kind. While the girls busied themselves buttering bread, etc., he suddenly produced an L.P. record for our entertainment (all hot 1920 "pops"). From time to time, he would come and chat to us very cheerfully. In the afternoon, although he had a Baptism to perform, he still found time to give us his undivided attention and to join us for tea after the rambling members of the Club arrived. Later, we all attended Mass where Father gave us an interesting sermon.
The sun came out in the early evening and Fred was an excellent caller for square-dancing in the open air. After a break for supper and a few more dances, the evening ended (all too quickly).
Many thanks to Father Clayton, to Daphne (our Secretary) who efficiently ordered the food, Fred and also Madeleine Lawrence for leading the ramble.
Please make the Croxley Green Ramble a special date in your Diary next year.
Barbara Lawless
November 1970 magazine
CHRISTMAS RAMBLE SOCIALS (NB to return to contents click here)
In the thirties there was a special Christmas tea ramble in December with a social evening to which members were invited to bring their relatives and Catholic friends; also their music, violins etc. From December 1932 there was a also Boxing Day ramble with a Social Evening. From 1933 to 1938 this was always to the Club's camping ground for tea and a sing-song round the camp fire. In 1939 the Boxing Day ramble went to Meopham but there is no mention of going to the camp in the Club list (tea was at The Cricketer's Meopham).
On Boxing Day 1946 the ramble broke the return journey at Croydon for a shared tea and social evening at a members's flat in Croydon. After this Norah Smeaton led a special pre-Christmas ramble until the early sixties. Usually in the Boxhill area stopping in the evening for carols and Merrydown at the Stepping Stones (formerly the Railway Arms). If we got there before seven, believing the landlord to be a Catholic, we sang Adeste Fidelis until it opened. A Committee member disguised as Father Christmas distributed presents to members.
CHRISTMAS RAMBLE - 1961
Oh!What a situation! But it's given me inspiration To write this little ditty Though it won't be very witty! We set out in the morning To walk around Box Hill We found a pub at lunch time Where we ate and drank our fill Then off we toddled through the fog With many miles to go Until we found the place for tea With a log fire all aglow. Buttered scones and home made cakes And a Christmas present from Joe Then round the fire we gathered to sing With a hey-nonnie-nonnie-noe.When no more carols were left to sing And the rain began to fall Off we went to the Stepping Stones Our final port of all After this my memory dims The Merrydown to blame I'm sure I'm not the only one I bet you were all the same With a hey down, ho down, derry derry down Hic! Hic! Hurrah for Merrydown
Y. Craddock
New Year 1961 Magazine
The Christmas rambles (Sunday before Christmas and Boxing Day) went off in their usual lighthearted and enjoyable way. On the pre-Christmas ramble we were a little disappointed to hear that our usual tea-place at Ranmore Common had temporarily closed down, but it had its advantage in the end, as it meant that when the rain descended on us in mid-afternoon we were able to go straight to the Railway Arms for tea and stay there until opening time. It was a lively evening, and the addition of a kind Father Christmas to the party, who had presents for all (including a bottle of lemonade for Jimmie Manual), helped a lot to make the evening a jolly one.
We are pleased to say that even those who stayed until nearly closing time managed to get their last trains home if only by the skin of their teeth. We hear that one young lady had to use her bunch of holly as a battering ram at Waterloo to get through the crowds, but as her train was at stake we will pardon her unladylike behaviour.
The Boxing Day ramble consisted of a much smaller party, but we understand that they made up in quality what they lacked in quantity!
Easter 1957 Magazine
Then Maurice O'Brien led this ramble in the Otford area finishing at the Oast House (licensed) for a hot meal and social. Thirty or forty usually came on the ramble and another thirty in the evening. In 1967 the ramble was cancelled because of the foot and mouth epidemic but the social evening was still a success. In 1971 the proprietor stopped doing afternoon teas and so he no longer had the staff for this event. Writing to apologise he said `we have very much enjoyed having your Club with us on so many occasions for which I would like to thank you.'
Christmas Ramble 1968
The Christmas ramble, led by Maurice, is enjoyable, though this time the rain soaked many brave ramblers! However, after a quick change into other clothes, everybody looked happy and dry, ready for the hot meal.
The Oast House at Otford has an atmosphere all of its own. Many Club members remark that this particular day is one of the nicest events in the Club year and that they look forward to it very much.
The Christmas tree, gay decorations, bright candles flickering on tables and the red splashes of colour of the serviettes, made everywhere look very festive.
We danced to records which Des kindly organised for us. Some of us sat at tables round the bar enjoying our drinks. Suddenly, all too soon, the evening had to end.
On behalf of the Club I should like to thank Maurice for all his efforts to make this day so successful.
Spring 1969 Magazine
For the next two years it was led in the Redhill area finishing at the old St Joseph's church hall for a square dance.
Then until 1990 it was usually held in the Croxley Green area finishing at St Bede's for Mass, tea and a square dance. It followed the pattern of the June ramble and eventually replaced it. After Fr Clayton retired to Fleet in 1977 the new Priests Fr Dutton, then Fr Murphy continued to make the Club welcome. In 1981 there was a heavy snow fall and only thirteen came, these left soon after tea to be sure of getting home but held a square dance on the station platform while waiting for the train.
In 1979 and 1982 it was at Redhill again. In 1988 it was at Otford finishing with fish and chips and carols at Otford Church Hall. In 1992 it returned to Redhill finishing with an Ecumenical Carol Service and refreshments at the Methodist Church.
From 1993 to 1996 it was led by Diane and Helen Fox finishing at their house in Staines for a festive buffet meal of turkey, ham, cake, wine etc. About thirty or more somehow fitted into their house.
In 1997 Maureen Cahalane and Pat Jayarwardena led the ramble from Hampton Court to Richmond stopping at Pat's house in Kew for festive refreshments provided by Pat. Afterwards they enjoyed singing carols and were entertained by Patrick Crehan's stand up comedy act. In 1998 Patrick himself led the ramble following disused railway lines, canal towpaths and through parks finishing at "The Pride" in Spitalfields where a generous buffet had been arranged by Paul Connolly at a very modest price.
THE CHRISTMAS PARTY (NB to return to contents click here)
The annual Christmas Party started during the war. It had to be held in the afternoon so that members could get home before the blackout.
The first party was held in December 1940 at the Prince Albert in Tufton Street. High Tea was served at 3pm, followed by games, dancing etc, For those not able to stay for the Tea but who wanted to meet their Club friends the Proprietor supplied sandwiches, bread and cheese, beer etc. from 12.30. This affair was repeated on Sunday March 16 for St Patrick's Day. Next year it was held at the Interval Club. After this it was always held in January; at St Aloysius School Somers Town in 1943 and at St Vincent's Convent Carlisle Place in 1944, 1945 and 1946. It usually began with Benediction, then tea, followed by a social and the show produced by the Club Players. Catering was done by the Committee with help from members. Members supplied tea, sugar, fats etc. to make cakes; even small amounts were welcome in those times of shortages and rationing. The Party was held on a Sunday so that the helpers could get the fare ready in the morning and early afternoon.
The Annual Christmas Party continued after the war, still held in the afternoon. It was usually attended by about a hundred or more members and their friends. Members' children (with their parents) were welcome. It was still normally held on a Sunday (no ramble that day), preceded by Benediction, until 1957 when it had to be held on a Saturday and it continued so from then on. The venue was at St Joseph's School, Bunhill Row until 1952, except for January 1949 when it was held at St Monica's Priory Parish Hall, Hoxton. Members supplied tea, sugar, jam, fats, dried fiuit, dried eggs, tinned & dried milk etc. also bread units as bread was now rationed. Again no quantity was too small. In 1953 the venue was St Anne's Hall near Warren St Tube Station. Then St Mary Moorfields' crypt from 1954 until 1957. Surplus food was given to Moorgate's Old People's Luncheon Club. Rationing was now over and members contributed homemade cakes and savouries rather than their ingredients. The committee and social subcommittee met in the morning at the venue to prepare food for the party which now started about 4.30 pm. At first tea was a sit-down meal served by the Committee then in later years it became a help yourself buffet. Games, dancing and more eats followed. Until the sixties there was always a cabaret or pantomime written by the members. From 1957 for the next twenty years the party was held at Providence Row Night Refuge, any food left over was given to the sisters for the homeless men who called there. Mrs Cracknell, the mother of one of the members and a professional cakemaker made the Christmas cake, usually in the form of a pair of rambling boots complete with laces.
The party is usually hold in the second or third week of January so that those on holiday over Christmas will not miss it.
In 1978 the hall was no longer available and the party was held at Bunhill Row in the newly converted Parish Room. The following year the party was held at Mandeville School, Northolt but being too far from Central London it was poorly attended. From 1980 to 1988 it was held in St Anselm and St Cecilia's Church Hall. Helpers now came from 4pm and the buffet started after the 6pm Parish Mass, followed by a square dance. The numbers were down to forty or fifty but the hall could not hold too many. In 1982 there was a heavy snowfall and only 22 were able to come, most of the Christmas cake was kept and eaten at the AGM in October.
From 1989 for the next three years the party was held at St Vincent's Centre, Carlisle Place at 7pm after the 6pm Mass at Westminster Cathedral. It was a lovely room, a former chapel, but there was not enough room for dancing. From 1992 to 1995 the venue was the Holy Apostle's church hall in Pimlico. An ideal hall with tables and chairs on a mezzanine floor above the dance floor. About ninety usually came. All food was now brought by members coming to the party and the committee only needed to prepare the room thus saving on the cost of hiring the room.
Wine was now provided and guests could also bring their own. In the past the party had been more of a tea party and because it started in the afternoon parents brought their young children with them, anyone wanting an alcoholic drink went to a nearby pub. In 1993 a festive buffet was prepared by the professional cooks who usually cooked the meals for the homeless. The food left over was put to good use at the night shelter. From 1994 the square dance was replaced by a disco thus increasing costs, but an attendance of 80 or more enabled the party to break even financially.
Since 1993 a similar party has been held in the summer. At first only about fifty came but the numbers have now increased to about ninety, the same as for the Christmas Party. In 1995 it was preceded by an afternoon tea party (no loud music!) for the older members in order to gather information about the history of the Club, about forty came.
In 1996 the hall lost its music licence and the venue for both parties became the hall of St Saviour's church, an Anglican church, also in Pimlico. Alas in 1998 this too ceased to be available but a successful party was held in the Phoenix Pub, Palace Street. Members had the pub to themselves and found the staff very welcoming and helpful. An excellent buffet was provided by members. Drinks could be bought from the bar and no admission charge was made. Background music was provided by member's tapes and CDS.
CHRISTMAS PARTY 1949
The Christmas Party will be held at St Monica's Priory Parish Hall, Hoxton Square, London, E.1, and will take place on SATURDAY 8th January 1949. Please note that the party is on a Saturday this year and not Sunday as in previous years. A sketch map and directions will be sent with the News Sheet.
Tea will beat 5 p.m., preceded by Benediction atSt. Monica's Church (next door but one to the Hall) at 4 p.m. The charge for the party will be 3s. 6d. each and 1 s. 9d. for children. The Secretary would be pleased if mem bers would kindly bring along any gramophone records of dance mucic they may have.
Mary Kyte has kindly undertaken the catering and would be most grateful for any offers of margarine, lard, dried fruit, dried eggs, tinned or dried milk, tea, sugar, jam etc. No quantity is too small - particularly in the case of fats and dried eggs. Please do not bring food along on the day of the party unless you have previously notified Mary of your intention to do so.
Notifications for the party should reach the Secretary not later than 31st December 1948.
The Committee would be most grateful for any offers of help on the Saturday morning and afternoon.
21 st November 1948 - 6th February 1949 Club list
From 9.30 a.m. onwards the hall was a bustle of activity. The previous evening the decorations had been put up by the boys - who had to dodge in and out of the cast who were rehearsing in all corners of the room. Have you ever tried to make love to a princess with a step-ladder continuously coming between you and your loved one? - for hints as to procedure kindly apply to Prince Charming. Sunday morning the scene was somewhat different. Everywhere one looked was food, and every time the door opened, so more arrived - there seemed to be enough to feed
an army,. The shock troops now got down to work - up went the tables, out came the drawing pins, glue, rolls of coloured paper, etc., and in the twinkling of an eye the erstwhile bare tables were transformed. Meanwhile the food preparation squad was forging ahead - I would like to say here, however, that it is a wonder at all that you did eventually have any rolls left to eat, as one male member, whom I will not name for fear of reprisals, certainly ate more than he buttered and filled - nought said!
The din was terrific - everybody yelled at everybody else, and nobody answered anyone at all in fact, it reminded me of the railway carriage coming home after a ramble. By early afternoon, however, order had arisen out of chaos, and where there had been a shambles of cakes, bread, tables, and coloured paper, there now emerged the tastefully decorated tables which greeted the eyes of the members as they entered the hall after Benediction. Tea was the usual hilarious scramble on the part of some members for the best cakes, who, not content with robbing all plates within easy reach of their particular fancies, sent out other members on armed reconnaissance to outlying tables, or beguiled small children into supplying them with delicacies from their table. Tea was brought round by the lady members of the Committee, who always seemed to be on the spot when a second cup was needed, and who could resist being coaxed by Irene into having a third, fourth or even fifth cup? Although most people must have well lost count of how many cakes they had eaten, it proved impossible to completely clear the tables, there was so much food, and eventually a very well-fed party descended into the lower hall to prepare for the next part of the proceedings, namely the play.
Of course it must be said that the majority of the Club missed half of the fun, as they did not see the elaborate dressing up process which went on behind bolted and barred doors backstage in one corner of the men's dressing room was the assistant fairy getting into his costume back to front, having flatly refused to remove any clothing whatsoever - although he was eventually cajoled into taking off his pullover. In another Aggie was vainly struggling to make `ends meet' at the back, having tied `herself up in knots by getting into the costume through the wrong opening, whilst the centre of the floor was held by the Fairy Godmother, complete in full regalia, with football boots and socks, demanding in a loud voice to be told which was the back and which the front of a somewhat weird looking ginger wig. As for Susie, `her' main trouble seemed to be `her' stuffing, which appeared to be in constant danger of slipping, causing `her' to come out with some far from ladylike expressions However, to the accompaniment of groans and sighs the male element were eventually coaxed, bullied, pushed and shoved into their various costumes, and sent out to Eileen Greene to be made up - a process which brought forth more caustic comments as to the awful taste and general messiness of lipstick, and such remarks as "how you girls ...." etc., and a final martyr-like succumbing to "these women" and "what we do for the Club".
Meanwhile, in the girls' dressing room all was calm and peaceful, and the process of dressing and making up proceeded (when not rudely interrupted by the sudden flinging open of the communicating door and the bursting through of one or other of the male cast who seemed to take this for a sort of short-cut to the make-up girl, despite being forcibly reminded that "gentlemen did knock" - although in all fairness I must admit that one `gentleman' was polite enough to go back and carry out this order before continuing his headlong flight), without a hitch, except for an occasionally lifted eyebrow or look of resignation at the row emanating from next door - no fuss, no bother, just the usual quiet efficiency.
Eventually they were all ready - believe it or not, the boys really were - Nigel read his opening remarks, and the show was on.
I will say no more about the play, those who saw it will need no reminding, and to those who did not, well you missed a treat. All the cast were excellent - Cinders and the Prince were as good-looking a couple as one could wish for, and the Ugly sisters? It would be more than my life is worth to say that they lived up to their name, so I will leave it at that!
Eric was the Chinaman to a tee, Jack O'Hara could have walked up from Petticoat Lane that morning, and our Fairies, true to the spirit of Pantomime, were anything but fairy-like. There was, however, one small hitch, if I might be permitted to use that word in connection with such a well-conducted affair - which may, or may not, have escaped the attention of the audience although I doubt whether anything gets past the Club! In the final scene the plot called for the sudden entrance, in full-dress costume, of a Son of Allah, whom it was felt would be a fitting ,companion for the redoubtable Aggie. The moment arrived and Aggie, who was, of course, in on the secret, waited all keyed up for the entrance of the one who was to `end her dreams of spinsterhood' - there was a hush, a deathly hush, all eyes turned towards the wings, where was ,the Arab! Where was he indeed -just off-stage, grinning broadly at our antics to attract his attention, and quite oblivious of the fact that he was the cause of near panic! He suddenly realised what had happened, and his face was a picture to behold. As he frantically rushed round backstage to dress, there were desperate whispers from Cinderella to Aggie "to gag", whilst poor j Aggie vainly searched `her' mind for a line beginning thus, which she thought she must have forgotten, `her' agitation being in no way helped by the Prince's exhortation "to wilt". In the wings we were nearly in hysterics, and just when we thought all was lost, on rushed the Arab complete with headdress and immaculate evening dress - Aggie was saved!
The rest of the evening after the play was given over to games and dancing, chiefly dancing, 'ibroken by an interval for more refreshments about 9 o'clock - though it was a mystery to me how anyone could eat any more after their huge tea, but eat they did. Everybody appeared to be enjoying themselves very much, and after the singing of "Auld Lang Syne" the Committee must have felt quite lighthearted that their efforts had proved such a success and that it had gone off so well.
1949 magazine J
Christmas Party 1960
The social activities of the Club were off to a merry start in the New Year with the Christmas Party. About 100 members spent a very happy evening at the Convent of Mercy, Crispin Street. There was plenty to eat and drink and also various party games in which to take part: inevitably, we had a few square dances as well as ballroom dancing. The performers in the cabaret were 'splendid - especially do I remember Molly and Bridget singing and dancing "We're a couple of swells": it was almost impossible to recognize them in their costumes and makeup. I should think it was one of the best cabarets ever put on and our Master of Ceremonies, Michael Garvey, helped greatly towards making the evening such a success.
Mary Crone - Summer 1960 Magazine
Christmas Party 1961
The highlight of the social activities over the past four months was the Christmas Party when over 160 turned up, plus a charming Snow White and her delightful dwarfs. A beautiful stepmum and the son of Old Moore completed the cast of an original pantomime written by Patrick Shanahan and produced by Molly Coales. The choir, the three `sisters' all alike, a marriage agency scene and a song, that when translated into English told the story of a`Geordie's' dream, completed a well balanced stage 9; 9; performance appreciated by all. Tom Cummings provided energetic fun and games to settle the enormous tea provided by Hilda Turner and her `too numerous to mention' band of helpers - how the feeding of the multitude was achieved is a mystery - and how those perpetual motion experts, the washer-uppers of dirty cups and plates, had time to eat themselves - makes one wonder if they did?
The result was however, most rewarding for all who had anything to do with the organisation of the party. So many smiling faces, new and not so new members, friends and potential members, all mixing in the fun of the fair and the inner man well contented. The less energetic enjoying a natter with old friends - in this connection we were very pleased to see Peter Allen and Heather Gill from Suffolk, George Foley from Royston, and such congenial stalwarts as Margaret O'Malley, Marjorie Kennedy, Sheila Barry, Paddy and Edith Saunders, Walter Crossland and Mrs Crossland, Con Ryan and Nora with young Con, Catherine Martin and Mary Kyte - who we see only infrequently these days, enjoying the chance of a good get-together.
Thanks to the Reverend Mother and Sisters of the Convent for putting the room at our disposal.
New Year 1961 Magazine
Song from the Christmas Party
Oh! We're the sports from Bunhill Row
12 miles in the rain; 0 yo! ho! ho!
'We don't mind the mist, snow or fog,
We'll flounder our way through the deepest bog.
Chorus
On Tuesday nights at Bunhill Row,
We tread the light, fantastic toe,
Inside high and the outside low,
Alamand left and away we go!
Chorus
In summer time in natty shorts
You'll find us on the tennis courts,
. Now winter's come we've changed our mode,
The ice rink is our new abode
Chorus
Such a versatile Club as this, my dears,
You never could find in a 100 years!
Dancing, socials; rambles too! ,
There don't seem nothing we cant do!
Chorus
Famous on the stage as well,
We hope you'll find our show quite swell,
The time has come, the scene is set,
Tomatoes caught by the safety net!
Chorus:
Over hills, over dales,
England, Ireland, Scotland, Wales.
Summer 1961 Magazine
Christmas Party 1975
The Christmas Party was a great success, as always! Everyone thoroughly enjoyed themselves. On entering we were handed an excellent programme - thank you Fred. Either there was a larger number of people there, or the food disappeared more rapidly this year! Many thanks to Mrs. Cracknell for the beautiful cake. I think Maurice was trying to get us all drunk with his excellent home made wine in the jelly! Mrs Cracknell's friend kindly donated a lovely kangaroo (complete with baby) for a raffle which brought in £5.85 collected by Dennis.
At one point there were so many camera bulbs flashing it seemed like a press conference! There must be some good photos to be seen, maybe at the Club one day? Fred made an admirable M.C. together with help from John and Desmond which was much appreciated. We had games and dancing until we were all exhausted.
Joan cleverly organised an unusual guessing competition of children's photos of ramblers in the club which caused much amusement.
The entertainment was varied comprising of versatile Philip Evans as M. C. who played many instruments and also recited and was assisted by Bernadette Cahill, who sang beautifully, Patrick Hynes who played the accordion very well, Christopher Jones on the piano (who we are always pleased to see) and who also
showed his paces on a ukelele banjo in a duo with Philip and also joined Maureen Furlong, who was good on guitar and Philip in a rendition of the ever popular `Grandfather clock' in which the audience was asked to join in the choruses. Last but not least we must mention Tony Chainey who kindly played the piano for carols to which the audience responded in full volume, considering there was no rehearsal. Our thanks go to all of them, as they worked very hard to make the entertainment a great success.
We then had more food and drink and commenced further dancing.
Finally, our grateful thanks to Reverend Mother and the Sisters of Mercy for having us and to the willing band of helpers and anyone else who did anything to make the party `go with a swing'.
ANONYMOUS (Name and address supplied) -
Spring 1975 Magazine
Christmas Party 1976
The Christmas Party was held on Saturday, January 10th at Crispin Street. The helpers arrived in the morning, bringing an assortment of food which was strewn in chaos on the tables. We soon got to work, each fmding a job to suit himself or herself. More helpers arrived and order began to grow as individual
artistry produced an attractive display of food. There was much sampling going on, just to prove that it tasted as good as it looked.
Eventually the tables were made to look festive and the food arranged, pride of place being given to the Christmas cake. The beautiful decorations provided by the Nuns added to the atmosphere and the scene was set for an enjoyable evening.
Members began to arrive; old fi-iends whom we only see on this occasion, families arriving together, and people who ramble, all were welcome.
Soon the place was a hive of activity and everybody was busy catching up on the news, eating, drinking, and some were travelling round London via clues set by Maurice. Then the more energetic members indulged in a lighthearted shopping expedition under the direction of Esther.
Soon it was time to invite the Nuns in and we gathered round for a sing-song led by Chris on the piano and Philip on his selection of stringed instruments, stunningly augmented by those two star entertainers Alf Miller and Larry McCabe.
Afterwards John organised the dancing which ensured that we were ready for more tea and delicacies and the Christmas cake. Then more dancing and all too soon another Christmas Party was over.
Many thanks to the organisers, helpers, people who provided food, Mrs Cracknell who made the cake, and to the Nuns for once again making us welcome.
ANON - Spring 1976 Magazine
Christmas Party 1978
The Annual Christmas Party was held this year on Saturday Jan 7th at the former St Joseph's School, Bunhill Row, now used as a church hall.
Mary Walsh and her band of willing helpers worked all day to prepare the food on which the hungry multitude were let loose at 4.30 p.m. By request, the dancing did not start until after the 6.30 p.m. Mass in the church below, which many members took advantage of to attend the
service. From about half past seven we enjoyed a very good evening of square dancing ably guided by Tony Chainey as M.C. In an interval from the dancing we were entertained by the irrepressible Philip Evans and his various musical instruments and also by Catherine Chainey who gave a most versatile display of Irish Dancing. Thank you, Philip and Catherine.
The evening finished with Auld Lang Syne at 10.15 p.m. It was nice to see so many married couples there with their families and it is hoped many more will come next year. Thank you Tony and the Committee and helpers for a most enjoyable evening.
Madeleine Lawrence - Spring 1978 Magazine
Christmas Party 1981
On Saturday, 17th January forty members and one child converged on St Anselm and St Cecilia's Parish Hall, Kingsway for the Club Christmas party. It was a cold, wet evening when few people would want to go out. However, the secretary and members of the committee arrived early to prepare the tea. Most of the savouries and the many varied cakes had been baked by Anne Walsh who also made the Christmas cake as Mrs. Cracknell who usually makes it was on holiday in America.
During the evening John Lawrence organised square dancing to music provided by Anne's music centre. There was not a lot of space for dancing but forty people fitted in quite well.
A raffle was held by Fred McAndrew of a bottle of spirits and a bottle of wine donated by Anne, to cover the small loss on the Jubilee Celebrations held last year. The winners were Mrs. Morgan and Stella Hill.
It was a very pleasant evening meeting old and new ftiends all looking so different without anoraks and boots.
Mary Walsh - Spring 1981 Magazine
77 SOCIAL ACTIVITIES
ANNUAL DINNER AND DANCE (NB to return to contents click here)
The first Club Annual Re-union dinner (for members only) was held on 23rd November 1932 at the Temple Bar Restaurant in the Strand. It started at 7pm and was followed by a Social to which members contributed musical or other items. The cost was 4/- (about £6 today). From 1933 the Dinner was held at the Chantecler Restaurant, Frith Street, Soho.
Like most activities the formal Annual Dinner and Dance ceased during the war years. It was revived in February 1954 at Reggioni Restaurant opposite King's Cross Station. Tickets were 15/6 (about £15 today), payable by instalments. Evening dress was optional.
Dinner and Dance 1954
The Dinner and Dance recently held at Reggion's King's Cross Restaurant proved an enormous success. It was also a financial success - it covered itself with 2'/2d. in hand. A postage stamp will be purchased and used on a letter of congratulations to the Sub-Committee who did an excellent job.
Reggiori's though not the best of restaurants was certainly unique. Its entrance presented us with that decaying air of dignity (this also applies to the waiters). One almost expected a ghostly row of can-can girls to dance after the dinner. In the centre of the main dining room stood an enormous turquoise porcelain fountain. Some members suspected that this was a finger bowl to pass round and were beginning to worry how the waiters were ever going to lift it. The food though tasty and pleasantly cooked proved to be a fair share but no more. So many dinner and dance establishments are guilty of the offence that we cannot register this comment as a complaint.
Oh! What a turn-out. Stiff dickies and swirling silks were the order of the night. The ladies looked beautiful - the men quite surprising! It is incredible what a monkey suit will do for a man. Among the elegant gowns was to be seen a strapless, topless, seamless, shapeless garment, orange in colour and yet by some mystery unknown to man the lady was decently covered. We suspect that peeping below a flowing lemon creation there were two neat though somewhat muddy rambling boots.
The band was really excellent. The musicians entered into the spirit of the evening, they even entered into the dance.
Guests arrived to the minute and sharp at 7.15 soup was being served and menu cards were already circulating for autographs. We are still looking for the person who wrote "Nuts to the Committee". There were no lapses: the service was very satisfactory, the wine well chosen and so we come to the speeches. John Hogan as M.C. had that air of humility which in an M.C. is always to be commended. In the absence of Fr. Reys and Fr. Canam, who were regrettably indisposed, Walter Crosland opened the speeches. Walter was brief, though brilliant (owing to the restrictions in paper we are not able to print the ten page synopsis of Walter's speech). Bill replied to Walter and luckily for him certain comments about marriage were disturbed by the deafening crash of smashing crockery. So ended the speeches - short, amusing and adequate. Well done Walter and Bill: nobody likes making speeches and everybody likes criticising them.
We then moved to the bar. Some gentlemen joined a queue at the end of the stairs and to their horror discovered that it wasn't going to the bar at all! Later the ladies joined us. Dancing began almost immediately - lively quicksteps and sambas and of course the usual waltz for a spot prize. Well done, one pound box of chocolates instead of a half and well done twenty-five cigarettes instead of ten. It seems that everything was bigger and better. The evening wound up about 11.30 and my goodness the number of shouts for taxi makes one wonder how dare people complain of a 5s. Od. subscription.
Easter 1954 Ma azine
78 SOCIAL ACTIVITIES
Subsequently ballroom dancing instruction evenings were held at Bunhill Row. Initially the Dinner and Dance was held on a Saturday evening. In 1957 it had to be held on a Thursday and this continued for a few years. These events were organised by a Dinner and Dance SubCommittee.
Dinner & Dance 1957 (NB to return to contents click here)
This item might well be called "the Night the Club Rocked and Rolled" (or should that be Rock'n Rolled). No one seems to know quite what caused it, whether it was just the Band's pulsating beat, the here to-day and gone tomorrow philosophy of this H-bomb age, or something the chef put into the soup, but certainly there were few if any of the members present who did not "get hep". Of course, most of the steps would have caused a genuine "Rock and Roller" to throw up his (or her) hands in horror and stop the music, but the rhythm was there and that is the essential.
These high finks rounded off a very successful evening on which the Dinner & Dance Committee are to be congratulated. Some %5 members (including an almost incredibly high proportion of males!) sat down to what was the best dinner since the event was restarted four years ago (soup excepted). The speeches were good if a trifle lengthy, but the piece de resistance was defmitely the band. Bill Haley nothing - Charles Mack is the man for us.
Easter 1957 Magazine
The Chatham Room Victoria, Shaftesbury hotel and Schmidts were favourite locations. Around 100 usually came. Usually Charlie Mack, from the Westminster Ballroom in Strutton Ground, and his band provided the music. The tickets were never priced economically as it was thought that fewer would then come. From 1970 a slight reduction was made for married couples.
They were not always sedate affairs for in 1956 one of the ladies broke her leg when her partner fell on her and she had to be taken to the London Hospital.
At the 1971 AGM the desirability of holding the Dinner and Dance was discussed. It was thought the cost was high and that ballroom dancing was unpopular. It could be replaced by country dancing or by a buffet and get together for the older members. It was decided to continue but with more suitable venues. For the next five years, until it was discontinued in 1976, it was held at the Knights of St Columba Club.
Dinner and Dance 1972
On Saturday 22nd April the club held its 42nd Annual Dinner and Dance in conjunction with the Little Club at the premises of the Knights of St Columba, Holland Park. The K.S.C. made us very welcome and we dined in a fine oak-panelled room. The meal - Roast Norfolk Turkey - was excellent, and the occasion gave everyone a good opportunity to exchange news. Many of the older members who had joined the Club in its early days were present, and we were happy to see Father John Clayton again. After the loyal toast had been proposed by Peter Webster we enjoyed a short amusing speech as Father Clayton toasted the Club. In his response, Peter de Smith urged us all to make a special effort to get new members as our numbers were fast decreasing. This was due to people moving away, and to the fact that the countryside was being rapidly built up - making rambling more expensive; also many people now preferred other pastimes to rambling. Mary Hickman and her hard-working committee were then thanked for arranging the much looked forward to occasion. We were fortunate in having a good band that soon had everyone dancing with music to suit all tastes. The evening flew by, everybody enjoying themselves, and we were truly sorry when it was time to leave for home.
Barbara Bridle and David - Se t/Nov 1972 magazine
In 1974 the committee investigated the cost of having a disco but found no saving. In 1977 the committee tried to hold a Supper Dance in Peckham but the plans fell through when Esther Harris who was arranging it at her Church Hall moved to Norwich.
79 SOCIAL ACTIVITIES
ANNUAL CHILDREN'S PARTY (NB to return to contents click here)
In the sixties and seventies a party for the children of members and former members was held at Bunhill Row on a Saturday afternoon in April or May. Kath O' Sullivan organised the first one in May 1963. Then Kath Holland (nee Marney) did it most years and with her helpers spent all day getting it ready and clearing up afterwards. There was a spate of Club weddings in the fifties and sixties and about forty children came to the party. It was an opportunity too for the parents to meet their friends in the Club again. In 1974 twelve children from St Joseph's Crusade of Rescue Home at Enfield were invited.
Children's Party 1974
This year we welcomed to the Children's Party as guests a group of children from St Joseph's Home, Enfield. The children accompanied by Sisters Rosalie and Coleen entered into the party spirit from the word go and joined our Club children for tea and games afterwards ably and patiently organised by Dennis Spiller and Esther Harris and sundry other brave souls. (I have very great respect and admiration for people who organise children's games. The only game I know is Ring O' Roses and I get that wrong more often than not much to the disgust of small nieces and nephew!) While tea and games were taking place with great gusto and enthusiasm, parents were able to have a chat and bring themselves up-to-date with all the latest Club news. (I always think Children's Party is a misnomer for this yearly event. `Parent's Reunion' would describe the scene more accurately and I would not like to bet who makes the most noise.) No children's party is without its little incidents and this year's was no exception. Small toddlers were restored to near pristine condition after fighting a losing battle with jam sponge and chocolate `bikkies' ! A writhing heap of boys locked in deadly combat on the floor and hell-bent on destruction were prised apart by long suffering parents (its what your right arm's for!) The party organizer was nearly drowned in cascading orange juice and had to do a quick emergency mopping up operation ably hindered by two small guests; all part of the rich pattern that goes to make up our annual bun fight.
Our grateful thanks must go to Father Higgs for letting us use the school and to Mr. Costelo, the caretaker, for all his help. I should like to thank also all the willing volunteers who came along on the day and helped with the preparations. Thank you also to all the people who made cakes and gave donations. Without all this help the party would not exist.
I think our children's party is a very important event in the Club year. It not only keeps people in touch with each other but we hope it will encourage the children to be interested in rambling and perhaps in the not too distant future to ensure that the Club has young and enthusiastic members to carry it on for many years to come.
I understand from experts in these matters that the success of children's parties can be judged by the amount of noise. In that case, this year's party was a great success, I enjoyed it. I hope the children did!
Kathleen Holland
(Very many thanks to Kath herself too for giving the children such a lovely party - it was certainly very much enjoyed by three noisy children of my acquaintance! Ed.)
May 1974 Magazine
80 SOCIAL ACTIVITIES
From 1977 when Bunhill Row was no longer available the party was held at St Aloysius Infant School near Euston, now usually organised by Mary Ahearne.
Children's Party 1977
Despite a late change of venue for the children's party this year there was a very good attendance of both children and parents on Saturday May 14th at St. Aloysius school, Phoenix Road, N. W.1. Fine weather enabled the children to take advantage of the well-equipped playgrounds and a marvellous spread was laid on in the light and airy hall. Esther was her inexhaustible self, producing game after game for the amusement of the children. The Committee were there in force hours before the start cutting, spreading, filling and blowing up balloons to ensure it all went with a swing.
Many thanks are due to Mary Aherne, who found this new and excellent venue and to all those who helped in the planning and organisation of a wonderful and memorably afternoon.
Midsummer 1977 Magazine. There were fewer weddings in the seventies and so by 1983 all the children were too old for
parties and a children's ramble was held instead.
THE ANNUAL COACH OUTING (NB to return to contents click here)
In prewar years an Annual Outing to a place of Catholic interest was held. This took the form of a visit to the seaside or of a ramble in an area further out than usual.
The first coach outing was in October 1948. This was to Bognor and was booked up before the Club List was sent out. Subsequent coach outings included visits to Aylesford, to the Franciscan Friary at Crawley and the Shine to Our Lady of Consolation at West Grinstead with its Secret Chapel, to Chichester and the Shine of Our Lady of England at Storrington.
From the fifties the outing always followed the Annual Mass for Club members which took place within the octave of the feast of St Francis. Usually thirty to forty came. Sometimes an optional ramble was held. It could be difficult to chose a destination as many attractions closed at the end of September so in 1973 a motion was put to the AGM (carried 25 to 2) which allowed the Club Mass for members to take place on the previous Sunday. This also avoided the clash with the Lourdes All Night Vigil.
From the late seventies the numbers coming declined making the hire of a coach uneconomical. In the 1980 AGM a motion was carried that the possibility of discontinuing the coach outing be examined and alternatives investigated by the committee. Scheduled coaches were tried in 1982 (to Oxford) and 1984 (to Bury St Edmonds) and then the coach outing was discontinued. In 1993 the Committee investigated hiring a coach but the cost was too dear.
81 SOCIAL ACTIVITIES
The Club Outing to Bognor - October 1948
It was easy to wake early on Sunday morning, for I had a wonderful day at the sea in prospect. It was cold at first; any other day would have been dismal as well, but anticipation dispelled the dullness. The charabanc whirled us through the suburbs to the Surrey country. After about an hour the sun shone over gay gardens, full of michaelmas daisies, chrysanthemums and red Virginia creeper. We passed haystacks, fields where the corn had been gathered in, and meadows that were still a lovely fresh green owing to the summer rains. We went through West Sussex, passing Horsham, that recalled happy memories of our Easter Pilgrimage. We saw the beautiful Sussex Downs, with trees casting long shadows.
At Arundel, where there were striking effects of white and grey against green - the noble Church of St Philip Neri at the top of the hill - the castle set amidst trees and spacious parkland the charabanc stopped long enough for a walk up Bury Hill to Swanbourne Park. Here we saw
cygnets, whose backs were still grey, though white feathers were growing underneath, as could be seen when they turned themselves quite perpendicular in search of worms at the bottom of the lake. They were almost as big as their parents, and quite as greedy and inquisitive. Swans, cygnets and ducks were all waddling towards the benches where people were eating sandwiches all the birds were out for what they could get!
We returned to the charabanc and drove past beechwoods, the leaves of which were a lovely russet brown or orange colour. Many were still on the trees but some had already fallen, making a rich carpet underneath. The shapes of the trunks were very satisfying and could be seen to much better advantage than in Summer, when hidden by foliage.
At last we arrived at Bognor - what a joy it was to see the sea on a sunshiny afternoon, and to paddle, swim or rest, as the fancy took us, and to watch `kiddies and grown ups too' making the most of this golden aftermath of Summer.
We had a really `super' tea in a rice restaurant overlooking the front, and afterwards paid a visit to the Church before taking our places in the charabanc for the homeward journey. Of course we sang! We `packed up our troubles' and `joined the Darkey Sunday School' in the good old rambling tradition, and went home thoroughly happy.
Three cheers for all the organisers of that grand day!
Margaret Britten
December 1948 Magazine
In 1970 forty members went to Canterbury for the 800th anniversary of the death of St Thomas a Becket. Members looking out of the window noticed smoke under the coach but thought it was coming from the road. Four miles from Canterbury the driver suddenly turned into the car park of "The Gate" public house as the coach filled with fumes from a fire in the front. Pat Connor who was disabled was in a front seat and was able to get out with a few others before it became impossible to leave by the door. The fire extinguishers were at the front of the coach and so
unreachable because of the dense black smoke and fumes. Charles Litt managed to open the emergency window at the rear of the coach which then had to be held down to stay open. It was very difficult to get out that way. Those outside helped the others to leave. The last to leave were effected by the fumes and any more would have been overcome and unable to leave. Charles Litt went up and down the coach collecting belongings that had been left. There were fewer than usual on this outing as several who usually came had gone on a coach ramble
organised by another rambling club. The restaurant proprietor on seeing the flames when the coach entered the carpark had phoned the fire brigade but as they had to come from Faversham they did not arrive until the coach was well gutted. Fortunately everyone had got out by then. Traffic on the A2 was halted by the police and the restaurant evacuated as it was thought the coach might explode because of the diesel fumes. The heat inside the restaurant was intense
although the coach was 30 to 40 feet away. An account appeared in the Catholic Herald and Universe. The committee wrote to the coach company pointing out the difficulty fit and agile.
Additional note added in July 2020 by Tony Finnegan: I recall that when we started doing our research for preparing the history of the Club nearly everyone we approached for historical information said "one time the coach went on fire".A few of them provided a photograph of the coach on fire but alas I returned the photographs without copying them and have not been able to get them again. However we do have a very poor copy of one that appeared in the club magazine at the end of 1970 and you can see it by clicking HERE
82 SOCIAL ACTIVITIES
ramblers had in escaping by the emergency window, elderly or disabled passengers would have been trapped. This resulted in the redesign of coach emergency exits. At a carpark on the following year's coach outing to Michelham Priory members met again the coach driver whose swift action had saved them, greeting him with "Had any good fires lately?".
The outing in 1979 went to Stonor which had recently reopened after being closed for repair for many years. It was hoped to see the secret room where St Edmund Campian had his printing press but this was shown only when few visitors were about. On the way down the coach driver was directed down a road which turned into a track and then petered out. He had to drive over a grassy open space to reach a road.
Overheard as a member kept getting on and off the coach: `He doesn't know if he's Cummings or Goings'
THE ANNUAL OUTING TO THE SEA (NB to return to contents click here)
The Summer outing to the sea began before the war when it usually included a visit to a place of Catholic interest. It restarted after the war in August 1953, in response to pleas from many members, with a visit to Worthing. This was an enormous success.
At first train seats were reserved and a high tea was booked at the resort. Sometimes a short ramble was led. Return would be about 8pm, arriving back in London about l Opm. About forty to fifty usually came, twenty when wet. In 1968 the trip to Littlehampton was cancelled because of the rail strike.
Annual outing to the Sea
This year we paid a return visit to Eastbourne. The weather was more kind to us and the morning and afternoon were, as usual, spent by people lazing on the beach, swimming, and sampling the pleasures of the pier and the speed-boat. Great quantities of ice lollies were eaten, and it should be placed on record that two male members consumed a dozen between them! Everyone must have decided to take a holiday from rambling, because without exception we all rode to the top of Beachy Head, where to the surprise of many, no-one fell over the edge! Some summoned up enough energy to walk back and some rode - it just depended how eager you were for `a pint' before the train! The journey back was a noisy one with plenty of Irish song from Mick McKeown - maybe it was the after effects of all those lollies!! The addition of Mabel's sister to the party seemed to lead to a lot of disorganisation too, but it all added to the merriment so we will forgive her this time.
Autumn 1956 Magazine,
From the seventies the numbers coming began to decrease until in 1980 the trip to Hastings was cancelled as only one member turned up at Charing Cross. At the following AGM a motion was carried that the Annual Outing to the Sea be discontinued due to lack of interest and a ramble or alternative activity by the sea be arranged. After this the Summer Program normally included one or more seaside rambles with the chance of a swim; usually to Eastbourne and the Seven Sisters or to the Pagham Nature Reserve.
83 SOCIAL ACTIVITIES
ALL NIGHT VIGIL TO LOURDES (NB to return to contents click here)
In the sixties and seventies a group from the Club joined the October All Night Vigil to Lourdes. Around ten members usually went often taking a sick pilgrim with them. It was organised first by Frank Preston in 1960 then by Paddy Fitzpatrick. Leaving London after an early Mass at Westminster Cathedral on Saturday morning they returned late on Sunday evening.
Lourdes All-night Vigil 21st - 22nd May 1960
I first went to Lourdes some 7 or 8 years ago and I must confess that I wasn't very impressed by it. Maybe it was the commercialism, or the fact that I was including my visit in a holiday tour. Be that as it may, when the suggestion of an "All Night Vigil" visit was made, I decided to go again.
Accordingly, Saturday 21 st May, saw me up at 4.30 am to catch the first train to Victoria. Our Pilgrimage was to begin with Holy Mass at Westminster Cathedral at 6.30 am. Gradually the Blessed Sacrament Chapel filled with people, carrying bags of thermos flasks and sandwiches. Some were carrying heavy travelling rugs also. In my ignorance I thought - "Surely it won't be as cold as all that?" I was to find out that night!
After Mass, we all assembled outside the Cathedral to find a coach waiting to take us to Southend Airport. Edward introduced himself to us as our lay leader, and Father Barrington as our spiritual leader. From that moment we were helped and guided through a very full week-end.
The coach was labelled along the side windows with stickers proclaiming our destination of Lourdes and our intentions of prayer for Russia. Many people stopped to read this as we made our way from Victoria through the East End and so to Southend. As we went along we recited the Rosary for the intentions of the week-end. We were asked to include in our prayers a little boy - one of our party - who was suffering from sclerosis.
There was a short wait at the airport before we took off about 10 am. After lunching in the plane we reached Tarbes about 1.30 and from there we were taken by coach to Lourdes. On the way we visited Bartres where St Bernadette spent some time in the home of her Godmother and where a room has been preserved with furnishings from the time of St Bernadette.
After this we were taken into Lourdes to the hotel which was to be our base for the week-end. On our way to the Grotto we learned we were to visit the Baths. That was a most unexpected experience as I thought only sick people would be allowed in. The attendants are there to give help where needed, and all the time pray aloud with ejaculations for the sick. The speed and noise is rather confusing as there are several cubicles with 3 or 4 attendants in each. Two help the pilgrim to step into the bath and pass through the water. This, to me, is one of the miracles of Lourdes. So many pilgrims, sick and well alike, pass through the same water, yet no disease is passed on. Soon we were outside once more again, dry, glowing and breathless!
Now it was time for the procession and blessing of the sick. As the procession was forming the clouds grew lower and blacker every second, but no rain fell until after the Blessing, which had to be a general one, due to the weather.
84 SOCIAL ACTIVITIES
In 1963 they took a sick pilgrim, Mr John Broster, with them. The All-Night Vigil Group kindly reduced his fare to £10 which was paid by the Club. He had at most two months to live but astounded the medical profession by living another two years. His young family was thus that much older and he just saw his oldest boy on the altar.
We were now free until Evening Mass at 6 pm and then dinner, so we were able to visit the Basilica, Rosary Church and Crypt as well as the Grotto once again. We took the opportunity to place candles at the Grotto and to arrange for Masses to be said for our intentions. The Club was certainly not forgotten.
After dinner we assembled once more near the Grotto to take part in the Torchlight procession. Our banner was now replaced by an illuminated sign proclaiming the All Night Vigil Group. We were a very small English group, but I think the English verses of the Lourdes Hymn were heard
Now at last we were drawing near the time for our Vigil and after a quick visit to the Hotel to collect soup, coffee and dress in warm clothes, we met outside the Basilica ready to begin at In 10.30 pm.
The night was divided into three parts. The first part was a Holy Hour in the Crypt followed by Midnight Mass. For the second part of the night the pilgrims were divided into three groups to spend one hour of Petition at the Grotto, one hour of Reparation in the Crypt and one hour of Penance in the Rosary Square. The final part of the night was another Holy Hour before the Blessed Sacrament, followed by Mass at 5.30 am. There was also a short break in the night, when we had our coffee and soup.
So our long night began. We were thankful for the changes every now and then. It would have been so easy to give way to heavy eyelids - particularly in the warmth of the Crypt! We were soon revived however by the bitter cold outside by the Grotto, where a damp mist was rising from the River Gave. Despite all this - and it was a Pilgrimage after all - it was a tremendous experience to be there in the peace of the night, in such contrast to the bustle of crowds of pilgrims by day. I was so glad and grateful to be there.
At last dawn began to break. And it was time for Mass at 5.30 and our Vigil was over. With every second more people were arriving to take our places, as we made our tired way back to the hotel for breakfast. After a reviving wash, we were ready once more to make our way around the Stations of the Cross in hot sunshine. It only remained then to fill our water bottles and make our own private visits and souvenir purchases before the Farewell Ceremony at the Grotto and all too soon our week-end was over. We reached London again about 10 pm on Sunday.
It was a tiring time, but a very happy time - for needless to say with eight club members we had our lighter moments.
Father Barrington and Edward did everything possible to make it go without a hitch and our thanks are due to both of them.
Thank you also Frank for arranging our little group. I hope it was the first of many such groups from our Club
M Gilb - Autumn 1960 Magazine
85 SOCIAL ACTIVITIES
Extract from Lourdes - A Perpetual Challenge
An account of the Lourdes All-night Vigil 12 - 13 October 1963
25 Club members joined the vigil
The Club were privileged to include in their number on this visit a sick guest whose fare the AllNight Vigil Group kindly reduced to £10. This, as you know, was paid out of Club Funds and our guest wishes to convey his grateful thanks to everyone for making such an unforgettable experience possible for him.
Whilst in Lourdes, arrangements were made for a Mass to be said for the Club.
Shortly after our return, the Secretary of the All-Night Vigil Group wrote to Paddy Fitzpatrick indicating that the Leader for the weekend had commented in his report upon the cheerfulness and evident piety of the Ramblers' party and hoped that he would be able to go with them again. The Leader and the All-Night Vigil Group Secretary both conveyed their best wishes and thanks.
The Vigil Group appear to regard the Ramblers as welcome regulars now, and, as from next year, the cost for Club members has been reduced to £I7. Let us all examine our finances and see if we can't save that little extra, so that next year an even greater number of Club members may be able to perform this great act of devotion to Our Lady.
New Year 1964 Magazine
On one occasion after the coach had left Victoria, Joe Hand had to direct the coach driver, who did not know the way, to Watford where others were to be picked up. Then they boarded the plane at Luton. The plane had not been used for some time. When they had crossed the channel the plane had to land to refuel and so they were late. They reached the Lourdes grotto and found the others, who had come via Gatwick, praying for them. Coming back (but before take off) Joe had to help the stewardess close the plane door and the lunch boxes went all over the floor. The plane had to refuel again before crossing the channel and so all got home well after midnight.
Fr Norton, a Marist priest from Sidcup, who accompanied a group attending the all-night vigil in 1969 wrote to the Club `to thank you all for your kindness to me during those wonderful hours in Lourdes. It was so nice being with you. May Our Blessed Lady go with you in your rambles and the blessings of her son.'
WEEKDAY EVENING AND WEEKEND EVENTS (NB to return to contents click here)
Evening visits to the theatre especially the Open Air theatre at Regent's Park, to the Beethoven concerts at the Royal Festival Hall, to the Proms and other concerts, to places of interest such as Battersee Power Station, the Sunday Pictorial, Mount Pleasant Post Office and Tube Railway and the Hovis flour mills were made. Fred McAndrew arranged several visits to the Player's theatre to see their Victorian musical.
On Summer evenings when Bunhill Row was closed boating at Regents Park or rambles over Hampstead Heath were popular. One July evening in 1956 a ramble over Epsom Downs was led. Occasionally they joined the rambles to places of Catholic interest in the City led by Mgr Goulder or Mgr Stark of the Guild of Ransom who also gave talks for the Club at Bunhill Row.
On Saturdays visits were made to places of interest such as the Houses of Parliament, Greenwich Son et Lumiere, Guinness's brewery and the Express Dairy College Farm at Finchley. Boat trips on the river or the Grand Union Canal were often made. Walks were led over Hampstead Heath (to the Spaniards), Wimbledon Common or Richmond (finishing at the theatre) and Kew Gardens. Excursions were made to such places as Southend, Brighton, St Albans and the Bluebell railway. In the seventies and eighties Merrymaker trips were used to go further afield. In the late sixties and early seventies an annual ramble went to the Polesdon Lacey open air theatre. Visits to the theatre, cinema, concerts especially at Kenwood (usually preceded by a walk over Hampstead Heath) and the Proms were popular. The Club went to The Mousetrap at least three times. Occasionally walks visiting interesting inns were led. In the early seventies the Club helped with footpath clearing near Betchworth under the guidance of local Parish Councillors who provided the tools and (huge) teas.
In the years just after the war Winnie Lacey `put down stools' for members going to matinees. This involved paying 6d to a man in charge of the stools who put one's name on a stool. They had to be claimed 45 minutes before the performance.
The Ramblers' Association (Southern Region) Public Meeting on Thursday 12th February 1948 at Kingsway Hall was drawn to the attention of members. Speakers were Right Hon J Chuter Ede M.P., Right Hon Viscount Samuel and Geoffrey Winthrop Young. The meeting was on the proposed scheme for National Parks and it was (in the words of the list) `the duty of anyone interested in this countryside of ours to support the meeting in some way or other'.
In 1953 a Saturday afternoon jumble sale at St Mary Moorfields followed by an evening square dance raised £23 (about £400 in today's money). This with a football pontoon and a gramophone recital the following year raised money to buy a typewriter, record player and maps for the map library.
In the Marian year 1954 the Club made a pilgrimage to Walsingham. Sixty members and their friends took part. The spiritual director was Fr Keldany, a Club honorary member who had given the Study Circle talks in the 1940's. The coaches left Westminster Cathedral at 9 am on Sunday 18th July. There was a separate pickup point for East London members. Packed lunch was eaten on the coach and a cup of tea had at Newmarket. They arrived late at Walsingham and just had time to jump off the coach to join the procession to the Slipper Chapel (about a mile) for the Blessed Sacrament Procession and Benediction at the open air altar. They returned to Walsingham for a brief sightseeing tour before rejoining the coaches, stopping at Swaffham for tea and reaching London about 10.30pm. In October the Club went to the Marian year Celebrations at Wembley.
In December 1957 a meeting was held to see if a Badminton Group could be formed, but unfortunately no suitable hall was found.
A tennis section was formed in 1957. Playing at the Regents Park Courts every Friday from about 6pm in the summer months. Courts were booked in the name of Mr Francis. This continued off and on until the seventies.
The Jumble sale held in The Crypt, St Mary Moorfields, on Saturday 5th December proved a roaring success. Despite the bundles of old rags that had to be disposed of down the Lane on the Sunday after, we made no less than £23/2/7/2. This includes the proceeds of the Square Dance which followed the Jumble Sale, refreshments and the raffle of chocolates. We would like to thank Bill and Tony Chainey who sat up half the previous night getting the recording apparatus in working order; Tom Cummings who M.C'd for us; Eileen Greene the Grand Duchess of our Charity for her very able organisation and hard work, and to her ladies in the refreshment tent we offer our sincere thanks. Eileen Greene wishes to thank all those who contributed articles and services.
Christmas 1953 Magazine
SERVICE WITH A SMILE - or IT'S NOT CRICKET!
Each Friday evening you will find
After the hard day's heavy grind,
A few of us, gay old sports
Gathered in the tennis courts.
"Service" I yell in a serious tone,
Then hear my partner's muffled groan,
Into the net the balls do go,
Fifteen love! Gaily calls out Joe.
I serve again without much luck,
In the netting the ball is now stuck,
Undaunted I have another try
And hit my partner in the eye!
Now our opponents start to serve,
I summon up all my strength and verve,
And take my Christine Truman pose,
Racket poised, ready and on my toes.
I give the ball a little tap,
In my racket there's now a gap!
I give the next one such a blow
And nearly knock out poor John Rowe!
With a sigh I leave the courts,
Mournfully change out of my shorts
Today I hang my head in shame,
Next week, maybe, I'll win a game.
A. BATT - Autumn 1961 Magazine
In 1958 a swimming section was formed, using the Merlin Street Baths from 6.30pm every Wednesday. But this petered out. In the sixties a group from the Club met occasionally for a swim on a Tuesday evening or a Saturday afternoon. Usually at the Swiss Cottage or Marshall Street Baths.
From 1961 until 1972 the Club met for skating at Streatham Ice Rink, at first on alternative Tuesdays then less often.
In May 1981 the ramble finished at Fr Gardner's Parish where he offered Mass for us in St Edmund's College Chapel. Afterwards we went round the College's museum which holds an unparalleled collection of documents and relics recalling the days of persecution.
No special Club events were organised for the Pope's visit in May 1982 as members were going to events with their own parishes, but videos of his visit were shown in the autumn by Mr and Mrs Lawrence.
1982 was also the Year of St Francis (800th anniversary of his birth). The Committee tried to get details of events but did not receive a reply from the Year of St Francis Committee. Some members attended the special Mass and celebrations at St George's Cathedral.
The Club List did not cover all events as visits to concerts etc. had to be arranged when the programme was known which was usually well after the Club list was sent out. Someone, usually Meg Walsh, obtained the programme and coordinated it. Also regular events, such as dancing at Stratton Ground, skating at Streatham or tennis at Regents Park did not always appear on the Club List.
Tower of London
We were lucky in having the rain hold off for our visit, as it had been threatening all day, but the leaden skies served only to enhance the grimness of the fortress, with its heavy towers and solid walls. The high-light of the visit was the fact that Nigel had managed to get permission for us to visit the Tower where St Thomas More and St John Fisher were held in solitary confinement -a privilege not usually granted, as access can only be obtained through the Lord Lieutenant's private apartments. One must see these cells to fully understand what agonies of mind these martyrs endured prior to their death. Particularly is this so in the case of St Thomas More, for there was barely enough light to see the size of the cell, and no means of heating whatsoever, and our Beefeater guide informed us that the Saint had been allowed no writing material or any other means of passing away the time. As to St. John Fisher, he was in the upper cell, to which some light did penetrate, and owing to his great age he was allowed some sort of heating, but here again it was solitary. This part of the Tower was considered absolutely impregnable, as any attempted escape would have to be made through the living quarters, where a strong guard was maintained both outside the entrance to the cells and again outside the house. There is no exit to the outside of the Tower direct, as is the case in all the other Towers.
We were lucky also in being in time to see a wedding in the Tower Chapel, with the father of the bride, a Yeoman Sergeant, in full dress uniform. It was most picturesque.
Our guide, although not a Catholic as was originally thought, made a special point of showing us places of particular interest to us, and I sometimes wondered whether he'd kissed a certain stone, as he definitely had quite a few tricks of the trade. Time was very short, however, and although we were able to see the Norman Keep, with its display of instruments of torture (which, by the way, seemed to draw the crowd like a magnet) and the Beaufort Tower, we were not able to manage the Bloody Tower where the princes were murdered. Our last visit was to the Crown Jewels, which seemed all the more lustrous in comparison with the cold stone which housed them. We could not linger here very long as it was now nearly five, so after a quick look round we repaired to the Tower Restaurant, where we were only too glad to sit down to a very welcome cup of tea.
July 1949 Magazine
Deptford Power Station
Owing to the early start, and being a Saturday morning, not many members were able to take advantage of this very interesting visit, but those of us who did were well repaid for missing our `lay-in'. It is quite impossible for me to give a description of the visit, as so much of it was technical, and to say that I understood fully at the time would be stretching the point a bit! We had a very good guide, however, who did not seem to mind what must have seemed to him to have been very infantile questions, Norman's excluded of course, so I did manage to get a fairly clear picture of the working of a Power Station. The heat in the furnace rooms was not as great as one would imagine, but we were given coloured shields and told to look into the inside of the furnaces - this was a really terrifying spectacle, with the molten mass of coal and roaring flames, but at the same time a very gripping one, which you felt you wanted to keep on looking at, despite the intense heat. We were shown the various gauges which controlled the supply of fuel and draught to the furnaces, and the signal, operated by a smoke-watcher on the roof of the Power Station, which told the furnace men the colour of the smoke coming from the chimneys -which to be correct should be light grey or nearly white in colour.
We next went up on to the roof so that we could see the barges at the wharf, and part of the journey was along a very narrow causeway over the openings where the coal is tipped down into the furnaces from the automatic conveyer belt - this causeway, by the way, consisted of narrow iron rods, about an inch apart, and right under it was the deep drop of the coal shafts! About half-way across, when most of us had got to the point of not daring to look down, our guide chose that moment to tell us about the man who had fallen in while clearing the shaft, more coal had tipped down on top of him, and they could not get him out in time - what I called a very comforting story considering our position - the only thing which got us the rest of the way across was the fact that it was as easy to go on as to go back.
After the dirt and heat of the furnace rooms, to step through a door into the immaculate generating rooms seemed like a transformation scene. Here we were taken to the Control Room, from which all current passing from the Power Station to the various sub-stations, etc. is controlled. My first impression was a mass of gauges of all sizes, and the technical explanations did get a bit beyond me, although the guide was very patient, but by concentrating it was possible to get a rough idea of what was going on. There was a curious sort of vibration in the air in this part of the Station, emanating from the Generating plant and I was not really sorry to get away from it. Anyway, it was a most interesting morning, and I hope the Committee will arrange other such trips.
July 1949 Magazine
`Cutty Sark and `Son et Lumiere'
A party of fifteen Club members went to Greenwich on Saturday 21st September to visit the `Cutty Sark' and to see `Son et Lumiere'.
The `Cutty Sark', faithfully restored to her original design and rigging, and well placed in a specially built dry dock, fired even landlubberly ramblers with the romance of the days of sail. They saw the other side, too, in the cramped quarters in which the crew had to live, and in photographs of perilous seamanship in raging storms. They also saw a fine collection of original navigational instruments used on the `Cutty Sark', and of figureheads and paintings of those old sailing days.
`Son et Lumiere' was a novel and efective spectacle in which the history of the Royal Palace at Greenwich was told by narration and short sketches (in sound only) accompanied by suitable flood-lighting of the various buildings of the Palace. The coloured lighting, story and incidental music combined to give a presentation which held the attention for a full fifty minutes. Our thanks are due to Therese O'Brien for the suggestion and organisation of this double event.
"Confidential"
We have been fortunate in obtaining the following extract from the saucy, revealing journal of that famous American diarist, Kraft E. Peeps:
"Saturday. 21st September. 1957
Did rise late being mightily tired by the revels at Strutton Ground, hard by the Cathedral. Much dancing therewith crowds of all nationalities. Did see the fair Mistress -dancing with an Indian gentleman and methinks she did also quaff wine with him.
To Greenwich in the evening by the `electric train ', it being cold by water (and heavy on the purse). Did visit the `Cutty Sark' in dry dock, a rare fine sailing ship, full wondrously restored and rigged.
Partook of coffee in Joe's' coffee-house where did see many fine bucks and damsels of the town all finely dressed in the latest of fashion. Fine Musick also from a juke-box " , a wondrous instrument that playeth by itself upon the insertion of a groat.
To the Royal Park for the illuminations of the Kynge 's House and much Musick. Alas no reworks: Did meet a gay party of wayfarers, full comely wenches among them but the gallants not seeming much interested. Did notice that some young damsels wore naval buttons as favours; my Lords of the Admiralty shall hear of this. Was told by the announcer that the Park would not close until eleven of the clock, but many folk hurrying home for fear of foot pads and cut purses. Did return by the `electric train' to the Charing Cross. And so to bed. "B.MP.
Autumn 1957 Magazine
Visit to Guinness Brewery
The visit started in the Hop Store where, surrounded by the foul odour of hops, we heard how malt (barley partially germinated) is nuxed with a special blend of barley designed to keep the quality of the finished product consistent. The malt mixture is dried, ground and passed into grist hoppers where it is mixed with hot water, then poured into mash tuns and converted into unfermented beer known as "wort". The wort flows into steam heated coppers (each with a capacity of 23,400 gallons) containing hops from which, when wort is passed through them, diffuses the chemical Lipulin which gives Guinness it's bitter flavour and acts as a preservative. Having seen this process, we were shown the fermenting tuns where yeast is added to the wort which is allowed to ferment for two and a half days. A special strain of yeast is utilised for this purpose and has been used in the Dublin Brewery for over two hundred years. Excess yeast from the fermenting process is sold as a by-product. The fermented liquor is piped to one of 32 storage vats holding altogether twenty million glasses of Guinness (enough to keep certain members of the Club going for ten years!).
At this point of the tour came the moment for which we had all been waiting. We were escorted to the famous Toucan Inn where we proceeded to sample some of the finished product. The writer, having had two glasses, found, on looking for another, that the Inn had run dry, so had to continue on the next part of the tour relatively sober.
The final stage of our tour consisted, as far as the writer can remember, of an inspection of the barrels and tankers which transport Guinness to all parts of Southern England. (Northern England and Scotland are supplied from the Dublin Brewery). Guinness are changing from wooden barrels to metal ones which are cheaper and require less cleaning. This was the last stage of our tour and it was from here that we zigzagged our way home.
Our thanks are due to Tom Buggy for organising the tour and to Father Higgs for providing such good company.
MOONSHINER alias the zoider addict - Summer 1960 Magazine
Midsummer's Day
On Midsummer's Eve, 14 members met at Baker Street to go to Regents Park Theatre. As they gathered together, the rain fell softly, so one brave soul rung the weather men, who said the rain would cease. Not knowing whether to believe this forecast or not, the 14 strolled off at least to find the theatre. On passing
through the wrought iron gates of Regents Park, they admired the blaze of colour in flower beds beside the path and noticed it rained no longer. Soon there was the theatre entrance just ahead and people were going in. They joined them, purchased the cheapest tickets against the rain returning, armed themselves with rugs and settled down in this open-air theatre (just a wide sloping glen with seats on most of the slope, the stage a rocky shrubbery at the bottom.)
In these fitting surroundings the play "A Midsummer Night's Dream" unfolded, with noblemen, lovers, artisans and fairies going their separate ways. When all were transported to a wood near Athens, the Herald announced an interval. Our party left their seats and found a path between the trees to a smaller glen, where young girls served them with hot mulled wine and Irish coffee.
While they drank and listened to the voices around them, it seemed all Europe had found this glen. One member was drawn by the appetizing smell of hot-dogs and onions, when a voice behind said "Friday!", so her steps were retraced to the path.
A bell summoned our party back to their seats when they witnessed the fairy magic of Midsummer's night as darkness fell. The birds overhead joined in with the song as they found their nests, one more mighty than the rest almost drowned a poor maiden's love-lorn plea. But by the time the moon had risen in a clear sky, the fairies had solved the players' problems and all was peace and happiness.
Our fourteen members then left the players in their shrubbery and made their way swiftly with the rest, along the dark paths beneath the trees, closely one behind the other, lest they be left in this place, alone, at witching hour .........
Spring 1967 Magazine
CELEBRATIONS (NB to return to contents click here)
In 1950/51 the Club held its 21 st birthday. The year opened with the Annual Mass for members at 9.30am at St Mary Moorfields. So that as many members as possible could receive Holy Communion a breakfast was arranged after Mass. This was followed by an inexpensive ramble in Epping Forest with Benediction at Epping. In November the 21st Birthday Dinner and Dance was held at the Mecca Cafe, E.C.2 Tickets 15/6 (about £15 today). Dress was informal.
1954/55 was the Club's Silver Jubilee year. The Silver Jubilee Dinner and Dance was held in February at the Shaftsbury Hotel. Tickets £1 (about £16 today). Evening dress was optional. A dance practice and instruction was held on the preceding Tuesday at Bunhill Row.
Twenty-fifth Anniversary Dinner and Dance
Perhaps the most interesting feature of the 25th anniversary Dinner and Dance was the display of prosperity shown by the older members. They turned up in quite large numbers and it was most pleasing to the younger members of the Club to see them all there. In fact the whole affair was rather grand this year, which helped to make this evening the Clubs most successful function to date.
Speeches were offered by Father Cahill, who was deputising for Father Reys. His speech was witty and brief as speeches should be. He was answered by Jimmy Manual, who gave all he was given and more. Leon Thompson spoke next and was answered by Mrs Morgan, to whom we are grateful for her kind words about this magazine.
There was an excellent presentation cake by an anonymous donor which, after being sliced by Marjorie, was passed round.
John Hogan was at his best as MC and carried out his duties with efficiency and grace.
The ladies deserve a special mention, for although we agree they always look delightful, they sometimes look more delightful when the mud is washed off.
In ending, our only complaint about the evening was that it was over too soon.
March 1955 Magazine
A Silver Jubilee Square Dance was held in April in St Mary Moorfield's Crypt. The band and Caller were from the English Folk Dance and Song Society. Members Catholic friends were welcome. On August 14th 1955, the nearest Sunday to the 25th Anniversary of the Club, a Thanksgiving Mass and General Communion was held at 9.30am at St Mary Moorfields. This was followed by a coach outing to Arundel Church (not yet a Cathedral) and Castle, the coach leaving at 11.30am to allow time to have breakfast after Mass. On 9th October the Annual Mass for Club members was followed by a ramble in the Holmbury St Mary area similar to the Club's first ramble. It was led by Dennis O'Brien, a Club leader in pre war days.
Greetings from Mrs Lowe were read out at the AGM in 1969 as the Club entered its fortieth year. This anniversary was celebrated in 1970 when the Grand fortieth Anniversary Dinner and Dance was held; 121 came including Mrs Lowe, Two engagements were announced - John Lawrence and Maddie Webster's and Bill Mulderrig and Jean Gibson's.
1979/80 was the Golden Jubilee of the Club. An `Ad Hoc' Committee was set up in Autumn 1979 to prepare plans for the celebrations. On the feast of St Francis October 4th 1980 the Golden Jubilee Celebrations were held. It began with a Mass of Thanksgiving at 6pm in Westminster Cathedral concelebrated by Fr Tom Gardner, Fr John Clayton, Fr Ryan and the celebrant from the Cathedral. Leo Coshan officiated as Deacon. The Club took up the main area at the front. A wonderful Buffet Supper and Reunion in the Westminster Conference Centre followed. There was an exhibition area displaying photos, early club lists, posters of performances by the Club Players etc. Cost of tickets was £6. The buffet food was cooked at home by Marie Tisi and taken with tables and chairs in a hired van to the Conference Centre. Her neices were the waitresses and her nephews were the barmen. They themselves had no chance to eat until they got home again late at night. Mrs Cracknell made the cake, in the shape of a `5', an `0' and a round one in the Club colours - yellow and white. About 300 members and ex members came including members from the earliest days of the Club. Mrs Morgan, one of the founder members, was presented with a Papal Blessing and a large bouquet. On the Sunday a ramble was led, from Boxhill station via Ranmore Common, Westcott, Leith Hill to Dorking, following as far as possible the route of the Club's first ramble. A shorter ramble from Dorking station met the main group for lunch at The Cricketers Pub, Westcott and took an easier route back to Dorking .
THE GOLDEN JUBILEE RAMBLE
The Golden Jubilee celebration was lovely and it was great to see so many `old friends' after so many years. All thanks to the Jubilee Committee for all the hard work they put in to give us such a splendid evening.
Saturday was memorable. But what happened to Sunday? The Golden Jubilee ramble! What happened to all those `old members' then? True, some had travelled many miles to attend the Saturday reunion and were faced with long return journeys. Some spent the weekend as guests of other Club members whilst others, having young families or other commitments, could not spare the time or cash for rambling. Nevertheless it would have been nice to see a few more on the ramble.
Half a dozen or so did make the effort (including one couple who were members in the thirties) and one or two more came to the pub at lunch time, but the party consisted mainly of `regulars' who walk most Sundays (keeping up the tradition of the Club!) several `occasionals' (like myself) and one potential new member!
Having travelled further than I would normally have done to join the ramble, I was a little disappointed that so few `old members' turned out.
However, apart from this, it was a very enjoyable ramble and I would like to thank Mary and Dorothy Hickman for leading.
(Signed:) HERGA
Name and Address supplied
Christmas 1980 Magazine
U LETTER FROM OUR FOUNDER
Dear John,
I'm sure you'll agree that the celebrations for the Golden Jubilee of the Club were quite wonderful - doesn't seem possible that it's fifty years ago that we had our small beginning. It was sad that Mary Lowe wasn't by my side to share all the pleasure f had in knowing that our Club is still flourishing and, please God, will continue to do so for many more years. I would like to express my very sincere thanks to all members of the Club for the Papal Blessing and the gorgeous bouquet. Also a special word of thanks to the Golden Jubilee Committee for the organising of such a wonderful evening.
My thanks again to all the Committees throughout the past fifty years -without their hard work our Club couldn't have grown as it has done. Also my special thanks to you as editor of :he magazine - this is such a boon to non-active members and keeps us in touch. I understand you are about to take a rest from Club editing as you have a further commitment to your parish.
hope you will fmd a good successor who will give us all as much news and pleasure as you have done over the years - many hanks.
Best wishes to you and your wife.
Sincerely,
Margaret Morgan
Christmas 1980 Magazine
Golden Jubilee Celebrations of St Francis of Assisi Rambling Club. October 4 1980
Many of the faces gathered outside the Cathedral on Saturday afternoon seemed to be familiar, but it took a short while to fix some into line:
Bill Chainey, slimmer and thinner faced, was in good spirit, as was his wife Tessa (Darlison) -Kath Gallagher, and her husband Dennis Toohig were busy recalling memories, both looked well and eager to talk. Dennis is within sight of retiring from Civil Service.
The Barry family - Sheila, Maureen and elder sister looked busy with Theresa Mahoney, a girl of the Square Dance time, but perhaps hard to place without seeing her image.
The Mass was celebrated by four priests, Fr Gardner, Fr Ryan" Fr John Clayton and the celebrant from the Cathedral, we practised the responses, nothing like the power that used to
swell from the hiking ranks, but helped by the organ. The club took up the main area at the front of the church.
Afterwards many gathered outside the Cathedral and talked, Tom Cummings had attended the Mass, but was not attending the Golden Jubilee celebrations - Fred Wood had said that he felt that it was too long ago for him to meet people again, but at the same time his family are not in good health, brother and sister aging.
The hall was well populated, but the early arrivals had got into the food queues, and that meant a long wait for those who lingered to talk outside.
John and Joan Ashbourne were in good trim, Margaret Branney and Win Herring were swapping stories, and greeting others whose faces meant nothing to me - but Archie Collings in magnificent form looked great and seeing better. Frank Chainey was not there, but Jimmy Manual was flitting about, still his energetic self, unfortunately I was told that his wife (Eileen Greene) had died a few weeks back - Norah Smeaton was busily occupied, but looking rather fragile - the O' Sullivans Kath and Eileen were greeting everybody and in good health - one doesn't always ask `Have you retired?'
Tony Chainey still busy with promenade concerts, but not the person who always appears in the front of the TV picture of the proms. Bill is now living out at Brockenhurst (New Forest) and enjoying it. Peter Culba - the Youth Hosteller - has now returned to London from Swindon, and is busy looking for a Civil Service inspired transfer - they have not yet found him a job.
George Foley of the Catholic interest rambles from Farringdon Road Station was looking his usual bright self and Betty Fletcher (fi-iend of Mary Clifford) with Mary Kyte (now Mrs Connell) were swapping yarns with Margaret Connor (married to Jerry Barlow) who suffering from asthma had not made the journey.
Dennis Griffiths and Maria his wife are well - it seems a very short while back, when a body says `I remember when you introduced me to everyone on my first ramble'.
You see faces, and somebody says - `Don't you remember me - I'm Terry Hogan, Phil Ambrose his wife - the energy inspired Irish girl stood by - they are living out at Welwyn Garden City, and John Hogan now a layer is still busy telling the world all about it - Mick McKeown of the same group is still at present in Australia - he is a photographer of Newspaper events. Muriel Gatter still smiling and working was seated way to the left while Nessie and Leon Thomson gathered friends from all corners - Sylvia Tierney who sadly lost her husband Frank in a climbing accident in the Alps was full of enjoyment and I was told that Eileen Moser (Calman) who was Nigels wife, has now remarried.
So many faces travelled around the conference room that it was hard to pin any down Fred McAndrew was doing a fine job organising, and a few pictures of past years rambles were on show -folklike Madelene Lane, now very hard of hearing, Mary Living were missing, but Pat Sheahen with the perpetual smile, and Fred Sexton with his wife and looking very fit asked after many of the people that seemed to be missing - Irene Loy (Mrs. Gilbert) was in great form gasping this hand and yelling at somebody else. It all seemed for me such a short while back I never asked after Norman Down, but I meant to. Tom Buggy a wee bit slower than he was, but still a busy person, Madeleine Webster now married greeted everyone, and Maisie McGuiness, now Mrs Moore, Jimmy Jones and the other Maisie looked well.
I did hear that the O'Brien sisters, Anne was one, are now in a convent (for old people I would think) John Rowe and his wife June, possibly members a bit later than we were, but in the later days of Square Dancing.
Mrs Margaret Morgan who had written a message for the programme said how pleased she was to see the Club flourishing and thanked all the secretaries etc. That had carried it through - the granddaughter of Mrs Lowe, the other founder, had come down from Aberdeen for the occasion and had placed a card on her grandmother's grave with the remembrances of the Club that morning.
Mrs Cracknel had made the cake - one in the shape of the figure 5 and another in an 0 shape, together with a round one in the yellow and white colouring.
There were many more folk there but unfortunately I cannot recall them to mind - Jimmy Manuels sister Mary was there and asked after friends.
Time came so soon that the crowds began to dwindle and make for homes in all parts some optimists look towards the next celebration - is it 100?
Con Ryan's memories of the Golden Jubilee Celebrations in 1980
Our Secretary, Anne Walsh, has received the letter printed below from LAKESIDE HOUSE (Catholic Holiday Fellowship):
40 Lake Road
Keswick Cumbria
CA 12 5DQ
Dear Miss Walsh,
St Francis of Assisi Catholic Ramblers' Club
Frank Preston, one of our members in Harrogate, has reminded me that this is your Club's Golden Jubilee Year, and on behalf of the Fellowship I would offer you all our congratulations and best wishes for the years ahead. It is certainly heartening and encouraging to see such a club as yours and the Liverpool club continue to flourish. I say this with some feeling and a degree of envy, as my local Club, Tyneside Catholic Ramblers, is now struggling along with some dozen members.
It is unfortunate that we did not know about your happy event earlier as we would have included the Fellowship's congratulations in the Annual Newsletter "The Lakesider". However, Frank has prepared a draft entry for next year's edition. This is enclosed and I shall be pleased to know if this is acceptable. Please feel free to make any amendments you wish
Yours sincerely
(A. A. McGee) Secretary
Christmas 1980 Magazine
ST. FRANCIS OF ASSISI CATHOLIC RAMBLERS' CLUB
GOLDEN JUBILEE (1930 - 1980)
Our belated congratulations to the St. Francis of Assisi Catholic Ramblers' Club on their Golden Jubilee. The club formed an active part in the earlier Guild days of Lakeside House and for many years supplied a member for the Management Committee of the House.
Over 300 `Ramblers' attended the Jubilee Mass on 4th October 1980 ( the feast of St. Francis) in Westminster Cathedral and followed on to a grand Buffet Supper and Reunion in the Conference Centre.
Those present represented the full span of the 50 years, including one of the founder members Mrs. Margaret Morgan. She recalled the early days of a maximum fare of half a crown, tea one shilling and a weekend with all home made food and sleeping accommodation for seven shillings. (We cannot provide a packed lunch for that these days!)
A fine Sunday saw a good turn out for the Jubilee Ramble, from Boxhill to Westcott and Leith Hill back to Dorking. Allowing for development over the years this was an attempt to reconstruct the Club's first ever ramble. A thoroughly enjoyable and nostalgic weekend enjoyed by all.
Frank Preston The Lakesider, August 1981
1989/90 was the Diamond Jubilee of the Club. The celebrations were organised by Fred McAndrew, the Club's vice president and were held in the Westminster Cathedral Conference Centre on Saturday 29th September 1990. The celebrations started with Mass at 4pm for all Club members and their families, Fr Tom Gardiner gave the homily in which he recalled the blessings of belonging to the Club. This was followed by a Grand Buffet with wine. The food was prepared by caterers recommended by the Conference Centre. It was very good but not in the same class as Marie Tisi's ten years before. Cost of tickets was £12. About 230 members and past members came but Mrs Morgan was unable to come up from Devon where she and her husband had retired. Guest Speaker was Mrs Thatcher courtesy of Maxine O'Reilly. Some guests decided to organise a reunion holiday for the following summer so that we could meet for a longer time; this was the origin of the biannual reunion holiday. Also a holiday in Assisi in October 1990 was planned as part of the celebrations but the travel agency most had booked with collapsed and so only two went to Assisi where they arranged for a Mass to be said for the Club in the Basilica of St Francis.
CHARITABLE ACTIVITIES (NB to return to contents click here)
The early members were imbued with the spirit of Catholic Action. They were closely connected with the Back to the Land Movement and embraced the philosophy of distributism with enthusiasm. Their heroes were G K Chesterton, Hilaire Belloc and Fr Vincent McNabb. Committee members on Duty on rambles and at camps would accept contributions for the Chartridge Land Colony. Club members took part in weekend activities to feed the many people from the depressed areas who were sleeping rough around the Thames embankment. They even turned out on Christmas Day. They were encouraged in this by Fr Bernard Hyde a parish priest in Palace Street Victoria (later Club Chaplain and Parish Priest of St Mary Moorfields) who provided the parish hall with music and entertainment.
In 1936 a Study Circle was formed to study social problems on the lines of the Papal Encyclicals. Meetings were held every other Thursday (weekly from 1939) after the Holy Hour. It continued through the war until 1947 at the Interval Club and other locations. Talks were given by Fr Keldany on the problems of the day, such as Communism. In 1942 the study circle affiliated to the Catholic Social Guild. On August Bank Holiday 1942 the Club attended the Catholic Social Guild Summer School at Oxford.
In December 1938 a tea party was held to raise money to provide gifts for the House of Hospitality in Wigan. (One of the Sudberys married Bob Walsh who started this movement for the homeless in Wigan.)
Before and during the war the Club collected money for the Crusade of Rescue (now called the Catholic Children's Society) on Children's Day which was held twice a year on Saturday mornings. The depot, at St Mary Moorfields, was one of
the few depots working in war time. From the late forties to the sixties the Club took part in the carol singing in aid of the Crusade of Rescue in the West End. In Christmas 1948 most of the singing was done by the Club.
A St Patrick's Day Dance at Bunhill Row in 1952 raised £4/14/- for the Schools Fund (about £100 in today's money). The priests at St Mary Moorfields thanked the Club saying `It was a fine sum to raise with a complete absence of fuss and publicity'.
In the late fifties Club members helped Tom Cummings with the Jumble Sales, in aid of the 4th Finsbury Scouts, held at St Peter and Paul's Church Clerkenwell.
In 1955 forty Club members helped with the house to house collection in aid of the new wing for St Joseph's Hospice for the dying in Hackney. Some of them returned many times to help.
One further event, which really would not strictly come under the heading of a Club date, but which I feel needs mention, was the large part played by quite a number of members in the carol singing before Christmas in aid of the Crusade of Rescue. I expect many will have read about this in the various Catholic papers and have seen the Club's name, but in actual fact most of the singing was actually done by us, as on most nights, with the exception of the Thursday around the Tree in Trafalgar Square, we composed most of the singers.
All those who took part had a really wonderful time, and I can vouch for many of the stories printed in the papers. People were most generous, and the amount taken on each night was astonishing.
The climax came on the Thursday before Christmas when we sang in Trafalgar Square. The crush was terrific - we felt as if our ribs were going to cave in at any moment, but despite all the drawbacks, the singing was very good. Of course with such a large crowd it was not always possible for them all to see the conductor, so that some tended to be a little bit out of time, but nobody seemed to mind. When Archbishop Amigo came through, the crowd parted as if by magic to make way for him, and all the singers knelt, or endeavoured to kneel, to receive his blessing. He chatted with Dilwyn, the conductor, for a few minutes, and then passed out through the crowd again. Considering his great age - 84 - and the fact that he is nearly blind, we all felt we had a great favour bestowed on us.
We are sure that the work of St. Joseph's Hospice is well known to all our Club members. The Hospice is now in great need of a new wing the cost of which will be about £100,000. In a recent door-to-door collection, which covered all streets (265) and homes (60,000) within a 3/4 mile radius of the Hospice, £778 was collected. Among the many helpers were 40 members of the Club, some of whom returned time and time again to help, and we have been asked to convey to those members the grateful thanks of the Reverend Mother, Sisters and patients of the Hospice for their wonderful efforts. We understand that as a result of the collection a start can now be made on the building of the new wing.
Summer 1955 Magazine
The following letter has been received by Fred McAndrew, who so kindly organised the visit to
the Cheshire Homes on December 15th 1966.
I feel I must drop you a line to say how much we enjoyed your visit with the Club last Thursday. Everyone said it was the best night ever that you have given us. Thank you all so much.
Thank you again for the magnificent box of fruit. This is something we can all partake of with no fear of putting on weight! Your generous gift is much appreciated.
With all best wishes,
Yours sincerely
Mary Ping Spring 1967 Magazine
A motion was proposed at the 1964 AGM that a Committee member be responsible for Catholic Action but it was felt that members had little spare time from their own parishes, also that with the right spirit the Club itself was a form of Catholic action.
In 1969 a party from the Club visited Sister Mary Garson's Home for the elderly in Woodingdean, Brighton to help with the garden. Having forgotten they were dressed in their worst clothes they went into a hotel and the other customers walked out. Mr Walsh (Meg and Mary's father) while waiting at a bus stop on his way down to help was invited to warm himself at their fire by some road menders who thought he was a tramp. In the early seventies one or two weekends were held at Holy Cross Priory hopefully helping the sisters. They thought we had come for a rambling weekend but on request managed to find odd jobs for us to do.
In recent years we have raised money for Age Concern, Life, the Cardinal Hume Centre and the Assisi earthquake fund.
CLUB WEDDINGS (NB to return to contents click here)
Very little information in the Club Lists or Magazine before 1950 about Club marriages
Apologies to all those we have omitted and to those whose details we have got wrong.
Margaret Runacres and Leonard Morgan on 3rd May 1934
Mary Curron and Paddy Lowe on 3rd June 1934 at St Mary Moorfields. Reception at Coleman
St School.
Win Runacres (sister of Margaret Runacres) and Frank McCoffrey on 6th June 1935
Nessie Laing and Leon Thomson in 1939
Nora Fennell and Tom Shardlow. About 1939. Their daughter Angela is a Club member.
Margaret and John Somerville. About 1939.
Tim Brennan and Bridie Date unknown
Richard and Noreen Greenwood Date unknown
Veronica Piper and Mr Maloney Date unknown
Catherine Martin and Mr Nolley Date unknown
William Savage and Maureen Harvey Date unknown
Madeleine McHugo and Fred Hopson. Date unknown before 1946.
Mr and Mrs Shallard Date unknown
Rosalind Lowe and Mr Shea Date unknown
Steven and Beadie Sudbury Date unknown
Joe and Norah Sudbury Date unknown
Janet Sudbury and Mr Tolfree Date unknown
Kathleen Godfree and Mr Trump Date unknown
Mr and Mrs Turner Date unknown
Neillie Simes and Mr Vaughan Date unknown
Mr and Mrs Wilsher Date unknown
List of Club Weddings During the 1940s
Mr and Mrs George Cook Date unknown Maisie McGuiness and Mr Moore Date unknown Mary Kyte and Mr O'Connell Date unknown Mr and Mrs O'Malley Date unknown Margot Weston and Jack Smeaton in 1940 at Norbury. During the Nuptial Mass the first bombs to fall on greater London were falling on Croydon Airport only a mile or two away. By the time they returned from their honeymoon regular air raids were in full swing. Jack being a Telecommunications Engineer had to work ~ hour shifts on alternate days including weekends. Jim Davis and Monica About 1940.
Frank Austin to ? About 1942. Kathleen Finnigan and Ernest Atkinson. About 1943. Their daughter Margaret Eason is a Club Member. Jack McGuiness and Margaret about 1945 Dennis and Violet O'Brien About 1945. Marjorie Finch and Laurie Kennedy on 4th October 1947 at St Mary's West Croydon. Mr and Mrs George Davis About 1948 Mary Kennedy and ? 2nd July 1949 Mr and Mrs Hubert Cambell 16th July 1949 Nora Barry and Earnest Hart on 20th August 1949 at Muswell Hill.
List of Club Weddings During the 1950's
Tony Mitchell and Olive Stas. On Saturday 20 October 1950. Maureen Barry and Archie Bradley, about 1950 Frank and Sylvia Tierney About 1950. Eileen Mosor and Nigel Calnan on 31 March 1951. Irene Loy and Bob filbert on 2 April 1951. Joan Feord and John Ashbourne. About 1951. Maisie Morphew and Jim Jones on Saturday 17 May 1952. Winnie Hayes and Maurice Roe on 19 March 1953. Pat Walton and Pat O'Connell on Easter Sunday 5 April 1953. Norman Downe and Daria on Saturday 9 May 1953. Gerrard Hattich who helped considerably to keep the club going during the war years, married September 1953. Kay Kendall and Frank Chainey on 19 September 1953 at Leyton. Reception at local Conservative Club. Honeymoon m Jersey. Paddy Saunders and Edith Wickens on 26 September 1953. Arthur Fernee and Winifred Jewers on 8 December 1953. Mary Keats and "Mr Cronin" in 1953. Mr and Mr Cummings about 1953 Frank Pressenger to Ellen Clarke-Farr in 1954 Con Ryan and Nora Cardis on Saturday 25 September 1954 The wedding took place in Leeds, and Tom Cummings ofciated as best man, Paddy Fitzpatrick was bridesmaid. We were led to understand that Freddy Wood wore a frock coat and top hat.
Maria Lurati and Dennis Griffiths on Saturday 9 October 1954 Stoke Newington. Daphine Fisk is their niece. Alec Oger and Dorothy in 1954
Michael Roberts and his future wife were reported in 1954 as leaving for South Africa on 6 May 1954, Michael regretted not being able to be married in England, as he wished his club friends to be at the wedding - for it was on a club Youth Hostel week-end that Mike met Maureen.
Stella Cooney and Vincent Bulaitis (SPINNEY) on Saturday 22 August 1955. A glorious summer day. For once in a way the Bride was on time - or nearly so anyway, as near as a woman cares to be for a date with a mere man. And what a charming bride she was too, traditional white. Her dress was of taffeta, with lace sleeves and yoke. It had a tight fitting bodice and a full skirt with a train. Her headdress was a coronet of lilies of the valley and she carried a spray of pink roses. The three bridesmaids, Pat Cooney, Margaret O'Connor and Vincent's sister Diane, made a lovely picture in turquoise blue organza dresses and floral headdresses of pink roses. The men were resplendent in Moss Bros best morning dress, and what a picture of handsome dignity they looked! After the Nuptial Mass all adjourned to the Town Hall. Here Vincent started his married life well by pouring a glass of sherry down the front of his bride's dress. The happy couple were sent off with suitable vocal encouragement in a car decorated in the traditional style. The guests then wended their way home.
Tess Darlison and Bill Chainey on 8 October 1955. Despite the time of year the weather was again kind. This was a rather quieter affair than Stella's perhaps, but none the less effective or enjoyable for that. Tess was at her radiant best in a lovely dress of royal blue lace with a white feather hat, and the bridesmaid wore a pretty floral dress. The bridegroom was his usual handsome self. Frank Chainey was best man and coped extremely well with a riotous crew of ramblers and cricketers. The nuptials complete and photographs taken, the guests removed to the Church hall and did true British justice to the feast provided. The guests had forgotten to prepare decorations for the going away car, but made do with a dustbin lid!.
Geor a Tindell reported in 1955 as now married and living in Aden (not to be confused with Eden
Irene Lorkins and Edward Treby in 1955
Walter Crosland and Patricia Schmit on 8 September 1956
Gerry Barlow and Margaret O'Connor on 15 September 1956
John Hogan and Monica Mackey on 26th December 1956 at St Mary Moorfields (first Club wedding at St Mary's since before the war).
Terry Hogan and Phil Ambrose on 29th December 1956 at St Anthony's Annerley.
Diana Buliatis and ? In 1956
Margaret Butler to ? In 1956
Mr and Mrs Philip Levens In 1956
Eileen Green and Jimmy Manuel on Saturday 20 July 1957 at 11.35 am at the Church of Our Lady Immaculate, Limehouse. It should have been 11 15 am but the bride kept the tradition of being a few minutes late. Apart from that and the weather everything went off well. The Bride and Matron of Honour wore attractive Swiss sprigged nylon dresses, Eileen's in peacock blue and Irene Gilbert's in deep sky blue. Frank Chainey was best man. The nuptial Mass was celebrated by Eileen's brother John and served by her brother Joe. By a strange co-incidence the date of the wedding fell on the Mh anniversary of Johds ordination. The ram5ling club guests did ample justice to the sumptuous wedding breakfast. One of them even went so far as to break the Pledge. n his defence there were extenuating circumstances. Congratulations were extended to Eileen and Jimmie and hopes that they would always be as happy as they looked on their wedding day.
Peter Marsh and Bridget Noble in 1956
Bernard McMahon to an Australian girl in 1956
Mr and Mrs Tom McNicholas In 1956
Mary Grin married Mr Torr in 1956 and is living in Natal, South Africa.
Pauline Doran to Mr Ventress in 1956
John Wallis reported as planning to marry shortly his Spanish fiancee in 1957. She is still recovering from an operation.
Kathleen Lewin and Peter Jones on Saturday 29 March 1958 at Ealing Priory. An "all club" affair. The bridesmaid was Doreen Courdrier, and the best man Pat Shanahan.
Eileen Brick and Owen Short on Saturday 28 June 1958 at the Church of Our Lady of Loreto and St Winifrede, Kew
Phyllis Barker and Nicholas Quinlan 31st July 1958
John O'Brien and Florence Nightingale in 1958 - bride the light of his life.
Julia Lynam to Anthony Rammelp about 1958
25th wedding anniversary of Margaret and Leonard Mor an oh 3rd May 1959 - Clubs first silver wedding anniversary. Margaret was a founder member.
Ursula O'Brien and Bernard Polack, last year's secretary and treasurer, on 25 July 1959 at St Mathias Worcester Park.
A Day to Remember
The day dawned bright and sunny - a perfect day for the wedding of last year's secretary and treasurer.
As the hour of ten drew near they gathered at the little church of St Mathias, Worcester Park beautifully decorated with white gladioli on the high altar. The organ played softly and soon the music changed to the strains of "Here Comes The Bride" and Ursula walked up the aisle with confidence, yet quietly and serenely at her father's side. Her simple dress of white brocade patterned with lily of the valley became her beautifully, and the short veil was just right to complete the picture of a radiant bride. Theresa who attended her added richness to the scene in her dress of rich peacock blue. Her care added much to the smooth running of the ceremony.
As Ursula reached the altar and stood at Bernard's side there was a moment's silence as the congregation waited in awe. Then they listened to the gentle words of the priest, and the ceremony began.
All could hear the words which made them one in God's Sacrament of Matrimony, and there was no hesitation. Then Bernard placed the ring on Ursula's finger and they were man and wife. Then came the Holy Sacrifice of the Mass of St James, whose feast day it was, with the special blessing and prayers for the bride and groom, bringing the memorable ceremony to an end.
The congregation's joy was great, and as the organist struck up the wedding march the little procession passed out of the Church. They were never to see Ursula O'Brien again but wished Mr and Mrs Bernard Polack many, many years of happiness together. The Club Magazine wished them God's blessing and asked for the prayers of St Francis to grant that many more happy couples would follow in their footsteps.
One who was there
Summer 1959 Magazine
Pat Cooney and John Darlison on 8th August 1959 at Anerley
Joan Turner and Sean Faherty on 10th November 1959
Margaret Gallaway and Peter Denton in 1959
Mabel Edwards to Mr Randall in 1959
John Gallagher and Joan Jackson in 1959
Jean Gordon to ? In 1959
Pat Keating and Brian Mooney about 1959
Denis Toohig and Kath Gallagher in 1959
List of Club Weddings Reported During the 1960's
Mary Blyth and John Miller on 13th May 1961 at St Benet, Monkswearmouth.
Roseleen Coales and John Talbott on 12th August 1961 at St Edmunds Beckenham.
Heather Grill and Peter Allen in 1961
Tony Barnford and Gweneth in 1961
Tina Rossi to Mr Filon in 1961
Bridget Giles and Mike Garvey in 1961
Pat Schoner and Mike Taylor in 1961
Mary Gilbey to Thomas Vickery on 28th April 1962
Kathleen Crone and Paul Towers on 11th August 1962
Kathleen Boatman and Joseph Blanchfield on 22 September 1962
Monica Aiken and Tom Mortimer on 20th October 1962
Hilda Turner and Terry Hobin on 10th November 1962
Mr and Mrs Tom Buggy in 1962
Mary Crone and Douglas Beeson in 1963
Anne Thompson and Peter Fraser about 1963
Yvonne Craddock and Alan Rowe in 1963
Hazel Burrows and Mike State in 1963
Sheila Crilley and Frank Wrigley in 1963
Josephine Irwin to ? About 1963
Helen Price and Keith Lewis about 1964
Elizabet Heffernan to ? On 30 th March 1964
Margaret Milner-Walker and Alan Miller on 4th April 1964
Mr and Mrs Jim Rosling on 4th April 1964
Cecilia Cribben and David Clarke on 22 August 1964
25th Wedding Anniversary of Leon & Nessie Thomson in 1964, presentation made at AGM
Angela Sladden to Ivan Polley (warden of Honister YHA) in November 1964
Marion Rigg and Geoff Miller on 27th February 1965
Gordon John and Patricia Bridges in 1965
John Wells and Maria Winkley on 12th August
1965
John Rowe and June Burbridge on 4th
September 1965
John Power and Carmel Franklin on 4th
September 1965
Michael Dunne and Jean Johns on 6th August 1966
John White and Sheila Cracknell on 3rd September 1966
Michael Ellis and Theresa Dunne in 1965
Michael Shea and Barbara Marsden in 1965
Loma Franklin and Francis Chambers about 1966
John Harris and Esther Bono about 1966
Tony Chainey and Maria Maplesdon on 5th August 1967
Gerald Crowe and Jill Fogden about 1967
Doreen Coudurier to Mr Garniss about 1967
Tony Hare and Josephine Lambert about 1967
Norah McCarthy to Keith Marshall about 1967
Roy Oldfield and Jeanette about 1967
Gen Garriff and Paul Maplesdon on 6th July 1968
Anne Lavery and Adrian Winder on 3rd August 1968
Mary Douglas and Charles Knight in November 1968
Maria Denneny and Alf Tisi about 1968
Margaret Atkinson and Bernard Eason on 9th April 1969
Renee Codd and Leslie Goreham on 26th April 1969
Jackie Tilley and Tony Sumner on 7th June 1969
Pat Graham and Michael O'Meara on 7th June 1969
Two couples married on the same day unexpectantly spent the first night of their honeymoon in the same London Hotel!
List of Club Weddings Reported During the 1970's
Barbara Fry and David Bridle on 29th May 1970
Kath Marney and Arthur Holland on 13th June 1970 at St Benedicts, Drumchapel near Glasgow.
Peggy Thomas and Andrew Young on 4th July 1970
Brenda O'Brien and Maurice O'Brien 7th July 1970
Sheila McCarthy and Tony Fernandes in 1970
Madeleine Webster and John Lawrence on 19th September 1970
Dermot O'Gorman and Lesley Woodgate in 1970
Teresa Aitken and Roger Strood in 1970
Imelda Lowe and Alan Anderson about 1970
Bill Mulderig and Jean Gibson about 1971
Mary Lowe and Michael Geer on 15th April 1972
Christine Cronin and Richard Sumner on 12th June 1972 at St William of York, Forrest Hill
Conchita Baamonde-Zas and Peter de Smith on 17th June 1972
Dennis Spiller and Barbara Lawless in September 1972
Christine Murrey and Tony Bosman in 1972
Patricia Marden and Sean Harper in 1972
Hilary Figgins and Bill McCarthy in 1972
Mary Prebble and Michael Adams on 19th May 1973
Jessica Joyce and Peter Culba in 1973
Mary Bracken and Peter Early in 1975
Andrew Kingston and Kathleen Armstrong in 1975
Ellen Murphy and John Lynch in 1975
Bernie Doran and Peter Webster on 23rd April 1977 at Loughton
Christopher Hopper and Paula Matt before 1979
List of Club Weddings Reported During the 1980's
Ann Peers and Frank Keating on 10th May 1980 at St Ignatius, Stamford Hill
All traffic on the busy Stamford Hill High Road was halted as the bride & groom crossed the road to Loyola Hall. Every so often male guests disappeared to the bar to watch the FA cup final on TV.
Ron Goswell to Angela Scott in 1980
Margaret Evans to Bill Hubbel in 1981 Janet Baker in 1981
Stefan Gatward and Theresa Nockles on 1 st May 1982 at St John the Baptist Purley. Pat Crouch and Tony Schueber in 1982
Mr and Mrs Morgan celebrated their Golden Jubilee on 3rd May 1984. Margaret Morgan (nee Runacres) was one of the Club 's founder members, the first ramble leader and the first treasurer. She was elected Club vice-president in 1932. They celebrated with their family at Mousehole in Cornwall where their daughter Patricia, husband and son and daughter live. Their son Brian with his wife and two daughters came from America for the occasion, the first party was on the eve of the 3rd when other guests arrived - all staying at the Lobster Pot Hotel where the reception was held. Fr Louis Keating (Mrs Morgan's cousin) offered a Mass of thanksgiving in one of the hotel's lounges. Fr Nortin SM also offered a Mass of thanksgiving at the convent school in Sidcup where Pat and Brien began their schooling. All enjoyed a final party at Pat's home on the evening of the 3rd and returned to Sidcup next day.
Frank and Win McCoffrey celebrated their Golden Wedding on 6th June 1985
Bill Mearns in 1984
Olivia Curtis and John Delargy 2nd September 1989
Nora and Tom Shardlow celebrated their Golden anniversary in 1989
List of Club Weddings Reported During the 1990's
Dennis and Maria Griffith celebrated their ruby anniversary in 1994
Mary Hennessy to Sean Kirby on Easter Monday 8th April 1996
John Lee to Clare Peguy in 1998
John and Maddy Lawrence celebrated their silver anniversary on 19th September 1995
Paul Brunning, Club's vice-president to Bridget on 18th April 1998
Tom Heron to Eileen Crombie on 28th August 1998
RANDOM THOUGHTS OF ONE WHO HAS TAKEN THE PLUNGE
I won't be out rambling any more For the ring is on her finger No more will my voice like a wild bird soar In the pubs where we used to linger.
Farewell to thee Essex, my county O land justly famed for thy mire On me you have lavished your bounty I'll think of you now by the fire.
I will hung up my boots so that all may see The rambling life I led And men, taking heed, will be guided by me And on Sundays stay safely in bed.
Summer 1965 Magazine
PRIESTS ASSOCIATED WITH THE CLUB (NB to return to contents click here)
Information in Club Lists and Magazines is very sketchy.
The Club Rules state: The Headquarters of the Club shall be St Mary Moorfields, Eldon St and the Rector for the time being of that Church shall be entitled to the Presidency of the Club.
Fr David Barnes, our current President.
Fr Butler, took an active interest in the Club in its earlier days. He died in 1948.
Fr John Clayton. A friend of the Club ever since as a curate at Bunhill Row he was a member of the Club. He sometimes chaired the AGM. We often held a Summer or Christmas square dance at his Croxley Green Parish. The Spring 1959 Club Magazine reported him as being the only one that responded to the request for suggestions for a name for the Magazine. He suggested "The Clodhopper". He was often called upon to propose the toast to the Club at the Annual Dinner and Dance. He concelebrated the Club's Jubilee Mass in 1980. He died in 1992.
"The priest in Ireland is the pillar on which the nation is built. He is doctor, lawyer, and Indian chief. He separates fighters, he can drink like a fish, and he is a member of the family. He is perhaps the most maligned of all Irishmen, being called dictator and suppressor but he holds the nation together. He is greater than any politician and as near a saint as you will find".
December 1954 Magazine
Fr L Collingwood, a Club President ? to 1969. Reported in Summer 1966 edition of Newsletter as celebrating Silver Jubilee and wrote to acknowledge presentation made by club members to celebrate the occasion
Monsignor Coonan, "Guest" 1961
Fr Leo Coshan, Club Member for many years. He entered the Novitiate of the Divine Word Missionaries in 1975 and trained for the Priesthood. He made his final vows in January 1980 and was ordained in January 1981 at Burslem where he was appointed after being ordained deacon. After a few years he went to Glasgow and then India. Many members went to Burslem for his ordination. He wrote a series of articles for the Club Magazine on his progress to ordination.
Fr Anton Cowan, Club President in the eighties.
Fr Dockery OFM, "Guest" 1961. Brother of an early member. Guest at Dinner & Dance 1961 and gave the Retreat that year.
Fr J Duberry Honorary member 1951.
Fr Louis Dubbery, a Club Member, Committee member and leader during the war. He emigrated to Canada in 1948 and after a year entered St Augustine's Seminary in Toronto. He was ordained in 1951. He returned to England in April 1951 for a short holiday and said Mass for the Club at Bunhill Row. Club Magazine of February 1953 reported him as being on supply in Hastings, Ontario. Club Magazine of October 1953 reported him as being at Belleville, Ontario.
Fr Flood, Club President 1933, Club chaplain 1932 - 1935. In 1935 to gain Jubilee Indulgence Fr Flood conducted Club on visits to Moorfields, Tower Hill, Hoxton & Bunhill Row. Lead the Lourdes Pilgrimage in 1936.
Fr Thos Gardner, Club Member 1951-52. In 1953 went to Ware to study for the priesthood. He led seminarians in walks around St Edmonds, Ware which were affectionately known as "Uncle Tom's Tours". He was ordained at Westminster Cathedral in 1958 and went to St Anthony's Edgware where he was joined by Fr Carheel, late of St Mary Moorfields. He was made an honorary member at the 1958 AGM. He later became Parish priest of Ware and Puckeridge. In 1988 he was Chaplain at Nazareth House Isleworth. He was often called upon to propose the toast to the Club at the Annual Dinner and Dance. He concelebrated the Club's Jubilee Mass in 1980. He gave the homily at the Club's 60th anniversary Mass in 1990. He died in January 1995.
Fr Godrill-Young, "Guest"
Fr Peter Grant. Since 1998, the first time for many years, we have had the pleasure of a regular walking priest member. Fr Peter lead the Club's Day of Recollection in 1999 and got the biggest turnout, 36, for a long time.
Mgr Gonne gave the 1932 Retreat. Wrote the Passion Play `Unto us a child is born' performed by Club at Everyman theatre in 1933.
Rev F D Healy MA, Club President 1930 - 32. First president of the St Francis of Assisi Catholic Ramblers Club, he was appointed chaplain of the club by Cardinal Bourne and devoted himself wholeheartedly to his charge, winning for himself the regard and affection of the members. They came to look on St Mary Moorfields as their own parish church. His death in 1933 after a short illness was regarded as a huge blow, and left a void which has never really been filled.
Fr E B Higgs, Parish Priest of St Joseph's Bunhill Row from 1959 to 1984.He was a good friend of the Club and enjoyed meeting members at the social functions held in one of the classrooms of St Joseph's School. Often chaired the AGMs. Made vice president at the 1962 AGM because of his long association with the Club and unfailing assistance. He died in March 1988.
Fr Hyde, Club President 1933 - 38. Encouraged Club members who were helping to feed the many unemployed people from depressed areas sleeping rough around the Thames embankment. Later as parish Priest of St Mary Moorfields he became Club President.
Fr Keldany, led the study circle on the problems of the day eg communism 1940; Honorary member 1950. Spiritual director of Club's Marian year Pilgrimage to Walsingham in 1954.
Fr A Reys, President 1938 - 1955
Fr M Ryan Club President 1969-1984. He died in 1984.
Fr Stevenson, President 1955 - 62 + ?, Honorary member 1959. Died in 1970.
CHANGING TIMES AND ATTITUDES (NB to return to contents click here)
The Club was founded during the depression and in its early years faced the threat, then the reality of World War. After the war came, for a time, a fairer society and the welfare state. The prejudice against Catholics disappeared but Christianity and Christian values declined and are today often regarded as false and irrelevant.
RELIGIOUS ACTIVITY (NB to return to contents click here)
When founded the Club was very much under the wing of the Parish Priest of St Mary Moorfield's, and the President of the Club has always been the Parish Priest of that Parish. Fr Higgs, the Parish Priest of St Joseph's Bunhill Row where most Club activities were held, took an interest in the Club and was a great support to it.
In the past, especially in the early days, there was more religious activity than today. Pilgrimages (for World peace) and visits to places of Catholic interest were organised. Frequently there was Benediction on rambles. The Club produced and performed a Passion Play at The Everyman's Theatre in Hampstead. Members were very much involved in Catholic Action. They helped feed the people from depressed areas sleeping rough on the embankment and were closely connected with the Back to the Land Movement. They started a study group on the Church's social teaching which affiliated to the Catholic Social Guild. They did a lot of fund raising for the city churches associated with the Club and for other good causes. Possibly members are much more involved in their own parishes now that the laity are encouraged to play an active role in the work of the Church, but it is good to do these things together as a Club.
The main effect the Vatican Council had on Club Activities were the changes to the Eucharistic Fast and the introduction of Saturday vigil and Sunday evening Mass. Before it had been necessary to fast from midnight before receiving Our Lord in Holy Communion. This meant that arranging a Club Mass also involved arranging a place to have breakfast. The pre-war camping weekends usually involved a 5'/2 mile walk to Hartley for the 8.30am Sunday Mass and breakfast after Mass at the CWL. hut. Youth Hostel weekends similarly involved a long walk to an early Mass then a picnic breakfast. When the three hour fast came in it meant getting up early to cook breakfast and trying not to wake up the others in the Hostel (especially the Warden).
The Club had deliberately chosen its campsite at Harvel, near Meopham because it was a long way from a Catholic Church; they hoped the land could eventually be used as a Mass Centre. But when the site was sold in 1950 the diocese was not interested in establishing a Mass Centre there. So most of the proceeds of the sale were given to the Southwark Travelling Mission for the Meopham Church Building Fund. Fifteen years later the Catholic Church of St Paul was built in Meopham.
ATTITUDES TO NON-CATHOLICS JOINING (NB to return to contents click here)
The Club was founded as a rambling club for Catholics only. The foundesses started the Club following the Pope's appeal to Catholic youth when it was suggested that young people should come together socially with the aim of strengthening their faith and perhaps promoting more Catholic marriages. The Club constitution states that the object of the Club shall be to promote friendship among Catholics chiefly by means of rambling. The Club programme frequently stated `your Catholic friends will be very welcome'. The first Club magazine (Dec1948) carried a note from the Secretary saying `non-Catholics are not permitted to be introduced on any occasion whatsoever into any Club activity'. Catholics conscious of the prejudice against them preferred the company of those who shared their faith and joined the Club because it was a Catholic club. Rambles started later than in other clubs to allow time to go to Mass first. You knew going on Club weekends or holidays that hearing Mass would not be a problem. Anyone not wanting to mix in exclusively Catholic company could join their (more convenient) local rambling club. Many members belonged to other rambling clubs as well.
Members began wanting their non-Catholic fiances and fiiends to be able to join. Also Catholics, in general, were becoming more ecumenically minded. There were lively debates at the AGMs. It was argued that, as happened elsewhere, the club could cease to be Catholic and being the same as any other rambling club there would be no point in belonging to it in preference to a local club.
Eventually in 1983 a motion was carried allowing non-Catholic relatives or friends of existing members to become associate members. Only fill members could serve on the committee. The Club constitution remained unchanged. Ironically non-Catholic associate members probably find it difficult to attend their own services now that rambles can have an early start because of vigil and Sunday evening Mass.
BEHAVIOUR AND DRESS STANDARDS (NB to return to contents click here)
The Club has always been keen to protect its good name. After prospective members had come out on three rambles they had to be approved by the main Committee before they could join. The Club has often preferred to rely on personal contact rather than advertising to increase its membership. When the membership increased so dramatically after the war the Club was concerned that the spirit of prewar days was kept.
When the club first started standards of dress and behaviour were quite strict. Women had to wear stockings; shorts and slacks were not allowed. After many years of trying the rule on stockings was changed at the 1938 AGM by a vote of 38 to 6. Slacks which had became normal wear for women during and after the second world war began to be worn by lady members on rambles as they were much more practical than skirts. Complaints were made to the committee who proposed a motion at the 22nd AGM (October 1952) asking the meeting to give its consent or disapproval to this form of dress. Consent was given. Ladies could now fight back more effectively when attempts were made to put them on luggage racks or push them downhill.
To preserve the spirit of the Club a Vice-President is now elected who chairs the AGMs and attends Committee meetings.
R A M B L E S (NB to return to contents click here)
Until after the war members had to notify the Committee if they were coming on a ramble, using postcards supplied for the purpose.
When first founded the Club tried to keep fares as low as possible. Rambles seldom went further out than twenty miles from London. To get the lowest possible fare the ramble often started from a station at the nearest point to London on the route.
It was possible to get a party ticket, at a worthwhile discount, if sufficient members came out. But this meant staying till the end of the ramble. Today most members have a network card which cuts the fare by a third. Rambles can now go further afield more often.
As a late start was necessary to allow members to go to Mass the morning walk was only about three to four miles. The longer afternoon walk was broken by the `afternoon rest' and the stop for tea. Today the ramble is more balanced, about half the distance is often done before lunch.
Pubs did not do meals and usually had a less posh public bar. It was normal for customers to eat their own sandwiches in the public bar. Gradually pubs began to do snacks or meals and made the public bar into part of the saloon bar. They then objected to customers eating their own food even in the garden. As the food is usually quite good it now seems to be the custom to have a bar meal rather than ones own sandwiches. This rather lengthens the time of the lunch stop. It is also awkward if too many come on a ramble as the pub cannot cope. Those who bring their own food now have to eat it furtively as best they can.
The afternoon set tea used to be as mandatory as the pub at lunchtime. This was booked in advance by the leader and the number requiring tea phoned to the teaplace at the start of the ramble. It was argued it provided another opportunity for chatting and for club business. But it was as dear as a meal and many only wanted a drink, not a pile of bread, butter and jam. As family businesses died out it became difficult to find good and reasonable village tea places. Teaplaces then began to be in towns at the end of the ramble, often offering a proper meal as well as snacks.
The ramble continued after tea, usually in the dark, for a few more miles. Often singing, especially carols if it was near Christmas. Singing continued on the train. Thus we usually kept the carriage to ourselves, although once someone came in `because we sounded so jolly'. This ceased, of course, after the new open carriages were introduced by British Rail when we had to act with more decorum.
Most members lived in London and a later finish than now was possible. Usually after 7 to allow a visit to a convenient pub before catching the London train.
A committee member, the duty member, was assigned to each ramble. They made new members welcome, collected any money necessary (visitors, tea etc), noted visitors names/addresses in the duty book, wrote up an account of the ramble in the duty book, carried the club first aid box and most important of all stayed at the back of the ramble to make sure no one got lost. At one time the duty member was expected to go to the London station the ramble started from even if they lived out of town. Duty members were discontinued in 1990 because Committee members did not wish to commit themselves to coming on a particular ramble. This has caused many arguments at AGMs. Today the leader appoints a backstop. There is now no official committee presence on rambles.
Early maps did not distinguish rights of way from other paths so there was always the possibility of inadvertently trespassing when going though private land. Gradually rights of way appeared on OS maps as the County Councils completed the surveys required by the 1949 National Parks and Access to the Countryside Act. Highway authorities began to place signposts where rights of way left a metalled road as required by the 1968 Countryside Act and they also began to waymark paths. All this has made it a lot easier to plan rambles in unfamiliar areas and lessened the need to walk them out beforehand.
The areas we ramble in have gradually become more restricted. Beeching in 1963 cut out a number of useful railway lines, fortunately some have become rights of way. Then British Rail reduced its Sunday services and closed many stations on Sundays. The motorways have spoilt large areas of good walking country. It is easier to build roads over publicly owned land than in areas where there are many owners to buy out. Country lanes have become busy and are best avoided since few have footways or verges. Often it is difficult to cross them. Because of high speed trains rights of way crossing railway lines have became dangerous to use.
(NB to return to contents click here)
The Tuesday evening social activities gradually became less popular. Perhaps because people did not like travelling in the dark or when few people were about. Also fewer people now live or work in London and meals out after work became more expensive first because of Selective Employment Tax and later because of Value Added Tax. When St Joseph's Bunhill Row and Providence Row were no longer available alternative locations were dearer or less convenient. There are now no regular weekday evening events but the Club meets once a month for a meal after the Saturday Evening Mass. Square dancing is becoming a lost art in the Club.
The regular social events enabled members to keep in touch between going on rambles and their loss, although understandable because of the wide area covered by our membership, is to be regretted and the Club is the poorer for it.
Discos have now replaced conversation and square dancing at the Christmas party to the regret of older members who come to it to keep in touch with the Club and catch up on each others news.
MEMBERSHIP (NB to return to contents click here)
The Club was like a second family to members living on their own in London. Not being in permanent accommodation they maybe did not always feel part of a local Parish.
The Club has existed for nearly seventy years and inevitably older less active members are in the majority. Members generally even after getting married and settling down have kept up their membership and kept in touch with each other. We have renewed our acquaintances with each other at the Golden (1980) and Diamond (1990) Jubilees and on the biannual holidays which started in 1991.
Children (and grandchildren?) of members have become members.
Life membership was introduced in 1978 at ten times the current subscription for members who had been in the Club for ten years or more.
EQUIPMENT (NB to return to contents click here)
Photography required more expertise in the past and so not everyone carried a camera, but the Club had many keen amateur and several professional photographers. An exposure meter was usually used to judge the lens aperture and speed required. At first prints were black and white or sepia. The very early films were not sensitive to red light. Developing and printing were often done by the photographer to get the effect required. From about 1960 colour transparencies became popular and the Club often held slide shows. Then colour prints appeared and although dearer than slides were popular because they did not require a viewer or projector.
The Club List and Magazine used to be typed onto stencils and run off on a duplicator. The Committee met at the Walsh's where the duplicator was kept and spent a busy evening or two running off the List and Magazine. When the duplicator became obstreperous Mary Walsh was usually able to coax it into working. In the mid 1980's the Club acquired a photocopier which must have made life a lot easier for the Committee. Today the top copy of the List is produced using a home computer and printer.
Boots used to be hobnailed and could produce impressive sparks when walking in the dark.
Changing Times and Attitudes
LIST OF DECEASED MEMBERS (NB to return to contents click here)
We as a Club are like a family, we too gather together to make merry and perhaps to pray together and it is in these prayers that we ask you to remember once there were others in the Club laughing and making merry. I speak of our deceased members. To the majority of the present membership they are just names, but to the older ones they were loved and cherished friends.
Christmas 1953 Magazine
LIST OF DECEASED MEMBERS (NB to return to contents click here)
This list of our dear departed members is updated from time to time. It is in alphabetical order by surname but for ease of reading Christian nemes appear before the surname.
Alan Adkins 24 May 2009
Kathleen Ames
John and Joan Ashbourne 1938-39; d. John 1997, Joan 1998
Elsie Atkins 1954-55; d. March 2002
Ernest and Kathleen Atkinson 1938-39
Frank Austin 1938-39 d. 1965
Joan Austin née Wheal 1938-39
Richard (Dick) Bailey 1946-47
Ossie Barrett 1958-59 d. 18 November 08
Jim Benson
Gennet Berhe 1986-87 - d. 14 Apr 2001
Betty Blandino 1954 - 55 d. 10 Sept 2011
Tony Bosman 1971-72 d. April 2010
Winnie Brennan
R Bridges 1942-43
David Bridle 1969-70 d. 1992
Margaret Brittain
Reg Brosnahan 1947-48
John Broster d. 1966
Bridget Brunning d. 5 October 2011
Tom Buggy 1951-52
John Burns d. March 2001
Ted Byrne 1944-45
Doris Cable 1938-39
Rita Callinan 1952-53 d. 2009
Nigel Calnan 1946-47
Frank Chainey 1949-50
Joan Chapman 1969-70; d. 13 May 2011
Richard Chill d. October 2004
Fr John Clayton 1956-57
Archie Collins 1944-45 d. 1984
Patrick Connor 1953-54- 1970 d.1991
Jo Coombes 1938-39
Kitty Coombes 1938-39
John Cremin
Jill Crowe (née Fogden) 1965-66
Frank Crowley 1991-92 d. 1993
Jessie Culba 1972 d. April 2004
Joe Davies 1947-48 Br. Emmanuel OSB
Frances Dean1997-98 d. 5 May 2010
Olivia Delargy (née Curtis) 1996-97 d.May 2003
Barbara Deubzer 1989-90. d. May 2008
Monica and John Dingle 1947 - 48 John d. March 2005
Catherine (Kitty) Dockery 1953-54
Phil Doorley 1994-95 to 99-00; 2001-02 to 03-04 d. 2012
Gerald Dowling d June 2003
Michael Dunne 1962-63 d. 2012
Frank Ellingham 1946-47
Judith Emery 1954-55
Philip Evans 1966-67; L 1994 d. 02 03 2012
Arthur Fernee 1947-48 d. 1984
Daphne Fisk 1965-66 d. 01 01 2005
Paddy (Miss) Fitzpatrick 1972-73
Helen and Jimmy Fox 1984-85. Helen d. 2003
Clare Fruin 1954-74 d. February 2002
Kay Gaffney 2003 to 2006 d. 23 December 2015
John Gallagher 1951-52
Thomas (later Fr Thos) Gardiner 1951-52
Margaret Glass
Leslie Goreham 1960-61 d. November 2007
Bill Gould 1942-43
Linda Gribble 1952-2008 d. 23 April 2011
John Griffey 1973-74 d. 1991
Margaret Hadfield 1947-48 d. 1974
Sean Harpur 1971-72 d. 2011
W Ernest and Nora Hart 1945-46
Gerard Hattich 1938-39
Marjorie Heald 1950-51; L 1982; d. Sept 2000
Rev F Healy President 1931 d. 1933
Winnie Herring 1938-39 d. May 2002
Terry Hickey 1946-47 d. 1969
Frederick Hickman 1971-72
Fr Edward Bernard Higgs President d. 1984
Mike Hoffman 1994-95 d. 7 February 2010
John Hopkins 1952-53
Julia Howrican1972-73
Bill Hubbul d November 2001
Rev B Hyde
Kathleen Joyce
Mary Johnson 1952-53
Maisie Jones (née Morphen) 1950-51
Patrick Keegan 1987-88 d. November 2008
Winifred Lacey 1941-42
Madeleine Lane 1951-52 d1999
Jean Lavery 1938-39
John Lawrence 1966-67. d 18 08 2010
Madeleine Lawrence(née Webster); 1951-52
d. 2001
Joe Lee 1971-72
Paddy and Mary Lowe 1938-39
James and Eileen Manuel 1950-51
William Marsden
Jack Mason 1938-39
Fred McAndrew 1957-58 d. 2 08 08
Jack and Margaret McGuinness 1938-39
Michael McKeowen 1950-51
Florence McNeill d. 1966
Dennis Moran 1992-93 - 9 March 1999
Margaret Moran 1992-93. L 2002. D. 14 August 2012
Margaret and Leonard Morgan. Leonard joined 1946-47. Margaret Founder Member d. 23 04 1973
Katherine (née Martin) Notley 1952-53 d. 1981
Sheila Mulvaney 1963-64; d 1998
Rev P Murray
Gladys Negus 1942-43
Anne O'Brien 1938-39
Bernadette O'Brien 1991-92 d. 1998
Helen O'Brien 1992-93 d. 10 09 2012
Patricia O'Brien 1958-59
Violet O'Brien
Margaret O'Connor 1949-50 d. 2002
Jack O'Hara 1938-39
Margaret O'Malley 1945-46
Kathleen O'Sullivan 1942 d. 2003
Winnie Parker 1943-44
Claire Phillips 2002-03. D. 10 April 2007
Bridie Pilgrim née Fennell 1938-39
Frank Pressinger 1945-46
Frank Preston 1957-58
Kate Raven 1958-59
Rev A Reys
Dave Richardson 2004-05. D. March 2006
Peter Rivett 1984-85 d. 1989
Margaret Roberts 1998-99 d. September 2006
John Rowe 1956-57 - d. 7 April 2010
Wilfred Rowe 1938-39
Rev M Ryan
Bert Salt 1938-39
Paddy Saunders 1938-39
Patrick Shanahan 1972-73. d. 2 June 2010
Tom and Nora Shardlow 1938-39
Patrick Shaw 1956-57
Mary Sheahan d.1993
Eileen Short(1951-52) - d April 2008
Owen Short 1949-50 d.5 February 2010
Jack Smeaton 1938-39 d. 2004
Nora Smeaton 1938-39
Robert Smeaton
Daphne Solly 1992-93 - d. 1998
John & Margaret Somerville 1938-39
Dennis Spiller 1968-69. D. May 2008
Fr Stephenson(President) 1956-57
Audrey Stiles 1958-59; d. July 2002
Joseph Sudbery
John Talbott 1948-49. d. Before 2010
Rosaleen Talbott née Coales 1955-56. d. 2010
John Taylor 1958-59
Peter Taylor 1971-72 d. 2008
Leon and Nessie Thomson 1938-39
Frank Tierney 1947-48
Edward and Irene Treby 1952-53
Anne Tucker 1938-39 d. 1965
Nellie Vaughan née Simes
Sidney Vickress
Kathleen Vile 1977-78
Meg Walsh 1957-58 d. August 2003
Steve Walter 1995-96
Betty Warren 1938-39
Michael White 1938-39
Margot Wilson 1966-67
Fred Wood 1941-42
Tony Woolham 1994-95 d. 1997
Every year the Club arranges a Mass at which we remember these and all former members who are now deceased. May their souls and the souls of all the faithful departed through the mercy of God rest in peace. Amen.
ANNEXES (NB to return to contents click here)
Replies from Jack Smeaton to a long list of questions about the Club in pre war and war days. (NB to return to contents click here)
25th February 1997
In 1940 I married Margot Weston, a member of the Club, and the process of settling down to our new life co-incided with the opening of the blitz on London. In fact the first bombs to fall in greater London (on Croydon Airport) occurred during our Nuptial Mass in Norbury only a mile or two away. By the time we returned from our honeymoon regular air raids were in full swing so, what with one thing and another, rambles and social activities were not on our programme! Moreover, being a Telecommunications Engineer working in the centre of London, I was working 18 hour shifts on alternate days including weekends, so activities with the Club were out.
You raise the matter of the cost of Club Dances and Socials before the War (1/6 to 2/6) being much higher than in the 1950's (1/-) and ask were the former more elaborate, well, I must say I don't know because by the 1950's we had five children and we, therefore, had no direct experience of Club dances then. I would think that by the 1950's amplified record players could be used instead of a band. Before the war of course, gramophone records did not have electrical amplifiers to produce the volume of sound required for dances etc so the engagement of a band was necessary. Also it may be that after the war there was relatively less cash around so the cost of dance tickets was dropped.
The cost of tickets for the Old Vic and Sadlers Wells compared with typical ramble fares are a puzzle. Perhaps there was a reduction in the theatre prices for block bookings, and maybe there was no entertainment tax in force (or lower tax). After all there has been a phenomenal rise in taxation in real terms over the last 60 years or so.
I don't remember Club Members acting as leaders for the Catholic Ramblers Association and Holiday Guild, but this could have developed after our active membership, also there could well have been members active in more than one Club.
You mention that in 1934 "The Pocket Song Book was on sale price 4d" and ask if this would have been produced by the Club. I have no recollection, but would say this was highly unlikely. Remember in the 1930's "Hiking", as rambling was popularly called, was a national craze and some enterprising publisher may well have seen a business opportunity in such a publication. I don't see the Club at the time being involved, the atmosphere was too spontaneous, they didn't need songbooks really!
Re the Sunday ramble on 13th August 1939 entitled "Flying visit to Scotland" etc, etc. I think this would certainly not refer to an actual flight to Scotland, and the text of the programme "bring sandwiches" etc would confirm this. A likely explanation is the reference to Brooklands, a motor racing track set in a large open space. Three quarters of a mile away to the west is another open space with a road nearby called Scotland Bridge Road this open space was most probably much larger 58 years ago. Either there were short plane trips between Brooklands and this point, or more probably you could walk through open country between the two points (especially as the fare for the day was 2/9). The words "Flying visit to Scotland" in that case were humorous.
Nevertheless, individual flights out of Croydon were certainly on in 1933.1 went on one in 1934, only two or three passengers. The flight, probably of half an hours duration, was a circuit of the aerodrome and surrounding countryside.
Re the South of England Land Colony, Old Brown's Farm, Chartridge. There was most certainly a Back to the Land Colony and I am fairly sure this was at Old Brown's Farm. The Club was most certainly closely connected with the Back to the Land Movement, and embraced the whole philosophy of distributism with enthusiasm. Within the Club our heroes were G K Chesterton and Hilaire Belloc, the champions of this Movement in the literary world, and of course, the famous Dominican Father Vincent McNabb served the cause with missionary fervour, regarding it as our only possible counter to the horrors of uncontrolled big business industrialism. Such was his enthusiasm that he made his own boots, made his own religious habit and was known to walk along the centre of the main road in London defying oncoming traffic.
I think St Mary's (Underhill) training farm was set up to train unemployed young men from the distressed areas (as areas of high semi-permanent unemployment were called).` Probably the Second World War put an end to much of the above. Tragically when war comes along there are no more unemployed and good idealistic ventures like the Land Movement etc fade away. But it has all left a permanent mark on my political and economic way of thinking and spiritually as well. I certainly abhor all supermarkets and unnecessary big business and would patronise the small tradesman irrespective of extra expense.
You refer to the Study Circle and say did this lead to members taking part in Catholic Action. I would say it was because members were already imbued with the spirit of Catholic Action that we took part in the Study Circles. A member of the Sudbery family prominent in the Club married Bob Walsh who started a movement for the homeless in Wigan and I believe helped to found the Catholic Worker, following in the footsteps of Dorothy Day in the States. Club members also took part in weekend activities to feed the many people sleeping rough around the Thames embankment (again refugees from distressed areas). We turned out on Christmas Day too to do this and were encouraged by a Fr Bernard Hyde a parish priest in Palace St., Victoria who provided the parish hall for this purpose adding music and entertainment. After this period he was of course Chaplain of the Club and parish priest of St Mary Moorfields.
Re the effects of the war and lack of mention of this in the Club Lists. Although not then an member I would agree with you that disruptions caused by the blitz would be a taboo subject. (There was a famous Ad. on placards and in public vehicles "CARELESS TALK COSTS LIVES").
Re social activities up to 1940 I do not recall any specific subcommittee to deal with them rather I think one or two committee members would deal with the arrangements on an ad hoc basis.
To conclude I took part in the early Club holidays, pilgrimages, camps etc and had a part in the "Caecilia" productions at the Millicent Fawcett Hall, and will try to help where I can when you come to these activities. Replies to a query published by the Surrey Mirror have established that St Mary's Farm was owned by the Southwark Catholic Rescue Society from 1929 to 1956 and provided a home and training in farm work for many hundreds of young men from their schools.
Although a regular member from 1930 until the outbreak of war, I did not participate in more than one or two camps and then only to join the party at weekends. There was, of course, the Sunday walk to Mass at Hartley. Activities about the camp confined themselves to the daily chores of camp life, rambles in the area, just being together, talking, singing, sharing our interests and enthusiasms -especially our mutual enthusiasms for so many aspects of the Catholic Church, and the Chesterton, Belloc distributist socic-economic philosophy. Also for many of us day-dreaming fantasising about the Back to the Land Movement. The original object of camping in the area was to provide the beginning of a Mass Centre in this part of the countryside for the Catholic Travelling Mission which operated around various parts of that area, bringing the Mass to sparsely populated areas.
Turning to rambles you enquire about the numbers who came on them. Memory dims accuracy, but I would say these varied between fifteen and thirty, sometimes more hardly ever less. Length of rambles varied from ten or twelve miles up to 20 miles. Average say 14 miles. There was always a Committee Member on each ramble, at least one. A Committee Member was always deputed to bring up the rear of the ramble. This prevented stragglers being lost and ensured procedure at a reasonable speed. Also, most important, the Committee Member kept an eye on new members ensuring they were introduced to existing members and had company during the ramble - in other words helped to settle down. I cannot remember any cliqueiness on our rambles.
Social evenings after rambles were not all that frequent. For the most part the time factor limited this, after a walk of a dozen miles or more with reasonable intervals for lunch and tea breaks, a railway journey home of 15 miles or so and then our separate ways to be taken after arrival at the terminal station. Rambles with social evenings were shorter than average, usually when the social event represented the main object of the day out. I remember an evening or two like this at a centre (probably run by the Back to the Land Movement) provided for young lads from depressed areas of heavy unemployment, training if I remember rightly for farm work. Probably such evenings occurred when we arranged to go to Benediction in a country parish followed by tea there. I remember occasions when one or two ramblers used their musical talents to provide entertainment and background for dancing. Also some ramblers had monologues they trotted out from time to time.
As a very new member aged 20 I went to the Passion Play at the Everyman Theatre. I recall almost nil except that I was most impressed by it. My only recollection is of Joe Sudbery, regretfully now deceased, one of the principals, in which part I cannot remember, probably St Peter consoling the faithful women among Christ's followers. In Caecilia I had a very small part as a Roman slave, but recollection almost nil. The only incident I can remember was unrehearsed. Steve Sudbery another slave discovered that the light had gone out on the altar of the household god. Dramatically he announced his discovery, grasped the offending lamp - threw it to the stage floor from which it rebounded and hit one of the audience in the front row. Not fatal. The show continued.
Re dances, Westminster Cathedral Hall as you know was used from time to time and a band engaged, of course. Then there was Coleman Street School, more informal but a small band engaged. I do not remember the presence of a bar at either venue, but I do remember one occasion, a rather special one I believe at Coleman St., a celebratory occasion (can't remember what it was though) when a lady member was overcome on the dance floor, much embarrassment all round and not usual in the 1930's! I also have vague feelings of the Millicent Fawcett Hall being used for an event or two other than the production of Caecilia but perhaps I am wrong there.
You have sent a list of Easter Pilgrimages I went on a few of them. I recall one at least that was quite strenuous, running to 20 miles on at least two of the days of Holy Week and covering visits to Church, on the way, to participate in the Liturgy. We were aided in this on Holy Saturday when the Easter Vigil was not then celebrated in the evening. Instead this long Liturgy, which today precedes the vigil Mass, took place in the morning and was generally regarded, if I remember rightly as a bit much for the laity. I have recollections of it being a shorter more hurried version than now - and as I say the first Mass of Easter was on Sunday. There was a long Holy Week Pilgrimage taking us from Rochester to Canterbury. I recall it lasted three full days of about 20 miles walking each day.
I was on the Holy Year Pilgrimage to Rome in 1934. There were 5 men and 31 ladies, referred to by a male wit in the party as the 5 roses and 31 thorns! We stayed just outside Rome at a Convent in Frascati. I can remember thinking when the doors clanged behind us as we arrived in Holy week that we were in for a very serious few days. But was I wrong! The nuns started off by informing us that as we were on pilgrimage having travelled many miles to get there and with a heavy program to perform that we were automatically dispensed from the strenuous Lenten Fast and abstinence each day (which was normally quite strict in those days - not more than 2 ounces of bread and butter for breakfast, a meal of not more than 8 ounces at mid-day and one ffll meal in the evening the only meal where meat was allowed). Anyway we were dispensed from this. Not only that the nuns permitted us to run dances up and down the corridor that divided the men's and ladies' bedrooms! At main meals there were flasks of wine, one flask for every two people, on the table, ample flasks at that. All this in Holy Week! During one meal Paddy Lowe stood up and announced his engagement to Mary Curran (the Club's founder). The nuns attending us, most of whom understood no English, immediately caught on to what was happening and in a flash there were double supplies of wine on the table. As there were only 5 men in the party and the ladies were not up to the extra supplies, naturally I found myself that day, and my male companions, a little the worse for wear on I think Good Friday!! We were present at St Peters for the canonisation of St John Bosco on Easter Sunday. A memory or two; people standing on top of the confessional boxes for a better view of the Pope and a Reverend Mother arranging her "flock" in V formation behind her and leading them with her umbrella held as for a bayonet charge to secure a better view of the ceremonies nearer the front line of spectators. All done let me say out of sheer spiritual enthusiasm. A busy schedule was followed, visiting the five Basilicas specified to collect the Holy Year Indulgences, and all the other places to be seen. Not forgetting the Vatican and the audience with the Pope. There was of course three days in Assisi and there was a call in at Turin either on the way to or from Rome to visit the famous places associated with St John Bosco.
Next year the Club Holiday was to Connemara. Time has again dimmed memories but I can remember climbing Croagh Patrick and wonderful walks thorough the rugged scenery of County Galway. I remember well the ease of making fi-iends with the local people and long evening chats with them, talking into the night as only the Irish can.
In 1936 the Club Holiday was to Lourdes and St Jean de Luz. Naturally the daily pattern at Lourdes set by time honoured custom was followed, as we joined the vast international
pilgrimages as they arrived. There were breaks from the devotions with excursions, my chief memory being of climbing up to snow level in the Pyrenees, particularly at Gavarnie. After Lourdes a few days relaxation in St Jean de Luz a fishing village on the coast just north of the Spanish border.
In 1938 I joined the holiday in Luxemburg. Most memorable for me was that there was a young lady in the party who I met for the first time and later married in 1940. Our centre in Luxembourg was in Echternach right near the border with Germany and a great International holiday centre. Our walks took us across the border and into the defence lines being constructed, so our movements were somewhat constricted as military were constantly appearing from nowhere and questions were asked. Despite this the full tension of the run up to World War 11 did not come to spoil our holiday and French, German, Belgian and Dutch and of course ourselves happily mixed. The local hostelries were lively places at night with much singing and dancing. One trip across the border into Trier landed us in a then recreation zone for the military - much heel clicking, Heil I-fitler!, and the Nazi salute - but again we were not anticipating the outbreak of war although defences were in preparation. Indeed after the Trier visit we left the "pub" with some of the German workers and were given a lift back home in one of their vans with one or two of our girls sitting in the laps of our hosts. Lively but well behaved I am pleased to say.
Lourdes 1939 was my final curtain for Club pilgrimages and holidays, and this time I was the organiser and leader - mostly too worried with my responsibilities to enjoy myself to the full -and of course, World War II commenced shortly after our return from Lourdes via a short stay in Biaurity and a night in Paris. The latter coincided with a big national celebration of the storming of the bastille during the French Revolution - streets closed to traffic, given over to revelry and dancing.
Shortly after our return Margot and I became engaged. The war intervened and after a year we were married and active participation in Club events no longer possible.
The Club was unique - long may it continue.
125 ANNEXES
Reply from Winnie Herring to a long list of questions about the Club during and after the war.
(NB to return to contents click here)
The difficulties caused by the war were soon overcome. We decided first of all to meet one week at Westminster Cathedral and one week at Moorfields. But it wasn't long before we were able to make definite arrangements, ie to quote destinations, mileage etc. I don't think we missed a week. Speaking for myself the Club was a lifeline - working 60 hours a week and usual disturbances of war. Trains were pretty reliable, after a time, but that didn't sem to matter as long as we met and had a ramble. Once we wandered into an area forbidden, but as no one found us it was all right. The programmes were kept to pretty well - I think we were all so grateful to be out that we all made efforts. As to numbers on rambles sometimes there were only half a dozen, the other times we got up to 30 or more. Yes, we were supposed to carry gas masks but we soon got tired of that. Rail nationalisation didn't bother us. All the churches had fire watches - we kept to our local obligations - we didn't do it as a club - at least I don't think we did. Bunhill Row wasn't used much because of the difficulty of transport.
How did we manage without a record player? We had several members who were quite good at the piano and I'm afraid we rather took advantage of them - I couldn't play but was useful in other ways. Putting down stools for theatre? That's a difficult one. One went along to the theatre and there was usually a man there in charge of stools. We paid him sixpence and he put our name on a stool - but we had to claim it about 30 minutes before curtain up.
Norah Smeaton and I walked to Walsingham to pray for peace in 1942 - deciding not to make any reservations. All went well until we reached Walsingham and come 6 o'clock we had nowhere to lay our heads. Feeling very sorry for ourselves we sat on a stone wall, wondering what to do next. Suddenly a lady appeared at an upstairs window and asked if we were Catholics and were we `born or made'. I piped up and said we were born - so she offered us a single room each and dinner -consisting of bread and dripping which we had to eat in the garden because she didn't want crumbs in her house. She was a good woman. It was a good job we were not converts - had we been she would not have offered rooms, bed and dinner - although it was bread and dripping.
One thing we were always absolutely sure about and that whatever happened the Club must remain for Catholics only. There were always times when someone had a non-catholic boy or girl fiiend and they pleaded to let them come on a ramble, but we were always quite adamant and we never broke the rule. It was vital - because we were always sure of the membership.
I was secretary for two years - during the war - and then I really did have to work hard.
We all have a lot to be grateful for to the founders ie Mary Curran, Margaret Runacres and several others whose names I can't now recall.